IREX analysis shows media in Eurasia threatened by bias, self-censorship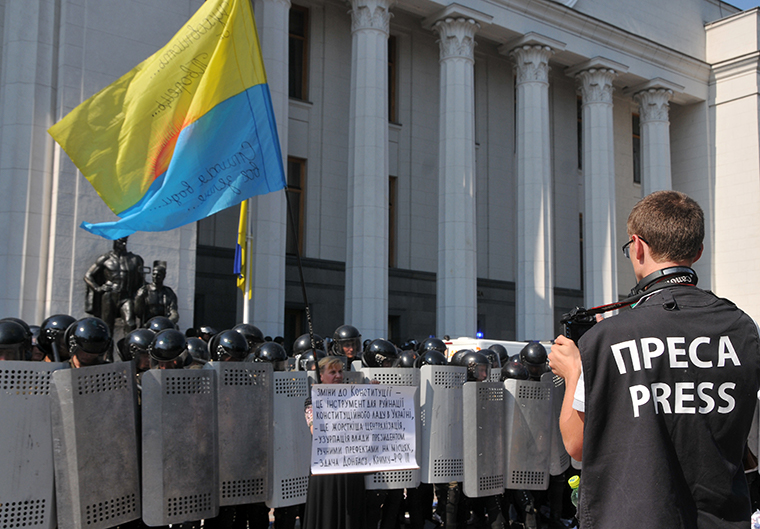 Biased content, self-censorship, political pressure, Kremlin influence, and diminishing revenue threaten independent media in 21 countries in Eastern Europe and Central Asia, according to a detailed new analysis conducted by IREX.
Though the overall view appears static, the IREX 2016 Media Sustainability Index (MSI) reveals unsettling trends below the surface in the region's media sector.
Ownership of media matters
Where once state-run media took the lion's share of the audience, commercial media have taken their place in most countries in the region. However, in many cases these media are controlled by local oligarchs or supported directly by political funding.
The downturn in the advertising market precipitated by the 2008 financial meltdown and the sharp fall in advertising prices due to cheaply available space in online media have severely eroded the financial footing of media. Once-respected media in the region have come under the control of politically motivated owners or conglomerates more interested in self-promotion than in operating as a business that serves the public's information needs.
Media that remain in independent hands find themselves in a bind. Throughout the region, journalists who contribute as reviewers to the MSI say that they think twice before producing unflattering content about key advertisers. Even in Croatia, a consistently top-scoring country, reviewers posed the rhetorical question of "when the last time an article critical about the top 10 advertisers had been published." In other countries, critical pieces result in an advertising embargo by key advertisers. Some businesses are reluctant to advertise in media that criticize the government for fear of souring relations and jeopardizing government contracts.
The result is biased reporting, attack pieces against rivals, or poorly marked branded content that dilute the information that people need to make critical decisions.
Russian influence over media in the region
In Russia, the government and oligarchs loyal to President Putin own large parts of the media. As a result, Russia's score continues an unabated 15-year decline that is now 24% lower than it was in 2001. Only Turkmenistan (-38%) and Azerbaijan (-43%) have performed worse in the Europe and Eurasia MSI.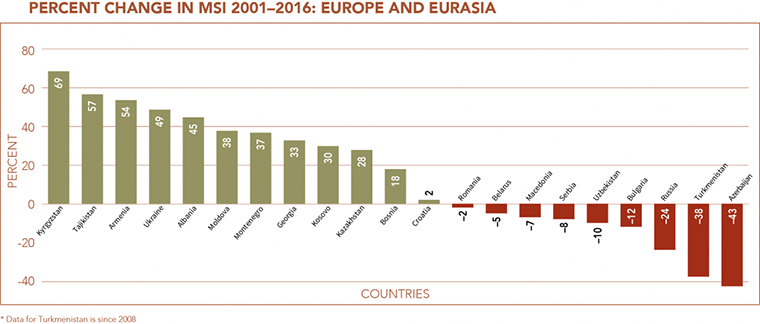 The Kremlin's influence contributes to the poor performance of the media sector in many of its neighbors as well. Massive funding by the Russian government to control messages—or in some cases, to control the media themselves—has a negative impact. This is clearly felt in Ukraine and Moldova, where Russian-speakers make up a significant portion of the population. Even in Bulgaria, a member of the European Union, one panelist said, "[Russian] propaganda is expanding beyond news and current affairs and is now creeping into entertainment and light content."
Kremlin-controlled media are also often the only media in vulnerable border areas in countries like Georgia. With little reporting about those regions reaching the rest of the country and very little Georgian media getting into those areas, populations there are at risk of sympathizing with possible attempts to realign borders in favor of Russia.
Other factors have created a hostile environment for independent-minded media beyond Russia's borders. Recent laws enacted in Russia outlaw foreign funding that supports NGOs or independent-minded media. Media controlled by the Kremlin's allies persistently label independent media as "traitorous," "CIA-controlled," or "subversive." Countries such as Azerbaijan have adopted similar laws and practices of "naming and shaming" journalists or NGOs that receive foreign support. Kyrgyzstan is expected to pass a law restricting foreign financial support for NGOs and media as it aligns its legislation with the Russian-led Eurasian Economic Community. In Bulgaria, media and NGOs that receive support from the Open Society Foundations find themselves labelled "Sorosoids" in media suspected of pro-Kremlin bias.
Finally, Russia's destabilizing of Ukraine's eastern borders makes that part of Ukraine one of the most dangerous places to practice journalism among the countries included in the MSI. In 2015, a photojournalist was killed while reporting on the conflict. A freelance journalist was abducted in January 2015 and held by her captors until early March 2016, when she was freed as part of a prisoner exchange. Ukrainian NGO Telekritika recorded 311 violations of journalists' rights in 2015. Of these, 104 were cases of beatings, threats, and attacks.
Gap between consumers and media professionals in how they view the media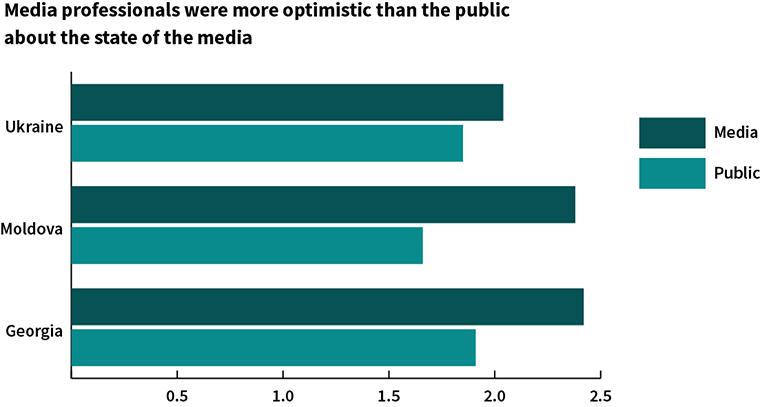 For the 2016 MSI, IREX used structured interviews to solicit the views of civil society representatives on their experience as consumers of media in Georgia, Moldova, and Ukraine. Questions addressed relevance of information to important social, political, and economic decisions; accuracy of reporting; and promotion of government transparency and accountability. As shown in the chart, there is a substantial gap between the views of consumers and the views of media professionals regarding how well media serves public needs. In Moldova, most notably, this gap is more than 30%. This added analysis suggests that the media sector may be falling short of its mission to inform citizens and enable sound decision-making.
More than 200 media professionals contributed to the MSI
Panels of respected media experts in each country examined the media sector using five standards (called "objectives" in the MSI Methodology), including the legal environment, the quality of journalism, and media management practices. In 2016, more than 200 media professionals and experts contributed to the final product that makes the MSI unique among measures of media performance.
The panels in each country rated 40 indicators spread throughout the five objectives on a scale of 0 to 4. Objective scores were averaged to provide an overall country score. Countries were divided into four categories: Unsustainable or Anti-free Press, Unsustainable Mixed System, Near Sustainability. and Sustainable. By "sustainability" IREX refers broadly to the ability of media to play its vital role as the "fourth estate" by providing the public with relevant, timely, and objective information.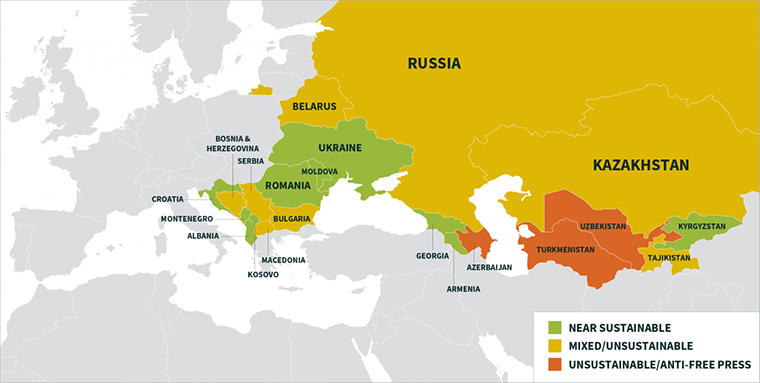 The MSI examines the media sector to gauge the effectiveness of information flows that are critical to a functional democracy. The stance of governments toward free press is important but does not explain other factors that affect media performance. The MSI provides evidence-driven insights into the quality of information produced by journalists, the management and financial footing of the media, the plurality of viewpoints available to the public, and the role of institutions that interact with and support the media sector. Through multidimensional analysis of gaps and locally driven qualitative reviews, the MSI informs media professionals, academics, governments, and donors to create vibrant and healthy information flows.
The US Agency for International Development funds the Europe and Eurasia MSI in 21 countries.