Financial Information
In 2022, IREX had an annual portfolio of $110 million and a global staff of nearly 650. By the close of 2023, we are projecting an annual portfolio of more than $134 million and nearly 750 staff worldwide.
On this page:
Program expenditures by region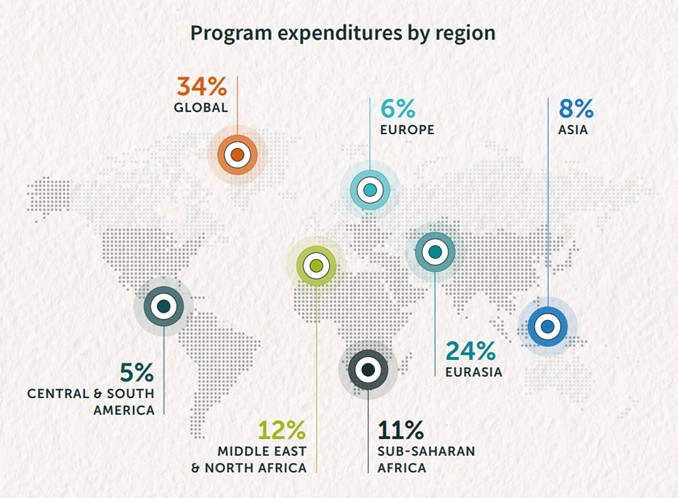 Functional expenses, fiscal year 2022


Financial statements
Financial statements and reports of independent certified public accountants:
Our commitment to ethics
IREX is committed to the highest standards of legal compliance, ethics, and transparency.
All IREX personnel are expected to act as responsible stewards of the funds entrusted to us. Current and former IREX employees are encouraged to disclose any information they become aware of, whether confidential or not, through our internal reporting procedures, third-party fraud hotline service, or to an appropriate public official, if they are under the reasonable belief that the disclosure is required, authorized, or protected by law or IREX policies, is in response to a government request or investigation, or is a good faith exercise of whistleblower or similar rights.
No current or former IREX employee will be subject to discrimination, retaliation, or reprisal of any kind for reporting or disclosing to any government official information that the employee reasonably believes is evidence, in relation to a federal grant or contract, of a false claim, gross mismanagement, abuse of authority, gross waste of funds, substantial and specific danger to public health or safety, or a violation of law, rule or regulation. Employees who believe they have been subject to discrimination, retaliation or reprisal for such reports or disclosures may submit a complaint to the Inspector General of the donor agency in accordance with 41 U.S.C. § 4712.