About Us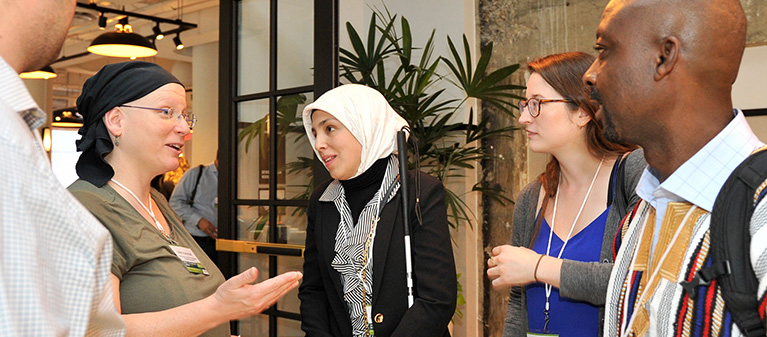 We strive for a more just, prosperous, and inclusive world—where individuals reach their full potential, governments serve their people, and communities thrive.
But around the globe, persistent poverty, repression, and injustice prevent too many people from achieving their full potential.
To address these problems, we focus on people, not on vaccines, roads, or wells. We support individuals and institutions to create change in their own communities—and to create person-to-person bridges between nations.
We are doers. Our decades of on-the-ground experience help us create greater impact, practical recommendations, and lasting partnerships.
IREX works with partners in more than 100 countries in four areas essential to progress: empowering youth, cultivating leaders, strengthening institutions, and extending access to quality education and information.
On this page
Our strategy
IREX embraces a people-focused approach to development that invests in human potential and the conditions that help people thrive. Read the IREX 2025 Strategy (in English and Spanish).
We work with partners around the world to promote more just, prosperous, and inclusive societies in four areas essential to progress: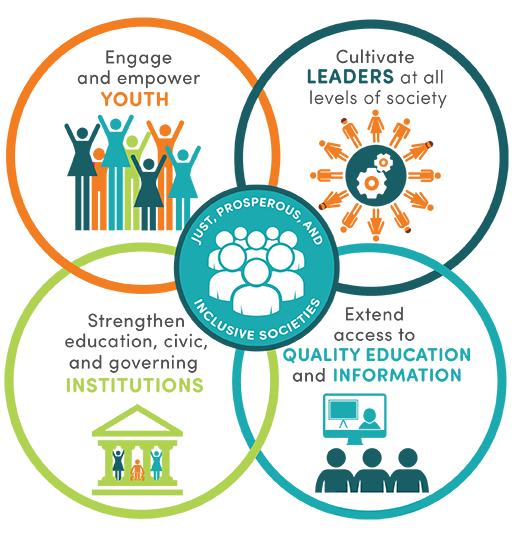 Extending access to quality education and information



We believe educated, informed citizens contribute to broad-based prosperity and lively civic engagement while holding those in power accountable. We work with partners around the world to increase people's ability to engage with vibrant information, strengthen independent media, and broaden access to quality education.

Empowering youth

We invest in youth by promoting quality education, professional development, civic engagement, and job skills. We focus especially on supporting underrepresented young women and men as they become community leaders and active, informed citizens.

Cultivating leaders

We cultivate leaders who strive to better themselves and more effectively serve others. We enhance their leadership skills through experiences and connections that strengthen the expertise and networks they need to make a difference in their communities.

Strengthening institutions

We help institutions at every level of society become more effective, accountable, and responsive to the diverse populations they benefit. We partner with educational, media, government, business, and civil society organizations that want to excel as they serve others.

Our values
These values guide how we do our work and how we work with each other:
Doers: We are passionate about the work we do, we embrace tough challenges, and we take initiative to find new opportunities.
Impact-driven: We care about the end results of the work.
Empathetic: We listen to those we support and design solutions in partnership with them.
Forward-looking: We learn from our successes, our mistakes, the experience of others, and the latest research.
Inclusive: We seek to hire staff as diverse as those we support and we ensure that our beneficiaries are inclusive of all backgrounds, particularly marginalized groups.
Read more about our values.
Diversity, equity, and inclusion at IREX
IREX commits to working continuously to create a more diverse, equitable, and inclusive workplace. We commit to ensuring that principles of diversity, equity, and inclusion infuse everything we do. 
Learn about our commitment to diversity, equity, and inclusion.
Our history
A nonprofit organization committed to global development and education, IREX has focused on people and communities since 1968.
Our organization was created to bridge geopolitical divides by fostering the exchange of scholars, teachers, students, and ideas. IREX then built on our expertise and network of relationships in Eurasia to support people driving educational reform, leading newly empowered movements in civil society, and building effective and accountable governance. IREX became a leader in improving access to information technology, strengthening independent media, and empowering youth through education and leadership development. As global needs shifted, IREX brought this expertise to new regions—first Asia, then the Middle East and Africa, then Latin America. 
Throughout these decades of change, our focus on people and communities has been steady. Today, IREX and our partners work in more than 100 countries to build a more just, prosperous, and inclusive world by empowering youth, cultivating leaders, strengthening institutions, and extending access to quality education and information.
Go to an overview of our history.
Financial information
IREX has an annual portfolio of more than $80 million. We work in 100+ countries with a team of 400 global staff.
Browse our financial reports.
Branding
IREX's brand guidelines and logo files should never be modified in any way, but we encourage you to proportionally resize the logos as needed. If you have questions about how to use the brand guidelines or logo files, please contact communications@irex.org.
IREX Europe
IREX Europe is an independent international nonprofit development organization providing innovative programs to improve the quality of education, strengthen independent media, foster pluralistic civil society development, and reduce conflict. The IREX Europe approach emphasizes partnerships with local development organizations to expand capacity, build sustainable institutions, and affect change through training, partnerships, education, research, and grant programs.
IREX Europe, registered as an association in France, derives its founding principles from IREX. IREX Europe and IREX work in close cooperation, sharing resources and skills for the benefit of people striving to live in fairer, freer, and more prosperous societies.