How activists can manage online identities to protect themselves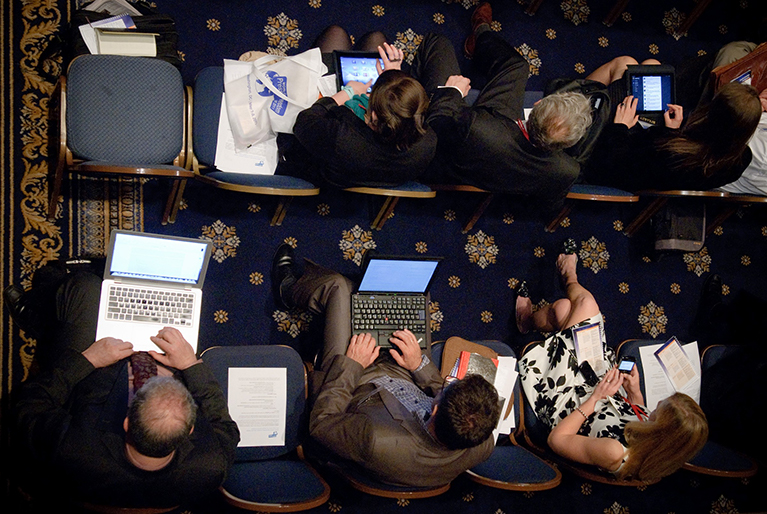 Activists who work on internet freedom and digital rights issues often juggle multiple identities—online and offline—in order to protect themselves and their family, friends, and sources. Getting the balance right is a growing challenge. Here are four things to consider as you decide how to manage risks.
If you're an activist, it's not enough just to implement digital best practices. You'll need a holistic approach to managing multiple identities in order to protect yourself.
IREX's Securing Access to Free Expression (SAFE) Initiative focuses on this type of training by addressing safety through the lens of digital identity, physical awareness, and psychosocial care.
1. Plan and assess your digital identity
Creating and managing multiple online profiles can be tricky. Digital platforms, tools, and technologies can change rapidly and become obsolete. Therefore, planning is key.
Many activists must draw clear boundaries between their personal and professional lives. Due to censorship, oppression, intimidation, and violence, activists may face challenges in managing their presence both online and offline and maintaining a low profile.
Take into consideration the purpose and limitations of each identity and platform. Multiple online accounts may be convenient for journalists, activists, and human rights defenders to privately work toward their goals and safely voice their opinions.
When managing your digital identity, be mindful of when and why you might choose to share or hide your location information online. Other actions you can take to improve your digital safety include ensuring your password is secure and setting up two-factor authentication for your e-mail and other online accounts.
2. Evaluate physical risks and strengthen skills
Online profiles can put your physical safety at risk. Protecting your identity online and offline can help you avoid harassment and create more space for freedom of expression.
Basic digital security skills can give activists the power to hide their location and protect their physical safety. Activists must also constantly monitor their digital footprint and data flow, regularly checking the online information that exists about themselves.
To increase awareness of your physical risks, be conscious of where you are wearing or carrying things that may reveal your identity and occupation, such as a work badge or name tag. Other tips to improve your physical safety include carrying a portable cell phone charger and water.
3. Don't forget about your social and psychological well-being
Juggling multiple identities can create complications. The secrecy of maintaining multiple identities can be overwhelming. It can generate stress instead of leading to peace of mind.
Professionally, multiple identities or aliases can challenge credibility. For example, as a journalist with an anonymous or masked identity, how can others trust you as a reliable source of information? What's more, it can be demoralizing when you can't claim credit for your work.
First and foremost, it is important to be aware of your stress levels and remember to take a break from stressful activities. Focusing on your breathing can also help you think clearly before acting in a stressful situation. For psychosocial wellbeing, build a personal support network of family, friends, and others who can account for you and help you through tough situations.
4. Find your community and continue learning
At the Internet Freedom Festival (IFF), diverse groups of people come together and create a space to discover how to safely use the internet for human rights defense, advocacy, and policy improvement.
The IFF's open and inviting culture allows individuals to not only learn but also contribute by participating in discussions, sharing experiences, and building emotional support systems.
"At IFF, you can meet a new person, and a small conversation or a quick chat becomes the starting point for new information... that never before seemed related to your area of expertise," said a SAFE Initiative trainer that attended the 2017 IFF. "The IFF drives this environment of constant discovery powered by connections."
To be prepared in all situations, SAFE participants are trained to be more aware of themselves and familiar with proactive and holistic approaches to safety. When activists have a clear vision of the risks associated with their decisions and activities, then any potential negative impacts can be dramatically decreased. When it comes to understanding risk and identity, SAFE teaches that it's neither good nor bad – it's essential.