Emerging trends in journalist safety: three insights from discussion marking 10 years of SAFE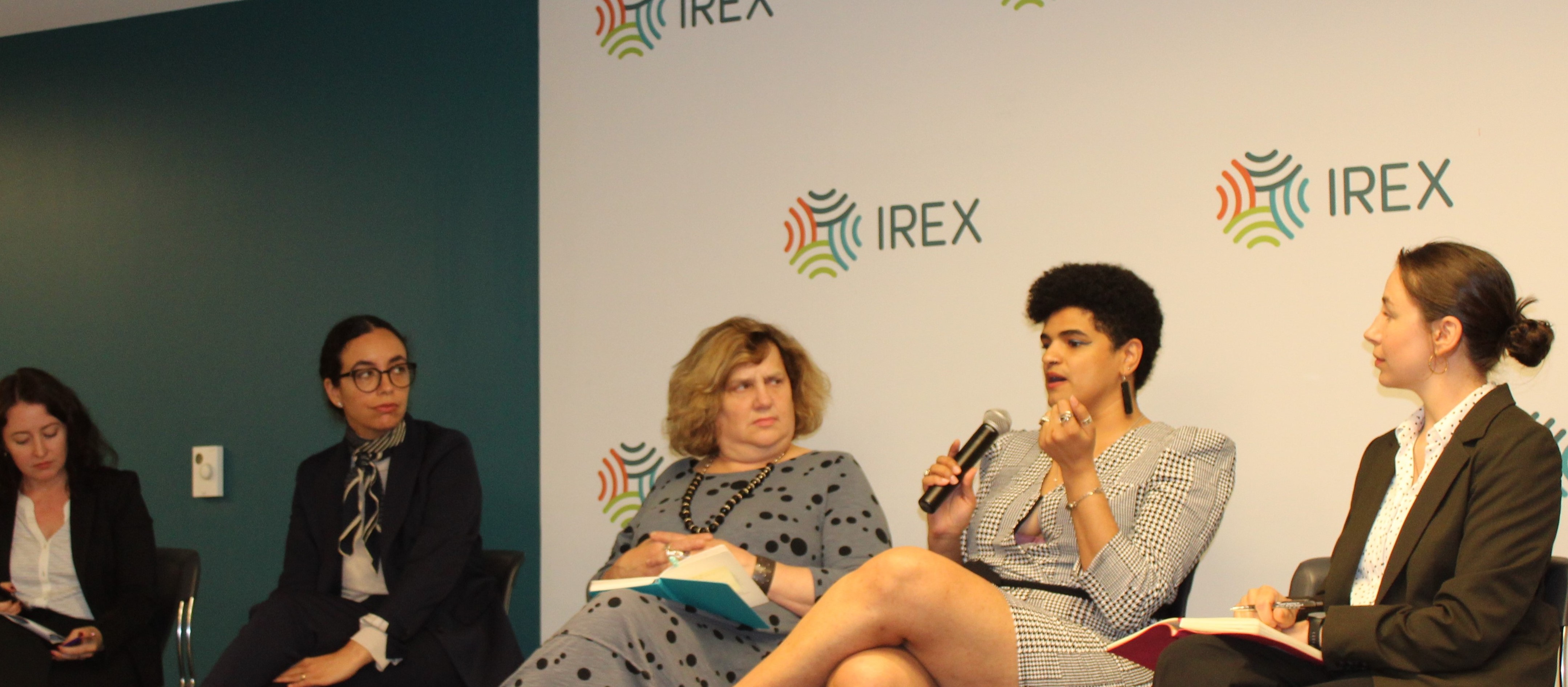 For 10 Years, IREX's Securing Access to Free Expression (SAFE) initiative has equipped more than 8,000 media professionals and social communicators with skills to resiliently continue their vital work through safety trainings and solidarity building events. On May 17, in recognition of this milestone, IREX brought together an expert panel to reflect and discuss, titled "Keeping Journalists Safe in the Face of Multiple Threats".
The panel included:
Jeje Mohamed

, Senior Manager of Free Expression and Digital Safety, PEN America

Elana Newman

, PhD, Clinical Psychology, The University of Tulsa

Maria Salazar Ferro

, Director of Newsroom Safety and Resilience, New York Times

Lucy Westcott

, Emergencies Director, Committee to Protect Journalists
Keynote address from Kristin Lord, President & CEO, IREX
Moderated by Lee Ann Grim, SAFE Program Director, IREX
Panelists highlighted several emerging trends in journalist safety, as well as recommendations for supporting a vibrant media landscape. Three key insights:
1. Journalism safety is a press freedom issue
Ensuring journalists remain safe in their daily work contributes to media freedom issues overall. Lucy Westcott, Emergencies Director at the Committee to Protect Journalists, shared that the top countries for journalists being imprisoned include Iran, China, Myanmar, and Turkey, while Latin America is the deadliest region. Physical safety risks, including death, has been and continues to be a primary concern to journalists, as well as their colleagues, families, and friends whom these risks affect as well.
Maria Salazar Ferro, Director of Newsroom Safety and Resilience at the New York Times, noted that "it's a lot cheaper and a lot easier to intimidate journalists now through online harassment." The relatively newfound reliance on digital media has allowed journalists identities, information, and jobs to become even more vulnerable, as well as create a larger distrust with audiences due to manipulative information.
Further, Dr. Elana Newman touched on the psychosocial threats journalists face and questioned how the trauma and continuous stress journalists are exposed to corrupt the occupational health. Today, journalists face continued—if not increased—threats to their safety, which warns of negative trends in issues of press freedom.
2. Risks often affect physical, digital, and psychosocial safety—not just one area   
The panelists all agreed that mitigating threats to safety is a holistic issue. Jeje Mohamed, Senior Manager of Free Expression and Digital Safety at PEN America explained, "whatever you're facing online doesn't stay on your laptop. It actually transfers to your physical safety and affects your physical safety, affects your mental health… which in response, also affects your sense of safety and how you're doing your job."
Ms. Salzar Ferro added that safety is like a stool—there needs to be three legs to feel comfortable and supported. The first leg is physical safety, which is the most recognized. While COVID-19 has brought awareness to the need for proper equipment for all people, including journalists, an upward trend in potentially dangerous events like natural disasters and civil unrest require that media professionals have tools for crisis preparedness.
The second leg of the stool is digital security. In an increasingly online world, technology creates a myriad of risks for journalists, while also providing opportunities for solidarity, mass impacts, and resources.
The stool's third leg—psychosocial wellbeing—allows it to stand, where journalists work more safely and resiliently. Journalists and the public alike must take the first step in acknowledging that the work media professionals and social communicators do in their daily lives can cause immense stress, trauma, and affect mental health overall. The stigma around mental health has only begun to dissipate, but the simple step of acknowledging the psychosocial risks journalists face creates safe spaces for further discussions. Combined-- physical safety, digital security, and psychosocial wellbeing-- allow journalists to be resilient, continue their vital work, and contribute to and diversify the media landscape.
3. Journalists need individual and organizational support
Newsrooms, outside organizations, and other relevant actors need to consistently engage with journalists to create a free media space. Individuals, as well as organizations, can support media professionals and social communicators in a wide range of ways—from sharing quality reporting, by advocating for local news sources, to funding journalist security trainings in languages other than English to expand the audience. By reaching across sectors, it ensures support is additive instead of repetitive.
SAFE continues to train journalists in closed and closing spaces globally to be aware of the threats they face physically, digitally, and psychosocially, as well as how to mitigate them.
View a recording of the panel.