Ukrainian libraries go green to meet citizens' information needs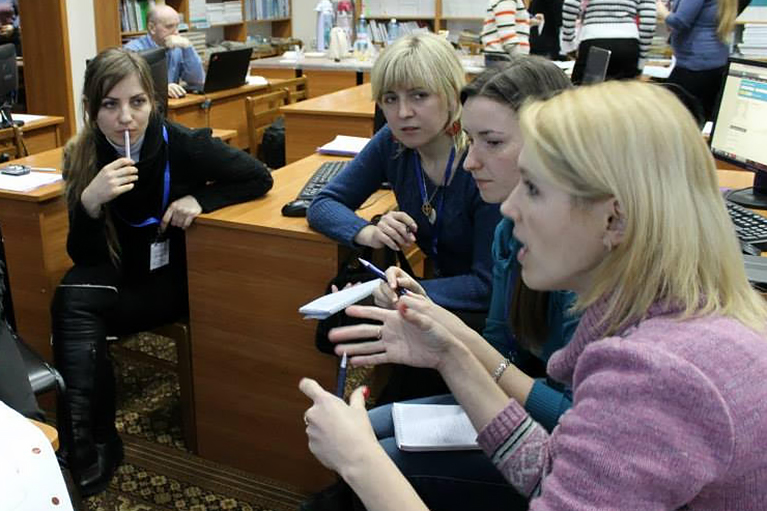 Nearly three years after Ukraine's Revolution of Dignity, political and economic crises continue to plague the country. Households, businesses, and public institutions are in dire need of reliable ways to make ends meet. From 2014 to 2015, household energy bills increased by up to 450% in Ukraine, according to Carnegie Europe, and electricity rates increased by 25% in March 2016.
This poses challenges for public institutions like libraries, which provide crucial information on social services to thousands of citizens across Ukraine. In response, some innovative libraries have found ways to reduce energy consumption. Now they are helping patrons, communities, civil society organizations, and other groups to reduce costs by going green, too. 
Training leaders to improve energy efficiency
IREX's Bibliomist – Global Libraries Ukraine program partnered with the Municipal Energy Reform Project (MERP) and Teachers for Democracy, a local NGO. Together, they hosted approximately 30 leaders from the library sector across Ukraine, along with private-sector experts from leading national companies.
Attendees participated in training sessions and discussions on practical energy-efficiency strategies and replicable implementation techniques. The conversations and workshops focused on the benefits of energy efficiency and on practical strategies for becoming energy-efficient organizations.
Helping institutions lead by example
Participants shared experiences and suggestions for meeting energy goals. Oleksii Solomakha from the Municipal Energy Reform Project explained that "[One] can start saving and decrease the amount of resources consumed by 5% simply by being aware of energy efficiency models."
The joint IREX–MERP event provided library and NGO participants an opportunity to craft action plans. These libraries and NGOs are now part of a growing Ukrainian movement of green organizations that are leading by example, such as the Center for Energy Efficiency in Kyiv and Teachers for Democracy.
Advocating for ways to save energy
Modernizing public buildings includes installing energy-efficient windows to help conserve energy. Now that Bibliomist libraries have made these upgrades, they are in a much better position to advocate for similar changes in their communities.
After participating in the IREX–MERP training, Larysa Mytrofanova, director of the Poltava Oblast Children's Library, developed a clear vision of how to save energy: "Now I know reasons to start fundraising and [launch an] advocacy campaign... not only to change old doors and windows, but to modernize [an] entire building."
Helping libraries strengthen their role as information hubs
While some libraries are just now coming to understand the cost-saving benefits of energy-efficient behaviors and management strategies, others have been implementing these measures at full speed.
Liubov Kyryliuk is director of Bar Library in Vinnytsya oblast. In 2011, with Bibliomist's help, she opened the Center for Project Management at her library. The center has supported hundreds of proposals since then, including many that include energy-efficiency renovations. As a result, the Ukrainian Fund for Social Investments awarded Bar Library approximately $25,000 to support library modernization efforts. The project also received about $4,500 in cost share from the local government.
The library deployed a wide-reaching informational campaign to promote energy efficiency. Librarians themselves serve as key resources for information about energy efficiency and renewable energy sources, and Ukrainian communities are increasingly looking to them for support.
Bibliomist is implemented through a partnership between the Bill & Melinda Gates Foundation, IREX, the Ukrainian Library Association (ULA), and the US Agency for International Development (USAID).