New law in Moldova enshrines libraries as hubs for local democratic governance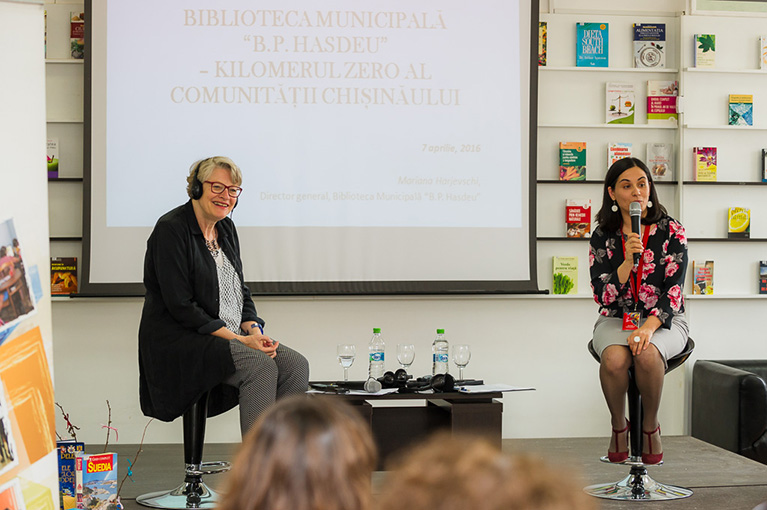 After more than a year of deliberation and consultation, Moldova's public library sector celebrated a remarkable achievement as the country's parliament voted to enact a national library law. This new legislation enshrines public libraries' role as providers of free and inclusive public access to information and locally relevant community services.
IREX's Novateca – Global Libraries Moldova program, along with its Moldovan partners, rallied a diverse coalition of library leaders—ranging from the National Librarianship Council to local librarians, trainers, and methodologists—to take ownership of the overall effort, find consensus, and move the legislation forward.
The legislation sets into law what has increasingly become the reality in Moldova—that libraries guarantee free public internet access, offer public training (in such areas as financial literacy, e-government services, media literacy, robotics, health, and more) and other modern community-oriented library services, and utilize a national network of professional development centers for librarians. These are all integral components of the innovative library model that IREX, through Novateca, has developed with its local partners.
"The law represents the convergence of the two main pillars of the IREX approach to library development—enabling tangible community impact through libraries that offer valuable services and access to information, while at the same time empowering key stakeholders and bringing them together around a modern vision for future development," said Evan Tracz, director of Novateca.
One thousand hubs for community engagement, learning, and access to government services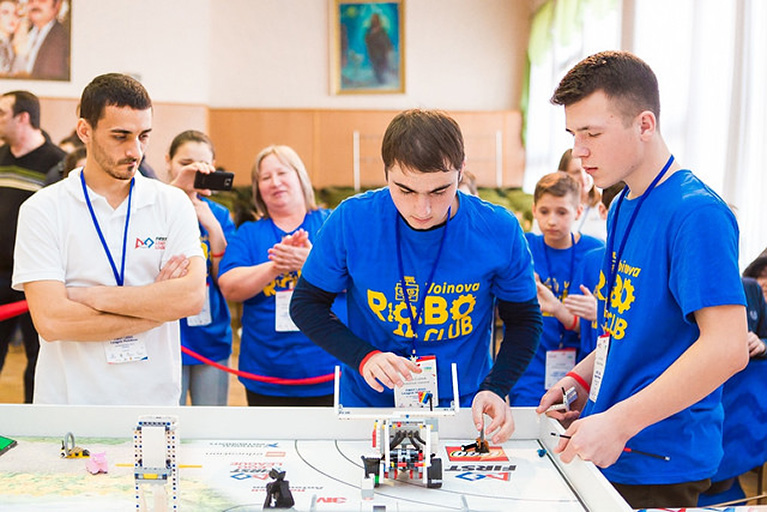 Since 2012, Novateca has equipped 1,041 public libraries in each of the country's 35 administrative regions with 21st-century technology tools, digital literacy learning resources, and the capacity to develop and offer community services that address local needs.
At a time when local government budgets are under pressure just to keep basic services up and running, Novateca works with its partners at all levels of Moldova's library sector, in addition to local and central public government bodies. These efforts help reposition the public library as an integral component of a modern, democratic society by acting as an inclusive gateway to information, an incubator for creativity and curiosity, and a dynamic source of locally tailored community services.
Novateca network librarians and leaders are thrilled to see their work enshrined in law, eager to leverage the additional support to benefit their communities.
"The new law resonates perfectly with the context in which libraries operate today; the avalanche of technology, democratization of local communities, [and] implementation of social reforms," said Mariana Harjevschi, president of the Librarian Association of Moldova. "Now that [the legislation] has been approved, local authorities will continue to support their communities in this approach through consistent investments in infrastructure, human resources, technology, and information resources."
Such enthusiasm is just one indication that Moldova's new law reflects its European Union neighbors' most successful examples. IREX provided technical assistance at various points during the drafting process through European librarianship consultants who brought best practices from their countries to implement in the Moldovan context.
Swedish librarian Inga Lundén was one such expert, traveling to Chisinau in 2016 to meet with library sector representatives and to share her country's experience drafting its national library law.
"The draft law looks very good and could turn out to be one of the most modern library laws in Europe," said Lundén, prior to the legislation's passing. "The draft even contains elements that I wish we had in the Swedish law."
Librarians as curators of relevant information essential to democratic societies
So much has changed in Moldova's libraries (including librarians themselves) since Novateca launched. These individuals see themselves as "infomediaries" between their communities and the world and know the potential impact libraries can have. As Novateca enters its final year, the new law goes a long way toward maintaining the modern library mindset and setting it on a course for future development.
"The law allows the public to make efficient use of modern library resources in order to fulfill their democratic rights and stay actively involved in society," said Lilia Dubasari of Taxobeni Public Library. "We need these regulations to ensure that libraries remain safe and friendly spaces for all."
While economic and political instability in Moldova shows no sign of abating, the existence of legislation that will survive future changes of government is encouraging librarians and library patrons to expand their work.
"This new law allows librarians to carry on their activity without being limited to their traditional functions," explains Ungheni Raion Public Library's Aliona Manciu. "Thanks to the language and robotics clubs, free trainings from local and national organizations, and participation of specialists in medicine, agriculture, and local government in the library, patron interest is increasing. Libraries are becoming true bridges to community collaboration and development."
Novateca - Global Libraries Moldova is a five-year program, implemented by IREX and supported by the Bill & Melinda Gates Foundation in partnership with the US Agency for International Development. Novateca provides Moldovans with technology-enabled access to relevant information and locally tailored community services in public libraries.