How are tech-savvy girls in Myanmar closing the gender digital divide?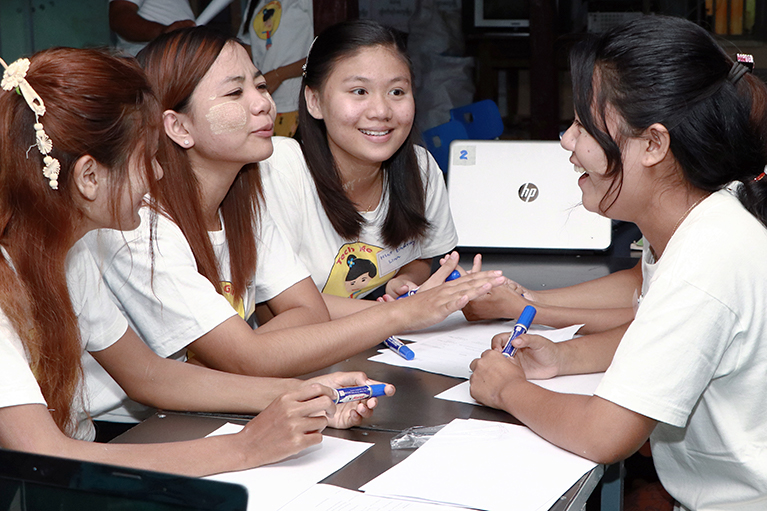 While the rapid expansion of technology and internet access in Myanmar offers unprecedented economic and educational opportunities, it also threatens to deepen the divide between those with and without access—a risk that disproportionately affects women and girls worldwide.
A 2015 baseline study of IREX's Beyond Access Myanmar project showed that 70% of technology users who participated in the project were boys and men. Participating librarians reported that boys use library tablets roughly twice as often as girls. Recent studies indicate that Burmese men are 29% more likely to own a mobile phone than women.
IREX's Tech Age Girls (TAG) program is addressing this gap in opportunity, providing more than 100 young women in Myanmar with the technology and leadership skills they need to achieve their goals and become agents of change.
Since 2008, IREX has connected more than 1,300 young women in eight countries to new digital skills, positive role models, and a global peer support network through TAG. These young women later implemented over 400 service projects that reached more than 10,000 people in their communities.
Empowering girls as leaders to catalyze positive change
In Myanmar, TAG not only equips young women with digital skills, but empowers them to use these skills as leaders. The program's curriculum includes training in productivity software, graphic design, team building, problem-solving, and community engagement.
Kyawt Nanda Lin, a TAG participant in Mandalay, trained community members and her fellow participants on how to use platforms such as Gmail and Facebook. She noted that others in her community often had access to these tools but did not understand their purpose, highlighting participants' role in improving digital literacy in their communities.
"I feel happy that I can share my knowledge and skills [with] those who need it," said Kyaw, adding that community members respect her more because she is a trainer.
Transferring knowledge to create more opportunities for women and girls
TAG Myanmar is part of the Beyond Access Myanmar network of librarians who are eagerly adopting the TAG curriculum. Already, at least half of the librarians reported using the curriculum for technology training and community engagement programs at their libraries.
The Intensity Library, a library in the same network, was inspired by TAG and formed the Intensity Ladies Network, which is open to women of all ages. Through the network, TAG participants lead weekly sessions on language skills, communication, business, civic education, and technology in a safe space.
TAG is not only about developing digital skills—it's also about closing the gender digital divide by empowering tech-savvy young women to become community leaders. By improving women and girls' digital and leadership skills, the program increases their educational and economic opportunities as well as the confidence needed to seize them.
Ma Khin Chit Win, a TAG librarian trainer, summed up her experience with the program. "It is such a great opportunity," she said, "to be part of this program and to witness the development of young future leaders who are girls."
The Tech Age Girls (TAG) program in Myanmar is supported by the Bill & Melinda Gates Foundation. It is implemented by IREX in partnership with the Myanmar Book Aid and Preservation Foundation (MBAPF).