Putting "local" in Ukraine local governance reform discussions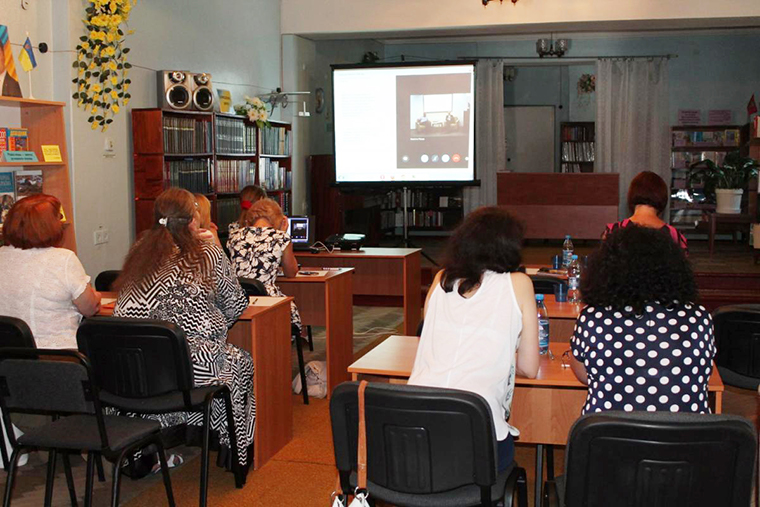 The Government of Ukraine is undertaking a sweeping decentralization reform designed to give citizens and their elected local leaders more control over the decisions that directly affect their lives. Such efforts are never easy, but combined with a struggling economy, persistent corruption, and separatist conflict simmering on Ukraine's eastern border, such reforms evoke fears that Kyiv is opening Pandora's Box—akin to Gorbachev's perestroika restructuring in the 1990s.
According to recent polling by the International Republican Institute, 67 percent of Ukrainians believe more rights should be transferred from the central government to local authorities and communities. At the same time, 72 percent feel their country is headed in the wrong direction. Most Ukrainians are skeptical, frustrated, or simply unaware.
Together with Ukrainian partners, IREX's Bibliomist and America House - Kyiv programs are working diligently to bring Ukrainians together to explore the changes coming to their communities. These citizens are replacing their fear and frustration with informed opinion and positive experiences with participatory governance.
In one such experience, more than 750 people learned about the decentralization reforms during a public event held at America House in Kyiv and broadcast live across 248 communities countrywide. Attendees posed questions to national experts, such as, "What is the difference between decentralization and federalization?" and "How will the reforms affect local communities?"
An exceptionally rare opportunity to communicate directly with national-level officials, the event allowed participants to direct questions to two key speakers: Deputy Minister for Regional Development and Construction Vyacheslav Nehoda and Executive Director of the Association of Ukrainian Cities Myroslav Pittsyk. The informal setting provided an opportunity to have an open conversation on topics ranging from economic benefits for local communities to reform implementation in conflict-affected regions.
While 56 attended in person, nearly 700 participated virtually at regional, Bibliomist-affiliated libraries equipped with technology to conduct live streaming events. Participating libraries ranged from rural to oblast libraries and hosted local government representatives, civic activists, and interested community members. In a country inundated with misinformation and propaganda, such an event presents a powerful window through which to bridge distances between regions and provide Ukrainians with the most relevant and up-to-date information.
IREX and its partners are working to ensure that Ukrainians have ongoing access to reliable information on local governance reforms. For example, they are displaying posters on the decentralization process in 2,000 public libraries and supporting co-creation of community events by librarians and regional reform officials in order to encourage public discussions.
Millions of Ukrainians are eager to learn about and participate in reform processes either underway or on the horizon—from decentralization and patrol police reforms to education and energy reforms.
IREX and its NGO and public library partners stand ready to increase meaningful, grassroots citizen engagement in reforms through technology-enabled community dialogue and participatory events across Ukraine.
America House in Kyiv is a program of the U.S. government and supported in its implementation by IREX. For more information about visiting America House or participating in virtual activities, please visit www.facebook.com/americahousekyiv.
Through a partnership between IREX, the Bill & Melinda Gates Foundation, the US Agency for International Development (USAID), the Ukrainian Library Association (ULA), local governments, and Ukrainian libraries, Bibliomist fosters the development of a modern public library system in Ukraine as a step towards improving the socioeconomic conditions of its citizens.