The high cost of ignoring media and information literacy in Moldova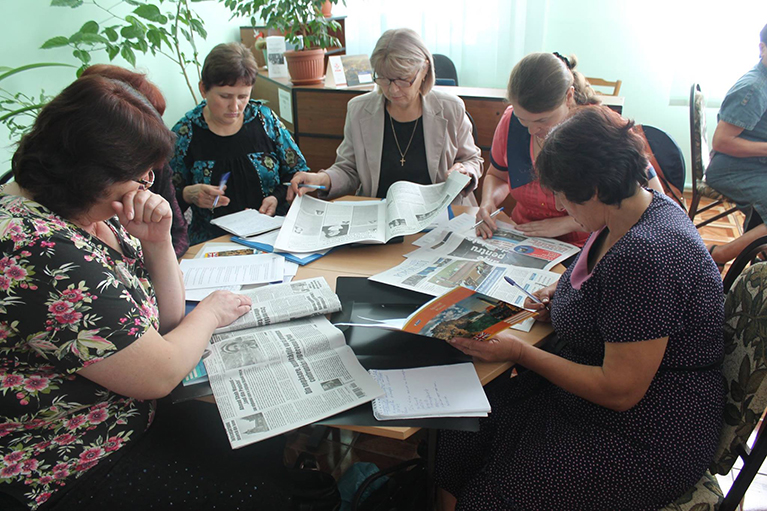 News consumers face manifold challenges in Eastern Europe—and in Moldova, it's no different.
Disinformation, biased reporting, opaque media ownership, and poor management practices plague the media landscape. Across the country, coverage focuses on, and originates from, the capital, Chisinau, and prioritizes political intrigue over the balanced, local reporting Moldovans need.
Under such circumstances, it is increasingly important for media and citizens to distinguish between trustworthy information, on the one hand, and manipulation and propaganda, on the other.
Thirty percent of the public say they do not know what 'manipulation' means, and fifty percent say they do not have the ability to distinguish it. I think that in reality this percentage is much higher.

Doru-Florin Petruti, 2016 MSI panelist
IREX's recent research offers fresh insight into the issue, revealing that such needs have been left largely unaddressed. The public remains skeptical of the media, vulnerable to manipulation, and without reliable local content.
In this post, we will share key observations about Moldovan media and information consumption habits. We will then highlight some of the innovative, grassroots approaches that IREX and our partners have developed to address them. Throughout, we will draw upon  results of the 2016 edition of IREX's Media Sustainability Index (MSI)—which features an expanded study of how well the country's media serves public needs—and our more than 20 years' experience partnering with local organizations to implement programs in Moldova.
Many Moldovans feel frustrated and overwhelmed by the media
Moldova emerged from a socially and politically tumultuous 2015 with a dire need for clarity and direction. According to the 2016 edition of IREX's MSI (PDF, 8.7 MB), the media sector has proven unable to provide it.
"The media in Moldova… fail to meet the needs of a country struggling to develop an identity and vision for its future," the report concludes. Major broadcasters, it says, lack "the independence necessary to advance a healthy, thriving marketplace of ideas."
Many Moldovans are both frustrated by the quality of available news and overwhelmed by the amount that exists online. Others, particularly those living in the regions outside of Chisinau, are often unaware of the extent to which the information they consume may contain bias or outright inaccuracies.
For these reasons, IREX selected Moldova as one of three countries to include in an expanded companion methodology to the MSI, which, until this year, focused largely on factors affecting the production side of media, such as journalistic professionalism, business management practices, and supporting institutions.
This year, MSI staff worked for the first time with a panel of civil society representatives to examine the extent to which the media sector actually serves the public's needs. Crucially, this assessment paid close attention to the public's ability to distinguish between manipulative and objective news content.
Many Moldovans are unsure of how to recognize manipulation in the media
In 2016, Moldova earned a "near sustainability" ranking under the MSI's traditional metrics, but scored a disappointing 1.66 out of 4.00 on the new rubric. The panelists were unanimous in their view that "the press is overly partisan, but also subtly manipulative." They also agreed that media have "a big influence on public opinion."
"Thirty percent of the public say they do not know what 'manipulation' means," says Doru-Florin Petruti, MSI panelist and general director of the research company IMAS. "Fifty percent say they do not have the ability to distinguish it. I think that in reality this percentage is much higher."
The situation affects younger generations as well, setting the stage for a lengthy, uphill struggle for a healthy information environment.
"Adults who lack media literacy skills are destroying the younger generation's optimism," explains Daniela Galai, program coordinator for IREX Europe's Strengthening Independent Media and Media Literacy in Moldova (SIMML) project. "[Youth have access] to more information than ever before, but they are becoming disillusioned."
IREX, whose presence in Moldova dates back to 1996 and includes such projects as the Media Program in Moldova and the Citizen Participation Program, is working with its sister organization, IREX Europe, to pioneer a novel approach to this challenge.
Since 2012, IREX's Novateca – Global Libraries Moldova program has equipped more than 750 public libraries in each of the country's 24 raions (see map) with 21st-century technology tools and basic internet connectivity to provide Moldovans with access to relevant local information and public services tailored to unique community needs.
Today, Novateca is partnering with SIMML to bring media and information literacy skills to communities through an ambitious training program and the launch of library "media corners."
SIMML is helping Novateca librarians strengthen their critical information and news consumption skills, training them on tools and approaches for navigating and verifying media content. The project transforms librarians into knowledgeable "infomediaries" (short for "information intermediaries") capable of helping patrons use online and multimedia tools to locate information safely and effectively.
The project's media corners are dedicated library spaces with computers and free access to print and online news subscriptions. SIMML has established corners at four libraries so far, with plans to expand to 11 others.
To date, the project has trained 57 librarians as media literacy trainers. This group has gone on to train an additional 75 of their peers. Together, they have explored topics covering objectivity, accuracy, fact-checking, distinguishing news from opinion, sourcing, and recognizing "spin" and misinformation.
These trainers have conducted 46 trainings of their own for a total of 550 librarians, students, and other Moldovans from both Romanian- and Russian-speaking parts of the country. This figure is expected to surpass 6,000 by the end of the project.
Building on grassroots approaches to information and media literacy
Sustaining information and media literacy in Moldova and Eastern Europe requires citizen-led, community-level efforts such as these. Additional work is needed to adapt and expand them, both in Moldova and its neighbors.
In Ukraine, for example, IREX pioneered a citizen media literacy skills-building approach that provided more than 15,000 individuals with contextually appropriate training in critical information consumption and practical, easy-to-use methods of cross-checking news and identifying propaganda.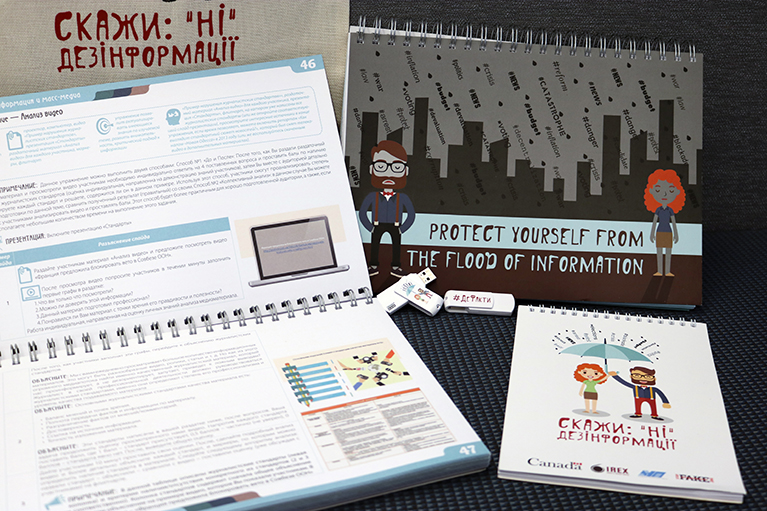 As the region's media landscape continues to shift, development professionals must adopt a more expansive view of news and information—one that focuses not just on the quality and professionalism of media, but also on individuals' own ability to consume content safely and to discern truth and objectivity from manipulation.
IREX's Media Sustainability Index (MSI) provides in-depth analyses of the conditions for independent media in 80 countries across the world and is funded by the US Agency for International Development. The Europe & Eurasia MSI includes 21 countries across the region.
Novateca - Global Libraries Moldova is a five-year program, implemented by IREX and supported by the Bill & Melinda Gates Foundation in partnership with the US Agency for International Development. Novateca provides Moldovans with technology-enabled access to information and locally tailored community services through modernized public libraries.
Strengthening Independent Media and Media Literacy (SIMML) is funded by the US Department of State and administered by IREX Europe.
The Citizen Media Literacy Project (CMLP) was a nine-month project implemented in partnership with the Academy of Ukrainian Press and StopFake, with funding from the Canadian Department of Foreign Affairs, Trade, and Development's Stabilization and Reconstruction Task Force.