How can libraries empower youth with digital skills?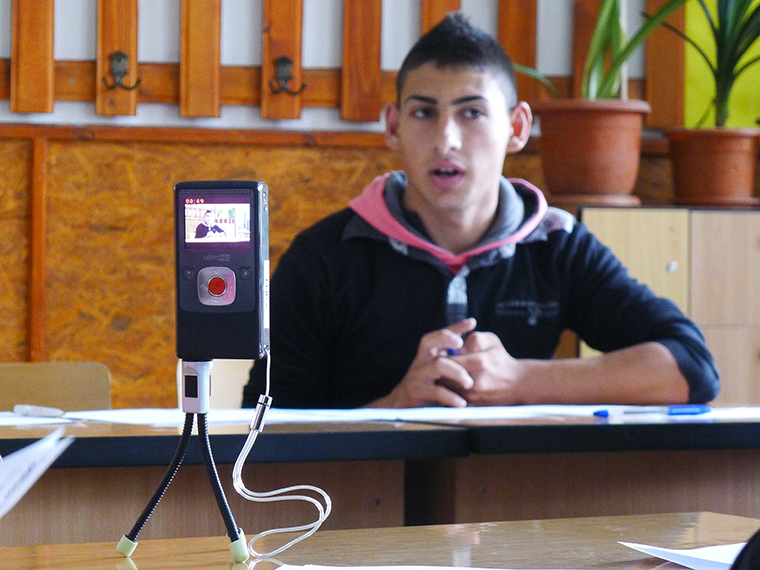 Outside of school, many Moldovan students can have trouble finding a place to practice new skills and share newfound knowledge with others.
Moldova's public libraries are becoming modern venues equipped to let students and others practice skills and share what they learn. Through Novateca, a project implemented by IREX, libraries are working to bridge the digital divide and support positive youth development by teaching a range of digital skills to all types of learners—from older patrons who are first learning to use computers, to young children who are expanding their technology skills.
Children and youth constitute libraries' biggest group of patrons. Libraries offer the perfect place for young people to continue developing teamwork and critical thinking skills while sharing knowledge and creativity with others.
Sharing digital skills through youth clubs
Many Moldovan libraries benefit from active youth volunteers, who teach digital literacy to children through IT lessons and activities.
For example, the Young Animator Club in Vorniceni village gives children the opportunity to put their imagination to work. The club is the initiative of one of the library's most active volunteers, 20-year-old Marcel Lazarev. A student of interior design, painting, and photography, Marcel has extensive experience working with an array of advanced design and animation programs.
"My dream was to create my own animated video," said Marcel. "So, I thought, 'I need a creative team that can help me build the characters [and] the context and that can help me with the camera.' Soon after this, I found out that our public library was equipped with a computer through the Novateca program. This motivated me even more."
Lazarev meets 13 club members twice a week in the library to share his knowledge. He starts with the fundamentals of stop-motion animation and graphic character development. Students acquire advanced IT skills, learn graphic design elements, and develop their creativity. Together, club members created a short video showcasing what they've learned.
"I knew I could go to the library to use the equipment and develop our club," said Marcel. "First, I got to see my dream realized—to create an animated video—and second, to share with the kids from my village something interesting that can bring their talents to light."
Empowering youth to be digital leaders
Approaches like this benefit all involved. The children in the club learn advanced IT skills that aren't normally taught in schools, and the libraries build engagement with patrons. This youth-driven approach supports positive youth development, which encourages young people to create positive solutions within their communities. In Vorniceni, the library even earned extra financial support from donors to purchase creative materials for animation.
"I'm happy that our library can provide the necessary equipment and assistance for developing new and advanced IT skills for our patrons," said librarian Ana Triboi. "It was a wonderful experience for them and actively involved them in teamwork."
Marcel and the club have set their sights on bigger projects. "We had the chance to participate at the National Conference of Volunteers organized in Chisinau, where we saw an animated video broadcast during the event," he says. "It motivated us to start work on a new video and we hope to see this video on [the] big screen during the same conference."
Improving youth's access to information
The Moldovan Ministry of Youth and Sports identified access to information and services as a priority area for youth ages 15–29—about 24 percent of Moldova's population.
Novateca has been working with the ministry since 2015 to increase youth engagement and access to information. Together, Novateca and the ministry are modernizing and diversifying youth services through public libraries. They are also promoting innovations that expand youth access to information.
As the club in Vorniceni illustrates, public library resources can help youth in remote areas gain access to digital skills and information. These initiatives can also help young people share their own knowledge in open, public venues with appropriate equipment.
Novateca - Global Libraries Moldova is a five-year program supported by the Bill & Melinda Gates Foundation, in partnership with USAID, which will contribute to the modernization of the library system in Moldova.