Connecting Moldovans to digital public services at libraries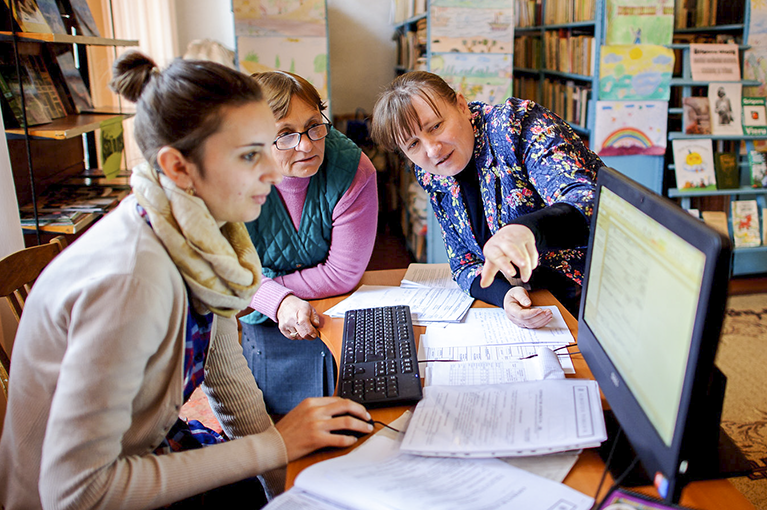 Technological innovation has transformed the way the world does business, learns, and socializes. For many, the pace of change can feel overwhelming—particularly in smaller, rural communities with limited access to 21st-century information tools.
Librarians like Lilia Rogot are working to bridge this divide. She is an e-Ambassador from Balti Municipal Library. As one of 29 representatives of an exciting new initiative, Rogot and her fellow e-Ambassadors gained advanced training in an array of e-governance tools and resources that bring public services online.
These e-Ambassadors have the potential to change how their communities access public records, conduct business, participate in local discussions, and more. With their help, Moldovans are becoming increasingly familiar with global trends in mobile banking, electronic requests for civil registry documents, online utility and tax payments, and even visa appointment scheduling.
Embracing libraries as community hubs for essential services
The result of a growing partnership between IREX's Novateca – Global Libraries Moldova program and Moldova's e-Government Center (EGC), the e-Ambassadors initiative provides advanced training in e-governance tools and services to a select group of librarians from across Moldova.
Patrons are now able to request public services in a simple, quick, and safe manner. The library has become a one-stop shop for providing assistance [with] e-services for library visitors.

Lilia Rogot, an e-Ambassador at Balti Municipal Library
The initiative recognizes the increasing global importance of e-governance tools for individuals seeking more efficient ways to access services and communicate with public officials.  
According to the United Nations, "There has been a sharp rise in the number of countries that are using e-government to provide public services online through one-stop platforms… Ninety countries now offer one or more single entry [portals] on public information or online services, or both, and 148 countries provide at least one form of online transactional services."
In many countries, however, ensuring that citizens understand and have access to these services remains a challenge.
"An increasing number of services are available online, yet more information is needed in order to make use of them," said Aliona Manciu, an e-Ambassador from Ungheni Raion Library in Moldova.
Empowering librarians to change perceptions and lives
This joint Novateca–EGC initiative enables librarians to transform their libraries into e-governance resource hubs for their communities. The current cohort has since delivered more than 60 trainings for over 550 people, including teachers, private-sector representatives, library patrons, and fellow librarians. 
"The image of the library and librarians has improved," said Ghimpu Natalia, Chisinau Municipal Library's e-Ambassador. "An increasing number of youth now request information on e-services… We currently provide a new service focused on delivering e-services and mobile banking trainings to patrons ages 14 and up."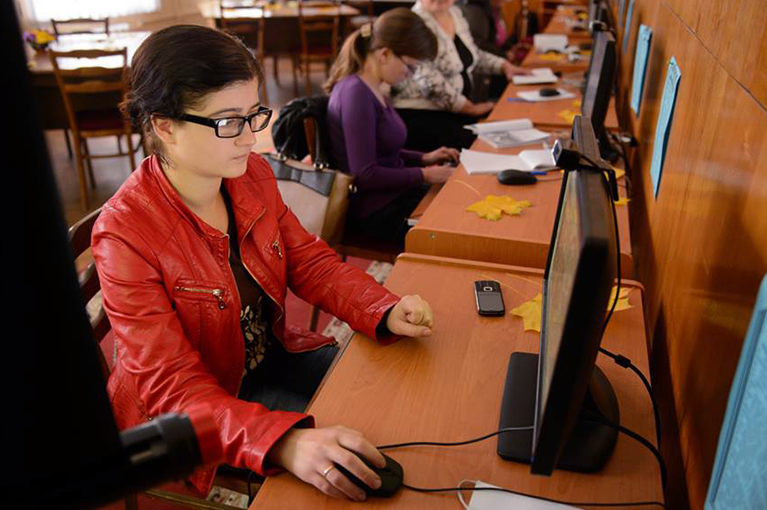 Young patrons are not alone in their enthusiasm for e-governance tools. Novateca's e-Ambassadors have noticed that older visitors are growing more interested as well.  
"Loyal, elderly patrons have requested assistance on several occasions with electronic signatures, birth [and] death certificate access, personal property taxes, and utility payments using a savings account card," said Manciu. "They were highly satisfied and impressed with the e-services."
Working with local partners to promote e-service access
This experience makes a strong case for promoting e-service access through existing local institutions that citizens and community leaders trust. Novateca's public librarians are able to assess unique local needs and help patrons take advantage of new developments in governance and technology reform.
"Patrons are now able to request public services in a simple, quick, and safe manner," said Rogot. "The library has become a one-stop shop for providing assistance [with] e-services for library visitors."
The Government of Moldova shares this vision of transforming libraries into places where community members can access the tools, expertise, and training opportunities to make use of e-services. The Moldovan government officially recognized Novateca libraries as key access points to e-services in its National Strategy for Public Administration Reform and Action Plan on Modernization of Public Services Reform for 2017–2021. Together with Novateca, the government is preparing to pilot e-service provision through unified, library-hosted public service centers, beginning in 2017.
Novateca - Global Libraries Moldova is a seven-year program, implemented by IREX and supported by the Bill & Melinda Gates Foundation in partnership with the US Agency for International Development. Novateca provides Moldovans with technology-enabled access to information and locally tailored community services through modernized public libraries.