Formative Evaluation of the Youth Civic Engagement and Dialogue Program in Romania and Moldova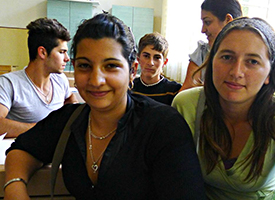 Youth from Romania and Moldova gave voice to their personal stories of change in a participatory evaluation of the Youth Civic Engagement and Dialogue program. Using the Most Significant Change technique, more than 80 youth participated in an evaluation in which they gathered stories of change from each other and shared their recommendations for the future of the project.
These individual stories form a patchwork of positive change, showing that in just one year, youth participants increased their tolerance for people of other ethnicities and increased their commitment to improving their communities. YCED is designed to build tolerance across Roma and non-Roma lines in schools throughout Romania and Moldova while fostering a sense of civic engagement among youth through community projects. The evaluation revealed that the program is making the biggest gains in promoting tolerance. One non-Roma youth said, "I made a Roma friend who changed all my opinions about the Roma. I realized that they are also human, that they have the same reactions I have." Her story is just one of many stories of transformation.
IREX is pleased to release the results of this formative evaluation, which was conducted by a team of staff from IREX Moldova, Romani CRISS, and IREX USA, and led by an external consultant from Village Earth. Evaluation results draw on the 82 stories gathered from project participants, in addition to survey data and stories from adult mentors of the project.
The Youth Civic Engagement and Dialogue Program is funded by the Bureau of Democracy, Human Rights, and Labor of the U.S. Department of State and is implemented by IREX in conjunction with Romani CRISS.