Stopping Disinformation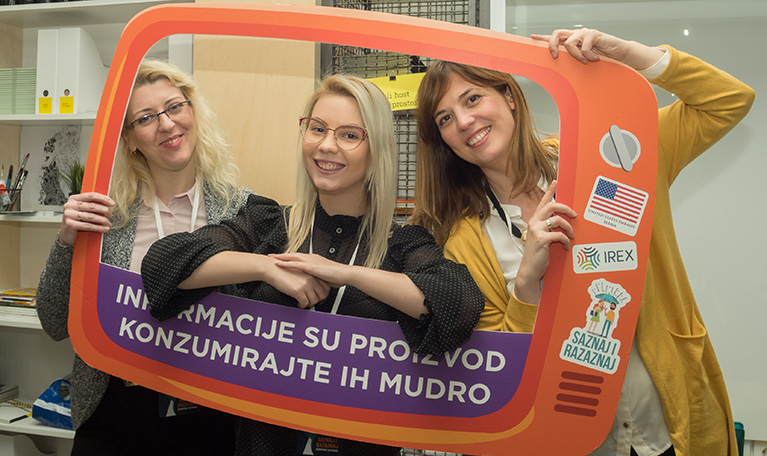 Disinformation threatens security, public health, civic discourse, community cohesion, and democratic governance. To prevent disinformation from spreading, IREX uses a range of approaches across multiple facets of society.
IREX is committed to helping individuals, communities, and organizations protect information integrity and build resilience to disinformation. Our strengths include:
Empowering citizens to recognize disinformation
Learn to Discern is IREX's flagship initiative for teaching media literacy. The program helps people of all ages develop healthy habits for engaging with information, online and offline.
Learn to Discern empowers individuals, communities, and organizations to recognize manipulative information, prevent misinformation from spreading, and participate in online conversations without undermining anyone's dignity or well-being. The program has appeared in numerous outlets, including the New York Times, NPR, Christian Science Monitor, and Journal of Media Literacy Education (PDF, 836 KB).
Recent examples:
Creating social media campaigns to teach media literacy skills
We create targeted social media campaigns that use "sharable" content—like memes, videos, and quizzes—to win audiences' attention.
Our campaigns draw upon local voices, humor, and compelling graphics to provide quick tips on recognizing manipulative content and encourage responsible sharing, "liking," and commenting. A randomized control trial found that our social media content is effective at changing behaviors.
Sample programs:
Supporting independent media and watchdog groups to produce a healthy media environment
We help journalists produce balanced, informed, and ethical reporting to provide citizens with the information they need to participate in democratic processes and hold leaders accountable. We work with media associations to provide legal assistance to journalists.
We support fact-checking partners to share their findings with wider audiences. We also train media outlets, reporters, bloggers, and citizen journalists to verify information and protect their information channels.
Sample programs:
Codesigning technology solutions to mitigate disinformation
We support locally led strategies to address online disinformation. In Mozambique, we used machine learning and our Media Content Analysis Tool to identify bias in news articles. This type of technology has the potential to strengthen news outlets' vetting processes at scale.
We are building plug-ins, apps, and other tools that alert users when their data is being harvested for disinformation campaigns. Recently, we partnered with the RAND Corporation to test the effectiveness of a technology solution through a randomized control trial.
Recent experiences:
Advising on policies and regulations to prevent disinformation from spreading
We work with local media lawyers, regulatory bodies, nonprofit organizations, and governments to improve the legal, regulatory, and market environments to support independent media.
By incubating alternative revenue-generation models at the country level and promoting them more broadly, IREX helps to spread ethical practices and locally owned solutions that reduce the need for donors' resources. This also reduces the influence of political and business groups that "sponsor" media outlets to curtail their editorial freedom.
Sample programs:
Conducting cutting-edge monitoring, evaluation, and research
We are launching the Vibrant Information Barometer, an annual index that tracks the integrity of information environments and how people produce, spread, consume, and use information. This will enable leaders, civil society, media, tech companies, donors, and other organizations to design better approaches to stopping disinformation. This new index will replace the Media Sustainability Index, which we administered around the world for more than 20 years.
We also partner with organizations on research projects. For example, we collaborated with the RAND Corporation to study the effectiveness of using memes and short videos to reduce disinformation's influence on social media users. We worked with the Law Library of Congress to study how governments have curtailed freedom of expression in more than 20 countries under the guise of reducing disinformation about COVID-19.
Sample programs:
For more information, contact Katya Vogt, IREX's global lead for media and information literacy initiatives, at kvogt@irex.org.