Creating sustainable impact: What we've learned from Romanian Libraries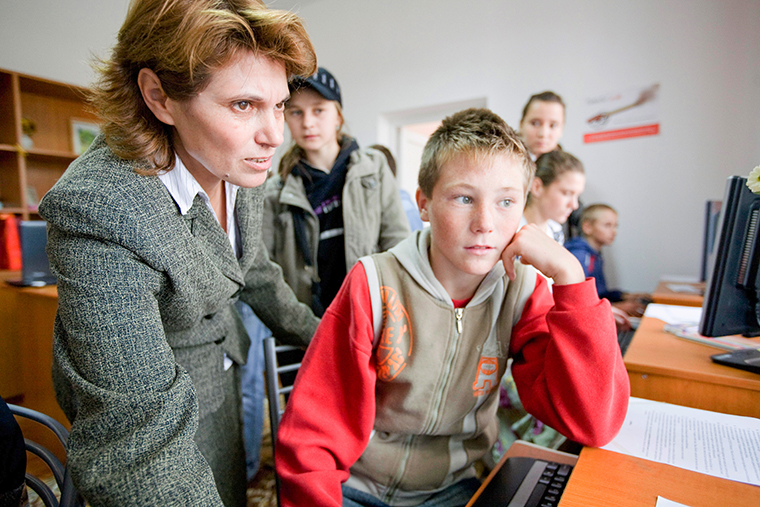 With an integrated approach to partnership and advocacy, IREX's Biblionet - Global Libraries Romania program transformed more than 2,200 libraries across Romania into innovative hubs for access to services, information, and technology. In doing so, it achieved that elusive development goal: catalyzing long-lasting, systemic change amid competing needs and limited resources in a manner which responds to unique, local community priorities.
From the beginning, Biblionet engaged both local and national government stakeholders who provided the bulk of the funding going forward. The program engaged communities to ensure that libraries became much more than dusty places for books. By working with local actors and ensuring free public access to critical services and information, Biblionet and its partners met diverse needs country-wide - on topics from health to finance, education to agriculture. What's more, it did so using data to ensure those benefits would long outlive the program itself.
Biblionet's achievements provide valuable lessons that now shape IREX's programming in the areas of community development, non-formal education, appropriate use of technology, livelihoods, and access to information. In Romania, libraries have become venues where locally driven, long-term solutions to complex community issues can take root. What are the secrets to Biblionet's lasting impact, and how can they be applied outside of the program?
During six years, 600,000 Romanians reported using the Internet for the first time at a library.
Three keys for sustainable impact
Local ownership. Romanian county councils provided $25 million to improve library infrastructure, provide 21st-century technology, and upgrade librarian skills to make libraries safe, useful, and inviting public spaces. Crucially, local ownership ensures that authorities understand the importance of replacing or upgrading equipment as time passes. With local government's support, over 2,000 public libraries were modernized, over 4,000 librarians were trained as 21st-century information specialists, and 41 county libraries now offer accredited professional development training online and in-person.
Partnerships. Local organizations, companies, and government agencies invigorated libraries and provided resources and expertise to meet diverse community needs. As a result, patrons reported that modernized libraries helped them save time and money, gain skills, improve their health, engage their government and become more active in their communities. In Romania, partners invested $14 million - from traditional allies like schools, to new relationships with hospitals, banks, law firms, tech companies and foundations - to provide critical services. These include IT training and mentorship for youth with TechSoup and Microsoft Romania; financial literacy training for nearly 27,000 Romanians with VISA Europe; and librarian-assisted EU agricultural subsidy applications for farmers with the Ministry of Agriculture's Agency for Payments and Interventions in Agriculture (APIA).
Data-driven advocacy. This is central to how IREX demonstrates impact and attracts partners. The benefits of Biblionet's grassroots, systemic changes were widely touted using solid impact data and then embedded in policy to ensure long lasting support from top to bottom. Data-driven advocacy efforts have resulted in the inclusion of libraries in county council economic development plans, as well as the European Union's Multi-Annual Financial Framework 2014-20. Additionally, over 80 percent of librarians report receiving more fiscal and other support from their county officials since learning to quantify and communicate their economic and social impact.
IREX's approach has been both comprehensive and contextually appropriate, demonstrating short-term impact and ensuring long-term potential. It represents IREX's core beliefs that successful programming must involve local buy-in from an array of partners, supported by data-informed decision making. The partnerships Biblionet facilitated and the institutions it strengthened continue to benefit not only librarians, trainers, and patrons, but also citizens who are a part of local communities. The library ecosystem that exists today is more robust, more proactive, and better equipped than ever before.
Through a partnership between the Bill & Melinda Gates Foundation, IREX, the Association of Librarians of Romania (ANBPR), the Ministry of Culture, local and national governments, and libraries across the country, Biblionet developed a modern public library system in Romania.