Supporting inclusive education in Pakistan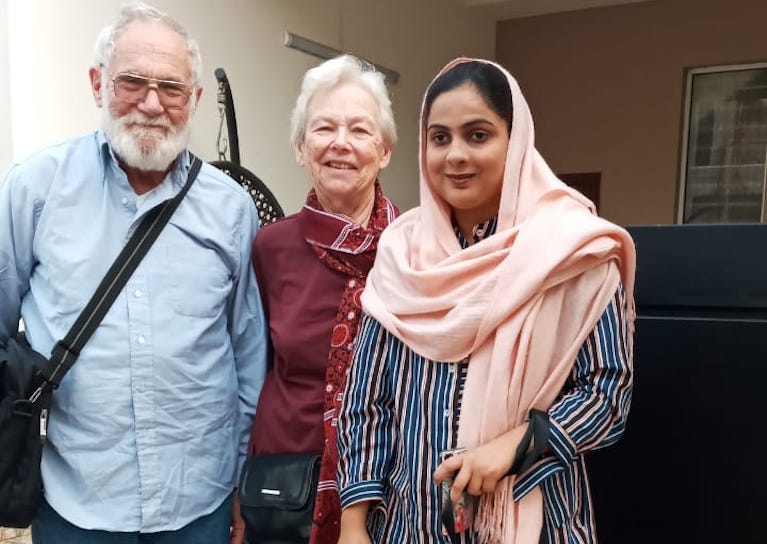 During her Global UGRAD-Pakistan experience in the United States, Arisha was inspired by the way institutions included and supported people with disabilities, and how equal opportunities are enshrined in the Americans with Disabilities Act. Now that she has returned home, she is working to extend similar protections to students with disabilities at her university in Punjab.
When Arisha arrived at SUNY-Plattsburgh, she discovered an office specifically dedicated to supporting students with disabilities—something that did not exist at her university in Pakistan. The office, along with the Global Education Office, provided the support Arisha needed to fully participate on campus, excel academically, and develop leadership skills for her career.
Providing support in and out of the classroom
SUNY-Plattsburgh staff set up a one-on-one meeting with Arisha to understand the assistance she would need on campus. They checked with her throughout the semester to ensure that all of her class materials were accessible and that her professors were providing adequate support.
"With my own hard work and with their tremendous help," she said, "I scored very well and passed my semester with a 3.93 GPA."
Arisha's success extended beyond the classroom. As a volunteer with the Student Conduct Office, she was able to bring a unique perspective to case decisions. During her program, she completed 65 hours of community service at the Student Conduct Office and hosted a panel discussion to raise awareness about proper facilities for people with disabilities.
"The [university] staff told me that I'm a pioneer here as a visually impaired student," she added. "I have served as a board member on student conduct cases. It is a proud moment for me, my family, and the university."
Working toward inclusive education
When Arisha returned to her university in Pakistan, she wanted to improve conditions for the disability community there. Of the 20,000 students at the institution, there are 300 students with a disability.
"Unfortunately, in my university there is not even a single department working to support these disabled students," she said. After her experience in the U.S., Arisha understood the immense benefits of having a resource center to provide students with assistance and guidance.
With funding from an alumni small grant, Arisha collected data on the specific needs of students with disabilities and organized a seminar on disability issues with 200 attendees.
Arisha's event highlighted the need for support and full inclusion of students with disabilities, as well as their rights under Pakistan's laws. For the first time, students with disabilities had a chance to explain their needs to university officials, such as the director of student affairs, who recognized the necessity of a disability resource center.
Faculty said they would pursue funding for the resource center in the university's next budget cycle. Until the university establishes a dedicated department to support students with disabilities, the director of student affairs offered his staff and office to respond to requests. The Faisalabad Institute of Cardiology, a government organization, also donated two wheelchairs for student use.
Arisha is working toward making the disability resource center a reality. She plans to organize more meetings and secure training for faculty on how to work with students with disabilities and make their courses fully accessible. She says the alumni small grant project taught her how to manage her time, collect data, organize a large event, and get authorities to listen to her point of view.
Arisha links her advocacy efforts back to her experiences at SUNY-Plattsburgh. She says that calling attention to the need for full inclusion and working toward change at her home university is "the outcome of my Global UGRAD program."
The Global Undergraduate Exchange Program in Pakistan is sponsored by the U.S. Department of State with funding provided by the U.S. Government and administered by IREX.