Promoting disability rights in Pakistan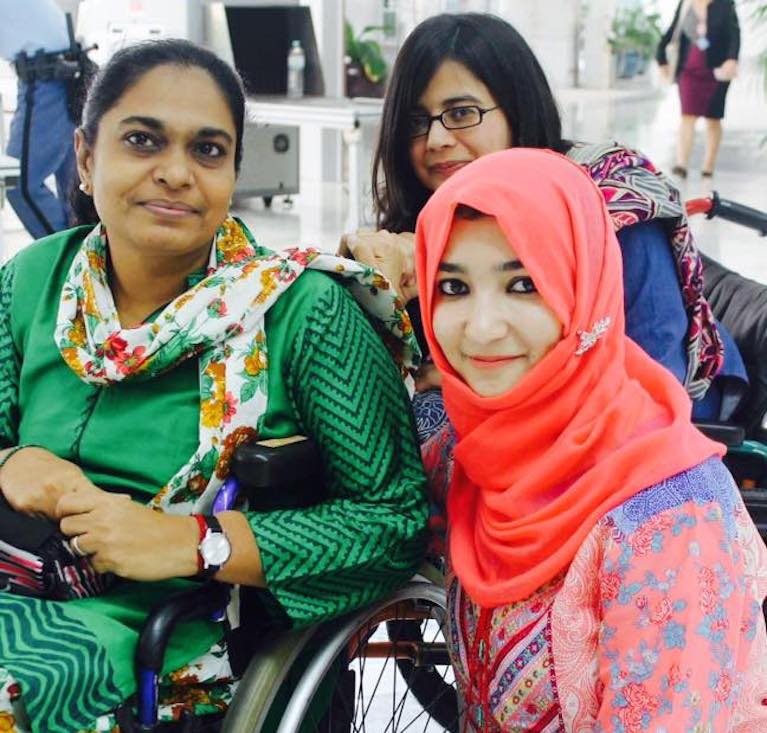 As the U.S. celebrates the 30th anniversary of the Americans with Disabilities Act, Global UGRAD-Pakistan alumni are working across Pakistan to promote inclusion of people with disabilities. One alumna, Sumaira, was inspired by a friendship in the United States to promote disability rights in her community.
Connections in the United States inspire disability inclusion work
While studying at Emporia State University in Kansas, Sumaira performed community service at GIVE, distributing food to families in need and organizing activities for community youth. During her time there, she worked closely with a volunteer who is visually impaired. For Sumaira, seeing the accommodations provided to her friend as a result of the Americans with Disabilities Act was transformative.  
Before coming to America, Sumaira had never worked with someone who has a disability and had never considered the possibility of dedicating her career to disability issues.
"She totally changed my perspective toward life and disability," Sumaira reflected. "She inspired me so much that now I work and advocate for the rights and mainstreaming of persons with disabilities."
Following her Global UGRAD-Pakistan exchange, Sumaira got a job as a monitoring and evaluation officer at Federation Handicap International-Pakistan, an Islamabad-based organization that advocates for people with disabilities. Sumaira runs the Youth with Disability Alliance (YDA), which aims to promote disability rights with the support of youth with disabilities.
To support her community during the COVID-19 pandemic, Sumaira is collecting donations and distributing food and sanitation supplies to people with disabilities. YDA is also providing psychosocial support to groups that are particularly at risk, like children, older people, and pregnant women with disabilities.
Engaging government officials in dialogue  
Since completing her Global UGRAD program in the spring of 2014, Sumaira has implemented two alumni small-grant projects. Her first project engaged government officials to show the importance of people with disabilities having a say in creating policies that affect their lives.
Sumaira organized a dialogue between citizens with disabilities and officials from Pakistan's Ministry of Human Rights, Ministry of Planning Development and Reforms, and Ministry of Capital and Development. 
"Inclusion of persons with disabilities in the decision-making process is very important," she added. "Persons with disabilities cannot get full rights unless they are fully included in the process."
Modeling social inclusion on the runway  
Sumaira's second alumni small grant project was a fashion show featuring people with disabilities as models. The event engaged fashion brands to raise awareness of the need to work toward better inclusion of people with disabilities. Events like these contribute to "mainstreaming" people with disabilities by allowing others to see them "as normal," Sumaira said.
As the Americans with Disabilities Act is celebrated in the U.S. for the 30th year, Sumaira is looking forward to many more years of inclusion for citizens with disabilities in Pakistan. She says, "Disability is a different way of living, it is not an inability." 
The Global Undergraduate Exchange Program in Pakistan is sponsored by the U.S. Department of State with funding provided by the U.S. Government and administered by IREX.