Building support for women in Pakistan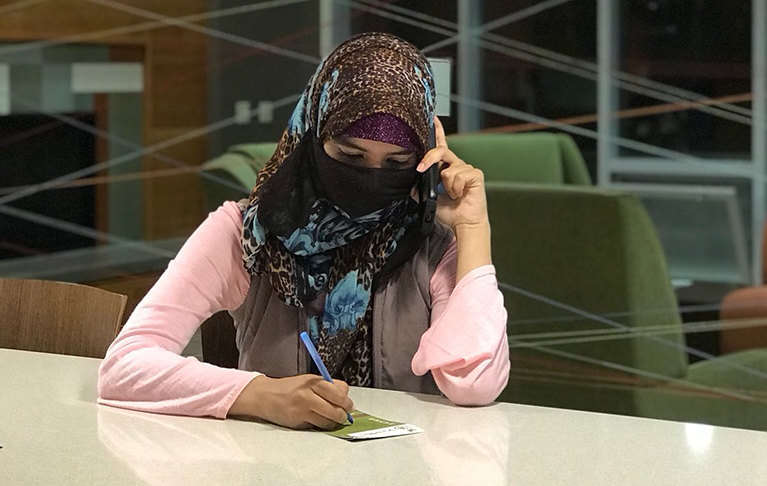 Ujala, a Global UGRAD-Pakistan alumna who studied at Montana State University in spring 2018, helped families in crisis at HAVEN, a center for survivors of domestic violence in Bozeman. Using her experience and following HAVEN as a model, Ujala is building a crisis center in her home community in Pakistan—the first of its kind.
"Women in the U.S. and in Pakistan face the same issues, such as domestic violence and sexual abuse. But in the U.S., women have awareness about their rights and the availability of resources," Ujala said. "In Pakistan, women have rights, protection, and resources provided by law, but they are often unaware of these resources."
Strengthening empathy through community service
During her exchange program, Ujala volunteered over 140 hours, working as a member of HAVEN's crisis hotline while balancing a full academic course load. Contacting a crisis center's 24-hour support line is often the first step for survivors seeking help for domestic violence. In addition to providing safety information and information on where to find the nearest emergency shelter, helplines provide survivors with information and referrals to other community resources.
Remembering her time at HAVEN, Ujala noted, "My greatest accomplishment was when a survivor I had coached on the phone contacted HAVEN to tell me that I had saved her life."
Ujala's previous community service had been aimed at supporting women and girls, particularly the underserved. As a biology major, she explored ways to make a positive difference in her community through science. But when she found HAVEN, she also found a new way to help women in crisis, a cause close to her heart.
"HAVEN taught me how to be happy and how to keep others happy in the most difficult and distressing situations. It helped me develop more empathy and understand that being a leader demands trust and empathy more than anything else."
Utilizing leadership skills to support community members
Ujala learned about HAVEN when she was researching opportunities to fulfill the community service component of the Global UGRAD-Pakistan program. "It was so new and refreshing to discover a whole organization completely dedicated to this cause [domestic and sexual abuse and violence.]" She was immediately attracted to its mission to empower survivors of abuse, rather than "rescue" them.
Ujala was hesitant to apply as a volunteer client advocate. Her background was in the biological sciences, rather than in psychology or social work, and she felt she might struggle to build trust in the local community as an international student. She credits her success to the leadership skills she was building in the United States.
Global UGRAD-Pakistan program activities strengthened Ujala's public speaking skills, which built her confidence and gave her greater ease when talking to new people. During her training, Ujala was commended for her empathetic and supportive tone and shortly began answering calls for the 24/7 hotline as a client advocate. She also volunteered at the Bozeman shelter and assisted in managing a Kids' Group.
Ujala says a challenge she faced was learning how to be an "active listener" as she wrestled with understanding new terminology and translating between English and her native Urdu. But her drive and dedication paid off.
Leading positive change in her community
Ujala left the United States having realized her potential to lead positive change in the lives of women around her. Now her primary goal is to create that change in her home country of Pakistan. Because of her transformative experience in the United States and with HAVEN, Ujala decided to create her own social services organization to provide support and raise awareness among women in her home community about their right to resources and protection.
Ujala has set out to assess her community's needs and determine how to best tailor support services to local needs. When she returned to Pakistan, her first step was to familiarize herself with the resources that were already in place to help survivors of domestic and sexual abuse. "The U.S. and Pakistan are very different. We have different laws and different requirements," she said.
Ujala reached out to local organizations focused on social services and women's initiatives to learn more about their work. She interviewed professionals engaged in civil rights protection. She also plans to conduct an assessment survey to better understand her community members' awareness of existing resources and to gauge their receptiveness to a helpline providing counseling for survivors of domestic abuse.
In addition to assessing her community's unique needs, Ujala is busy building a team of experienced legal and social advocates to support survivors as soon as her organization launches. Legal consultants, family lawyers, and psychologists will help her organization support abuse survivors and raise community awareness about the rights and protections that are afforded to women under Pakistani law. Ujala anticipates presenting the registration of her organization for approval by local government bodies this spring.
"I was involved in community service work in my home country before going to the United States, but not with that much passion or intensity. It was in the U.S. that I learned the difference that one person can make."
The Global Undergraduate Exchange Program in Pakistan is sponsored by the U.S. Department of State with funding provided by the U.S. Government and administered by IREX.