Why marginalized populations must be included in discussions about election and journalist safety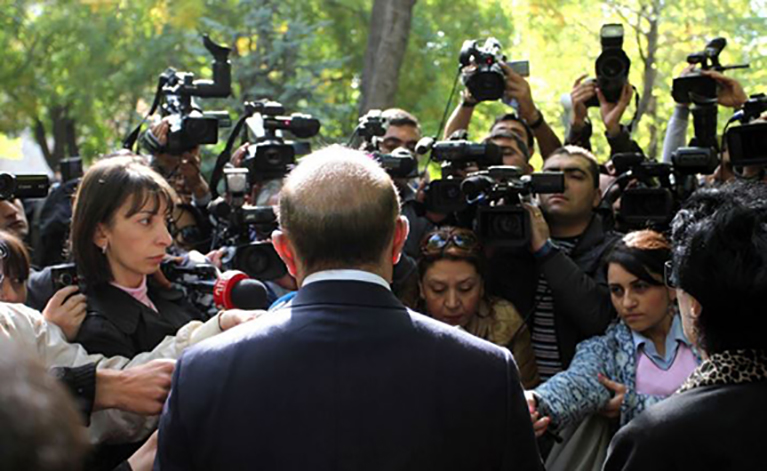 Media practitioners from minority populations, including women and journalists from rural areas, face specific risks when covering elections. They face increased sexual harassment, discrimination, denial of access, and physical attacks during the tense environment of election periods. With a rise in violent elections globally, IREX's Securing Access to Free Expression (SAFE) team discusses its recent work supporting journalists from marginalized populations, avenues for improving safety, and the importance of solidarity networks.
Today in Addis Ababa, media practitioners, politicians, academics, and civil society actors from around the world gather to celebrate the 26th World Press Freedom Day. The celebration concludes a conference on media and elections, organized by UNESCO and partners. IREX's SAFE team led a session on improving the safety of journalists. 
Conversations during the three-day conference centered on the media's role in elections. However, few sessions highlighted the specific risks faced by media practitioners who have less access to power and resources in the society where they operate.
For example, women are underrepresented in the media sector (especially in management positions) in many countries across the world, and journalists from rural areas often don't have the same access to equipment and training as those in the capital. During intense periods of reporting around elections, these inequities are especially pronounced. So why is their safety not highlighted more?
We talked with SAFE managers from Central America, Eurasia, and East Africa to explore this issue further.
Claudia Rivera (Central America): Covering events in the late hours of the night, with little visibility, and in crowds is a risk factor for all journalists, but more so for female journalists and young people, who are vulnerable to sudden isolation and verbal, physical, or sexual aggression.
Journalists who identify with the LGBTQ community often experience harassment and physical danger, especially when covering events where sympathizers of conservative parties are present.
In rural areas, journalists often experience increased risks as well. Local authorities often make use of police or other security forces to intimidate or obstruct the work.
Dinah Kituyi and Ephraim Muchemi (East Africa): Media practitioners of marginalized populations face increased sexual harassment, discrimination, denial of access, and physical attacks. Additionally, the low education levels and lack of access to resources opens up journalists in marginalized areas and groups to be susceptible to misinformation and fake news. They are more vulnerable because they do not have anyone to advocate for them, particularly in areas outside the city where there are not many human rights or civil society organizations.
Nino Robakidze (Eurasia): Because of the tense environment and the high visibility of journalists during these periods, the identity of media practitioners can be an additional factor in drawing unwanted attention to them. Marginalized community members covering election-related issues might attract negative attention from radical nationalist or far-right groups.
How have SAFE and others addressed the safety of these marginalized media practitioners?
Claudia: In Central America, SAFE, in association with partners, conducts trainings for journalists on safe election coverage, prior to each electoral event. SAFE has also dedicated its technical support and advice to organizations that observe attacks against the press to develop emergency management methodologies, protocols, and procedures for election day.
Dinah and Ephraim: In East Africa, we strategically conducted women-only trainings and linked female trainees to women associations for solidarity and also mentorship. Other marginalized populations often lack resources and are very hard to access. For them, we have done trainings and we link them to other civil society organizations, who can also help provide other resources such as buying equipment and enhancing the physical safety of their offices.
Nino: SAFE has trained groups of LGBTQ social communicators in Georgia, some of them actively working as journalists for different media outlets. SAFE has also provided gender-inclusive training for female social communicators from the region to address their specific needs and risks. Both trainings were successful and SAFE is working to widen the circle of marginalized populations it supports.
Claudia: Training on safe coverage of elections could be more accessible to rural areas, to promote wider participation of journalists from these regions who cannot reach events mostly developed in the capital.
Dinah and Ephraim: Make it more of a national issue. The media should be involved more in policy and connecting with consumers on the ground.
Nino: For media practitioners generally, governments must investigate the crimes and blackmailing cases against journalists as effectively as possible and end impunity. This would ensure government bodies and ruling political groups are not oppressing media freedom and not interfering with free expression practices.
Journalist associations should also research and analyze the main problems of media practitioners during election coverage and provide consistent assistance for those in need. They could also advocate for better laws, legal practices, and implementation of these legal constructs, and build more resilient coalitions to raise awareness on safety and security of journalists.
Claudia: During elections, observatories of journalists monitor attacks against the press. Community radio journalists, who usually have pre-established solidarity networks, are the most active in this regard during elections. Correspondents, photojournalists, and camera operators usually also team up to travel to remote sites, in order to avoid risks. In El Salvador, a group of women journalists got together to launch a "manifesto" to demand respect for the journalistic work of female colleagues in polling stations and celebrations or proclamation places.
Dinah and Ephraim: We saw an increase in female journalists participating in election coverage after our trainings and they alluded it to being part of the training and feeling empowered afterward. The training helped them to gain confidence and equipped them to ask for the support they needed during reporting. They also mentioned the feeling of solidarity they received after the training as opposed to before.
Nino: During the 2017 local elections, we initiated temporary solidarity network for journalists working in one of the southern regions of Georgia. This format was very actively used by all main media organizations working in that region during election day and when covering election results. The goal of the network was to have all journalists covering elections in the region in one safe communication group and to make sure that in case of any incidents, colleagues from their own and different media organizations would be alarmed on time and could help and react.
SAFE's ongoing commitment to marginalized groups within the media sector
Since early 2018, SAFE has intensified its commitment to reaching those in the media sector who lack resources or opportunities to engage in security trainings, or who are marginalized in the sector as a whole.
Between October 2017 and March 2019, SAFE reached over 750 media practitioners and human rights defenders, with more than 75% identifying as belonging to a group that has traditionally lacked access to power and resources (women, youth, persons without higher education, media practitioners from marginalized regions, or underrepresented ethic groups). The outcomes of the SAFE training are consistently high both among the participants in general, and among marginalized groups in particular. Learn more about SAFE's work supporting media practitioners and human rights defenders.