Three ways holistic training can support journalists and keep power in check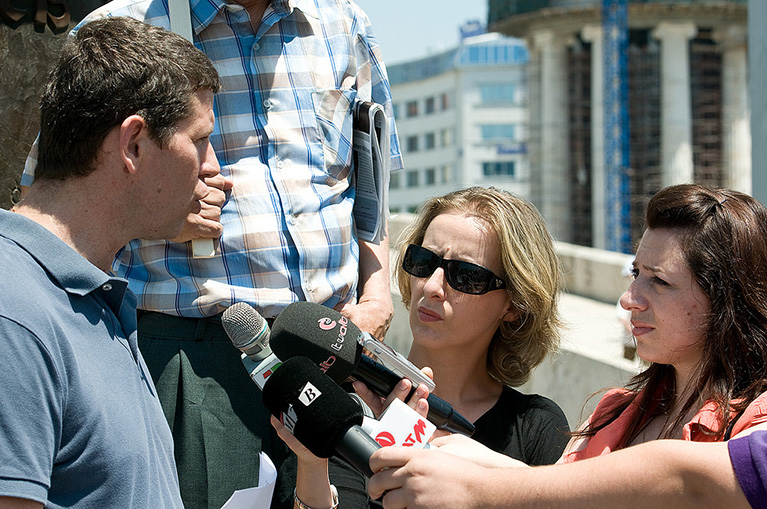 The space for journalists to continue their work safely is shrinking at a rapid pace, while the need for journalist security training is increasing. For this reason, IREX's Securing Access to Freedom of Expression (SAFE) East Africa and Eurasia centers hosted two events focused on holistic training for the physical safety, digital security, and psychosocial care of journalists.
At each event, participants discussed challenges journalists face and learned how integrated safety trainings, such as those offered by SAFE, help journalists better navigate turbulent situations in order to provide independent media to their communities and the world.
Here are three takeaways on how holistic training can support journalists and independent media:
Knowledge of safety and security concepts is key
In order for journalists and media workers to better protect themselves, they must be equipped with an understanding of the risks they face and how to address them. At a typical SAFE holistic training for journalists, participants learn basic concepts of physical safety, digital security, and psychosocial care through a series of exercises as part of SAFE's basic training curriculum. In Accra, Ghana, the site of World Press Freedom Day 2018, SAFE's East Africa team provided a small snapshot of a training to journalists from Colombia, Timor-Leste, and Ghana. As a result of the training, participants reported increased understanding of planning for risks when reporting, approaches to digital security, and the importance of psychosocial health as an aspect of security they had not previously considered.
Additionally, at the event hosted by SAFE Eurasia, Adjara TV, and Radio Public Broadcaster (ARPB), ARPB journalist George Tserodze and RFE/RL Georgian Service conflict reporter Goga Aptsiauri both emphasized the growing need for focused media education in safety and security issues, such as cybersecurity and local or global political factors that can influence media environments. Particularly, they noted the possibility of tension in certain countries and regions to transform into crises that could expose journalists, activists, and bloggers and threaten their physical, digital, and psychosocial safety.
Journalists need more transparency and support from media organizations
Rather than a one-time occurrence, safety training is a continuous process as threats continue to evolve and change. Through tailored trainings and Individual Risk Management Plans, SAFE provides ongoing support to journalists in need. However, many journalists and media practitioners are initially sent on assignments without a clear understanding of the associated risks.
At a World Press Freedom Day event on journalist safety and security, a panel of practitioners from organizations such as Al-Jazeera, Article 19, World Association of Newspapers and News Publishers, Journaliste en Danger, Free Press Unlimited, and more urged media organizations to include clear safety protocol for journalists as part of their institutional capacity and framework. They also stressed the need for increased psychosocial support for journalists in ensuring their continued safety while they administer their work.
Trust and solidarity are essential to minimize threats and ensure progress
Highlighting the need for solidarity among journalists who are under threat, Henry Maina, Regional Director of Article 19 in East Africa, noted that a lack of unity only exposes journalists to more threats from emboldened attackers who are not held accountable. Journalists who attended the SAFE Eurasia event also underlined the importance of professional organizations in building trust and solidarity within the journalism community.
"The Georgian Charter of Journalists Ethics is a professional network trying to be a shield for independent media," said Nat Dzvelishvili, Chairwoman of the Georgian Charter of Journalists Ethics, at the SAFE Eurasia event. "Acting ethically and having strong, professional, self-regulatory bodies is a guarantee for media organizations to be safe and sound whenever different groups are not happy, dissatisfied, or even angry at media when independent media speaks truth to power."
Through initiatives like SAFE's Advisory Network, media freedom groups, human rights defenders, and multilateral organizations foster connections and receive strategic guidance, participant vetting and referrals, and support from SAFE's integrated safety approach within the media community. SAFE also uses solidarity events to bring together journalists and media workers, both nationally and regionally, to build a supportive and enabling environment for the development of fortified groups, associations, unions, and other platforms.
"The safety and security of journalists must be at the focus of each media organization if we want to keep experienced people in the industry, grow professionally and institutionally, build strong solidarity ties with colleagues, and continue to gain the trust of the public," said one participant at the SAFE Eurasia event.
As the space for journalists to operate safely and securely in begins to close, the significance of holistic trainings and events will aid in building the solidarity needed among media practitioners to combat growing threats, while encouraging media organizations and individual practitioners to seek the type of holistic training and support that SAFE provides