Youth trainers in the Baltics unite for Media Literacy Skills Month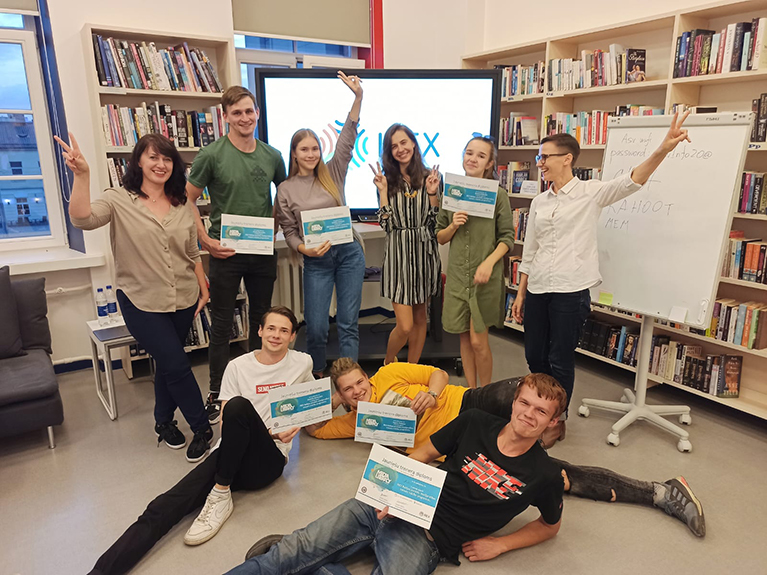 In the Baltics, IREX is teaching youth to lead their own media literacy training sessions using our proven Learn to Discern approach. But new trainers sometimes struggle to find participants for their training sessions. To meet this need, IREX held the first-ever Baltics Media Literacy Skills Month, which helped youth organize media literacy training for hundreds of participants across Estonia, Latvia, and Lithuania, and brought together media stakeholders to share insights.
The Media Literacy in the Baltics program is helping participants develop healthy information consumption habits, learn to recognize disinformation, and become responsible members of information communities.
During the past year, more than 230 Baltic youth have completed one of our training-of-trainers events. These sessions teach participants to navigate a complex and often manipulative information environment and strengthen their capacity to independently lead media literacy training sessions.
Youth train their classmates to verify information and analyze the news
To help youth trainers succeed in building their communities' resilience to disinformation, the program team focused on strengthening participants' leadership skills and preparing training plans, such as the #WashYourNews approach that IREX developed. But trainers also need participants, so IREX met with teachers and school administrators from Latvia, Lithuania, and Estonia to arrange opportunities for youth trainers to teach their classmates.
Being a media literacy instructor and conducting trainings was a very exciting experience.... The curiosity of all the participants... once again [showed] the need for media literacy in society.

Paulius Jogminas, an IREX youth trainer from Lithuania
During the Baltics Media Literacy Skills Month, youth trainers held 77 media literacy training events for more than 700 participants across all three Baltic countries. Trainers used lessons and materials from our Learn to Discern curriculum.
Through pre- and posttraining surveys, participants self-reported that they were 49% more likely to cross-check information after receiving training and 35% more confident in analyzing news. Participants also completed a short test, which showed a 15% improvement in overall media literacy skills. In addition, 69% of participants reported sharing techniques or ideas from the training sessions with family or friends, reaching at least 2,190 additional people.
During the closing event at the end of the month, IREX celebrated the participants' success and awarded prizes to the youth trainers who trained the most participants throughout the month.
"Being a media literacy instructor and conducting trainings was a very exciting experience," said Paulius Jogminas, an IREX youth trainer from Lithuania. "I was pleasantly surprised by the curiosity of all the participants, which once again shows the need for media literacy in society. I am glad to be a part of it."
Townhalls bring together students and media professionals to address disinformation
To provide real-world examples of disinformation and insights about how the media community has responded, the Baltics Media Literacy Skills Month also featured a series of townhall events, one each in Estonian, Latvian, Lithuanian, and Russian. Speakers included professional journalists from respected media organizations, such as Ina Strazdina from Latvian Television, Johannes Tralla from Estonian Public Broadcasting, Berta Tilmantaite from NARA.lt, and Artjoms Konohovs from Latvian Radio.
Youth trainers led each event by introducing the speakers, engaging the journalists in discussions, and facilitating live audience questions. Topics included journalism ethics, reporting on tight deadlines, and distinguishing between disinformation and facts, which is especially important as journalists today are often targeted with misleading information.
"Today we live in a global village, and there are many ways for us to gather information and for information to find us," explained Strazdina. "The information environment is much more diverse, but it also puts more responsibility on journalists."
The closing event capped off the townhall series with a moderated discussion featuring Re:Baltica journalist Inge Springe and IREX's Senior Director of Information & Media Michael Mirny on today's information environment. They discussed the spread and appeal of disinformation, conspiracy theories, and propaganda, as well as possible solutions to these challenges.
The townhalls established connections between the speakers, students, and IREX. These relationships will continue to help the Media Literacy in the Baltics team and partners to expand learning opportunities for previous participants and new ones. IREX is proud of the youth trainers' achievements and expects that their efforts will have a long-term impact on strengthening resilience to disinformation in the Baltics.
Media Literacy in the Baltics is a program of the U.S. Department of State. The program is administered by IREX.