Online games and activities can help people recognize COVID-19 disinformation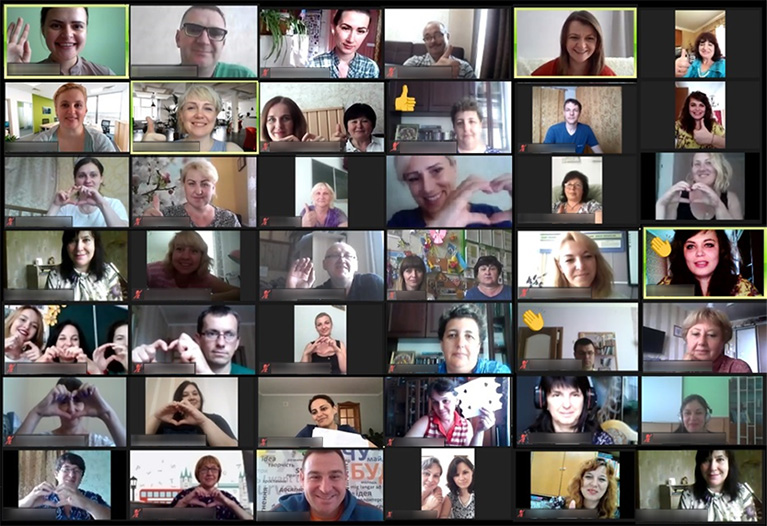 As health care systems around the world fight the COVID-19 pandemic, citizens also face a dangerous "infodemic" of false information about the virus. Meanwhile, social distancing complicates efforts to teach people the media literacy skills to recognize and resist disinformation. Online games and activities can be fun and effective alternatives to in-person training. Here are three examples from our work.
IREX's Learn to Discern approach helps people of all ages develop healthy habits for engaging with information, online and offline. Before the pandemic, our Learn to Discern in Education (L2D-Ed) project in Ukraine was working with an array of stakeholders to equip Ukrainian youth, educators, and adult learners to resist misinformation and disinformation.
As disinformation about COVID-19 began to spread and lockdowns prevented in-person activities, L2D-Ed expanded its project curriculum to address pandemic-related disinformation, such as unproven "cures," misleading origin stories, and dangerous conspiracy theories. The team also pivoted to online formats for facilitating communication, training, and learning.
Very Verified: An online course designed for coffee breaks
Since the outbreak of COVID-19, L2D-Ed has used Very Verified—a massive open online course (MOOC) first developed in 2018—as a primary resource to address the increased demand for remote learning and professional development.
Available in English, Ukrainian, and Russian, Very Verified uses live-action and animated videos, infographics, and other tools that feature country-specific examples to teach media literacy and critical information consumption skills in an engaging way. Lessons vary in length and use a "coffee break" metaphor: an "espresso" lesson requires only 2–3 minutes, a "cappuccino" lesson lasts up to 10 minutes, and a "coffee with croissant" lesson takes up to 30 minutes.

Building on this theme, we are partnering with local coffeeshops to promote the course through cobranded coffee cup sleeves. The sleeves feature QR codes that lead to the Very Verified website.
Here is one example of a Very Verified video, "Five Tips to Protect Yourself from Disinformation":

During the pandemic, IREX promoted Very Verified on social media to reach more students. As a result, the number of views and registrations for Very Verified grew substantially. As of September 2020, more than 8,500 people have completed the course.
To receive a course certificate, participants must take a final test that includes detailed questions about analyzing disinformation, understanding who owns media outlets in Ukraine, separating facts and opinions, and identifying hate speech.
A course evaluation conducted in November 2019 revealed that people who participated in blended learning (in which independent online learning through Very Verified is supplemented with IREX-led trainings) gained a 69% increase in news media knowledge, a 31% increase in media analysis skills, and a 200% increase in their ability to identify hate speech.
Don't Trust, Verify! Teaching fact-checking techniques to slow the spread of disinformation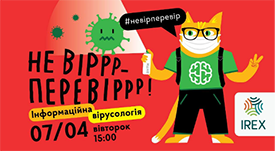 In another response to the wave of pandemic-related disinformation, L2D-Ed adapted the fact-checking lesson Ne Vir, Perevir (Don't Trust, Verify) to raise awareness about the COVID-19 "infodemic."
IREX invited media literacy experts with experience in journalism, fact-checking, and media manipulation to participate in an online, talk show–style conference, "Don't Trust, Verify: Information Virology." They presented examples of misleading news articles and manipulated social media posts about COVID-19, offered practical advice for debunking conspiracy theories, and shared trustworthy resources.
Approximately 8,700 people attended the livestreamed event, including teachers, journalists, students, and scientists.
Fake Busters: A game to practice debunking fake news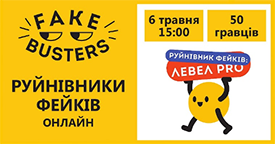 L2D-Ed also adapted its fact-checking game Fake Busters to address COVID-19 disinformation.
In the interactive, moderator-facilitated game, participants work in teams to analyze articles from the fictional Pravda Times. The teams receive 15 news items to debunk or verify using their media literacy skills and online tools, such as Google Street View and Flightradar24, as well as moderator-provided resources like "eyewitnesses," who participants can question as they cross-check information.
To prove that a piece of news is fake, participants must submit a report to the "Ministry of Antifakes" (the game moderator), who will only confirm the truth if the team presents a convincing argument. The instructions remind participants, "Remember the main rule: fake news never admits that it is fake!"
L2D-Ed launched the online version of Fake Busters in April 2020. In May, IREX conducted a webinar for teachers to learn how to independently moderate the game for their own students.
Online games and activities are not a panacea. In-person activities can often provide deeper and more focused learning experiences, without the distractions of learning from home. But in the days of COVID-19, when in-person activities are not possible, L2D-Ed has seen consistent attendance in online project activities, and participants have been enthusiastic about these learning options—all of which is good news in the fight against fake news.
Learn to Discern in Education is funded jointly by the U.S. and British Embassies in Kyiv. IREX has implemented diverse iterations of Learn to Discern in Albania, Estonia, Georgia, Jordan, Latvia, Lithuania, Serbia, Ukraine, the United States, and elsewhere.