How women leaders are advancing gender equality globally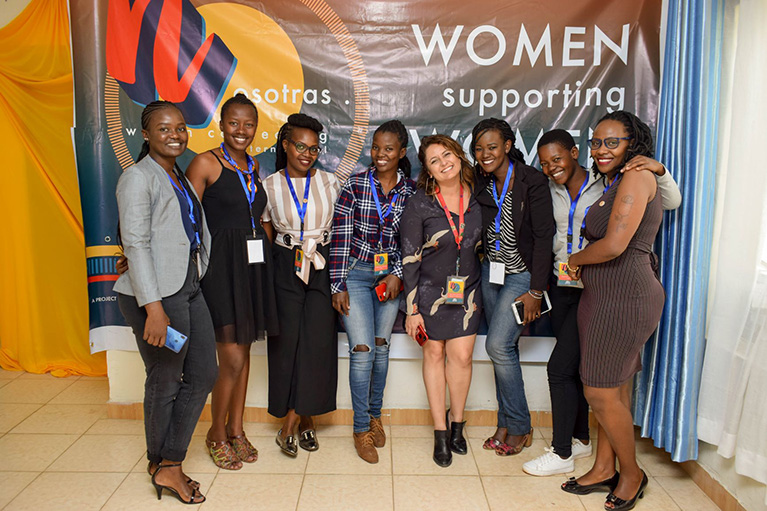 Gender inequality and underrepresentation for women persist in many countries. Recognizing the need to address structural issues at the root of gender inequality, Community Solutions Program (CSP) alumni around the world leverage the skills they gained through the program  to create solutions to gender disparity in their communities.
According to recent data focused on Sustainable Development Goal 5 ("Achieve gender equality and empower all women and girls"), women devote on average roughly three times more hours a day to unpaid care and domestic work than men, limiting the time available for paid work and further reinforcing gender-based socioeconomic disadvantages. Women continue to be underrepresented at all levels of organizational management and political leadership.
The five community leaders highlighted below completed their CSP fellowship, including a four-month practicum where they worked with U.S. organizations on initiatives related to issues they face in their own communities, and a leadership academy that provides individualized learning and coaching. Once they returned home, these CSP leaders implemented community-based initiatives that have increased representation of women across four continents.
Expanding women's entrepreneurship from the U.S. to Costa Rica
"One of the main things CSP teaches you is the ability to see yourself as the changemaker of your community and the impact that you could potentially have," said Marysela Zamora, a 2014 Community Solutions alumna.
Though Zamora collaborated with Alamo Area Council of Governments during her U.S. practicum to encourage citizen participation in government decision-making processes, she applied the leadership and partnership-building skills she gained to fulfill her vision of enhancing women's mentorship when she returned home to Costa Rica.
Zamora's confidence as a changemaker led her to create Nosotras Women Connecting, a gender movement that empowers women and girls and provides mentorship and training to strengthen entrepreneurial and leadership skills. To date, Nosotras has connected over 5,000 women leaders and entrepreneurs and grown from Costa Rica to Latin America and Africa. Through CSP's Collaboration for Community Impact Grant, Zamora partnered with fellow CSP alumnus Simeon Ogonda to bring the Nosotras model to Kenya.
Promoting workplace gender equality in Kenya and Malaysia
After completing her CSP practicum at the World Organization for Resource Development and Education (WORDE), 2015 CSP alumna Nyambura Mundia returned to Kenya more energized to continue promoting women in peace and security before she found her place in gender equality.
WORDE is a women-led organization, and 90% of its employees are women. Mundia says that this fact opened her eyes to the vast inequalities and underrepresentation of women in leadership positions at home.
As a result, she spent four years focusing on peace and security initiatives on the Kenyan border before founding the social enterprise Usawa Inc. in 2019. Usawa Inc. focuses on increasing the gender diversity in management teams and leads the Women Leaders' Hangout–Kenya, a creative space that hosts conversations surrounding career mobility for 70–100 women several times per year.
"It is not lost on me that my CSP experience remains a catalyst, an accelerator to my professional growth [and the] growth and visibility of Usawa Inc. and the Women Leaders' Hangout," said Mundia.
For Sabrina Aripen, a 2017 Community Solutions alumna from Malaysia, her U.S. practicum experience at PL+US (Paid Leave for the United States) revealed a blatant workplace gender issue: the lack of paternity leave in her home country.
"While assisting my U.S. host organization advocating for paid parental leave for all working people in the United States, I noticed that Malaysia only offered maternity leave under the Labor Law and is silent on the topic of paternity leave. I identified this to be a strong indicator of gender stereotypes and a deep-seated cultural expectation that women are solely responsible for raising children."
This motivated Aripen to create an NGO named Society for Equality, Respect, and Trust for All (SERATA). SERATA works to dismantle long-held socially constructed gender roles and promotes gender equality by engaging men and boys in partnership with women and girls. SERATA has helped over 15 nonprofit organizations to address social justice and women's issues in Malaysia.
Advancing women's representation in Bulgaria and Bangladesh
While completing her U.S. practicum at the Peace and Justice Center, 2017 alumna Marina Kisyova de Geus from Bulgaria learned about civic engagement, social justice, and activism from her host organization. She used these insights to apply an intersectional approach to actively engage women from all ethnicities and backgrounds in Bulgaria.
Kisyova de Geus established Academy Ekaterina Karavelova to encourage women's full and effective participation at all levels of decision-making in political and economic life in Bulgaria. The academy has held events that have reached nearly 200,000 people nationwide.
When she realized that migrant women's input was missing from peace and security conversations, Kisyova de Geus joined the Bulgarian Ministry of Foreign Affairs working group on women, peace, and security. In this role, Kisyova de Geus advocates for a special emphasis on the needs of refugees and migrant women in Bulgaria and helped draft the National Action Plan on UNSCR1325, which was adopted in March.
Mukta Akter, a 2016 alumna from Bangladesh, is passionate about women's representation in the water industry. After completing her U.S. practicum at 350PDX and learning how to conduct trainings in environmental education and water resource management, Akter implemented a follow-on project that provides women with knowledge and training on rainwater harvesting systems to collect clean drinking water and become successful entrepreneurs.
Thus far, her project has benefitted over 300 people in her community. To further increase representation, Akter is strengthening the Bangladesh Women and Water Network, a platform of more than 50 women water professionals designed to build capacity and create awareness on water and climate change issues.
These five women, who compose a small but dedicated fraction of more than 600 CSP alumni, showcase the distinct ways CSP supports community leaders who are striving toward gender equity and empowering women around the world.
"My CSP experience gave me tools and knowledge," said Kisyova de Geus, "but perhaps most importantly, when I returned home, I was much more confident that I could lead an organization and achieve positive social change. It is exactly this sense of confidence that I now seek to instill in other women."
Many other Community Solutions alumni like Kisyova de Geus gain confidence in their abilities to be leaders, make positive change in their communities, and craft solutions to achieve gender equality and empower all women around the world.
The Community Solutions Program is sponsored by the U.S. Department of State with funding provided by the U.S. Government and administered by IREX.