How one alumna is breaking taboos around reproductive health in Pakistan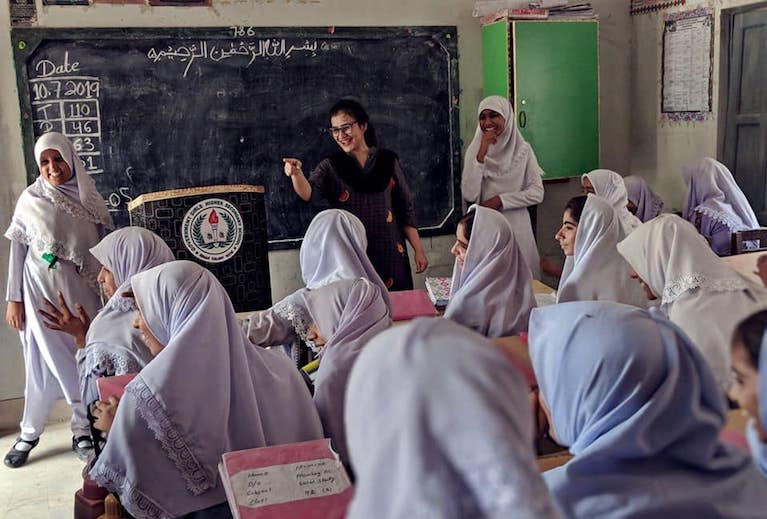 During her Global UGRAD-Pakistan experience in the United States, Ayesha was impressed by the candid conversations women were having about topics considered taboo in her home community. Upon returning to Pakistan, she founded an organization that creates space for similar discussions. Ayesha is among the more than 75% of Global UGRAD-Pakistan alumni who report they have made positive change in their communities because of what they learned during the program.
Ayesha is the founder of Baithak—Challenging Taboos, a community-based women's rights organization that provides safe spaces for girls and women in rural areas to talk about menstruation, sexual and reproductive health, gender-based violence, and other topics. Education around these issues is often sparse in rural Pakistan. A 2017 UNICEF study of teenage girls in Sindh, Pakistan, found that the onset of menstruation is frequently a traumatic experience because they lack information about it. This makes it difficult to maintain hygiene and manage pain. Many schools lack adequate sanitation facilities for menstruating students.
Baithak, which translates to "sit-ins" in Urdu, was inspired by the idea of women sharing space to discuss issues that are important to them—something Ayesha says is crucial to support women in making decisions about their health.
Learning to lead and take risks
During her semester at Lincoln University in Jefferson City, Missouri, Ayesha gained confidence and leadership skills that helped her develop a vision for Baithak and maximize her impact in the community. She became involved in five student organizations, learned best practices for managing community groups, and traveled to Kansas for a conference on sexual health and intimate partner violence. It was an eye-opening experience that inspired her to lead a family planning project after coming home to Pakistan.
After completing her undergraduate degree in business, she won a Fulbright scholarship to earn a master's in social policy at the University of Pennsylvania in Philadelphia, where she wrote a policy brief on women's access to health and sanitation.
Back in Pakistan, Ayesha visited communities and talked to women about menstrual hygiene. During these visits, she was inspired to create Baithak after realizing there wasn't an organization dedicated to menstrual health and hygiene for rural women.
Creating inclusive spaces
Baithak's staff, including doctors and other medical professionals, hold sessions in communities and schools to discuss women's health and help counter myths about menstruation.
Ayesha has inspired others to join the conversation. "I have a lot of friends reaching out and saying, 'We never thought [menstrual health] was a problem… that there's a need to talk about it,'" she said.
Baithak's reach has expanded far beyond Ayesha's local community. During the pandemic, the group has provided over 350 menstrual hygiene kits to women in low-income communities and given sewing machines to survivors of domestic violence as a means to generate income for financial independence.
Like many other Global UGRAD-Pakistan alumni, Ayesha credits Global UGRAD-Pakistan as a transformative experience that helped her achieve impact in her community. A 10-year impact evaluation of the program found that 90% of alumni have shared their new skills and knowledge in their home communities.
"I sometimes feel that if I had not been on Global UGRAD-Pakistan, I would have maybe had a very different life," Ayesha said. "Now I feel like I am doing the kind of work I always wanted to do."
The Global Undergraduate Exchange Program in Pakistan is sponsored by the U.S. Department of State with funding provided by the U.S. Government and administered by IREX.