Global Undergraduate Exchange Program in Pakistan 10-Year Impact Evaluation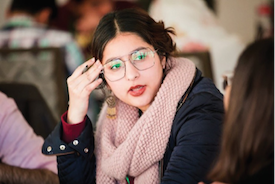 Established in 2010, the Global Undergraduate Exchange Program in Pakistan (Global UGRAD-Pakistan), sponsored by the U.S. Department of State with funding provided by the U.S. Government and administered by IREX, is an academic and cultural exchange program that places participants at universities and colleges around the United States for a semester of nondegree undergraduate study. 
As a learning organization committed to a data-driven approach, IREX conducted an evaluation to assess the impact of the first 10 years of the program. Its findings will inform future programming to better position participants and alumni to achieve program goals and further enhance and sustain program impact. 
The evaluation indicates that Global UGRAD-Pakistan participants are strengthening their leadership skills and confidence; actively participating in and retaining a commitment to the value of community service, both during and after their U.S. experience; developing essential professional skills and subsequently accessing higher education and employment opportunities; and building relationships and participating in cultural exchanges that result in meaningful and positive perception change of America and Americans among program participants and their communities at home in Pakistan. 
The process: Trained IREX staff surveyed Global UGRAD-Pakistan alumni and conducted phone interviews with selected alumni and host advisors. 
Survey inputs were gathered from alumni spanning 18 program cohorts (fall 2010 to spring 2019). Of the 1,776 total program alumni, 590 alumni responded to the survey, a 33% response rate. A subset of 31 alumni selected from survey respondents participated in 30- to 40-minute interviews to add depth and richness to the survey data. In addition, five advisors from United States colleges and universities that hosted Global UGRAD-Pakistan participants were interviewed to learn about the impacts on American host campuses.
The impact: Participants exhibited increased leadership capacities, success in academic and professional ventures, an enduring commitment to service, and lasting ties with Americans they met during the program.