Growing rural economies through organic farming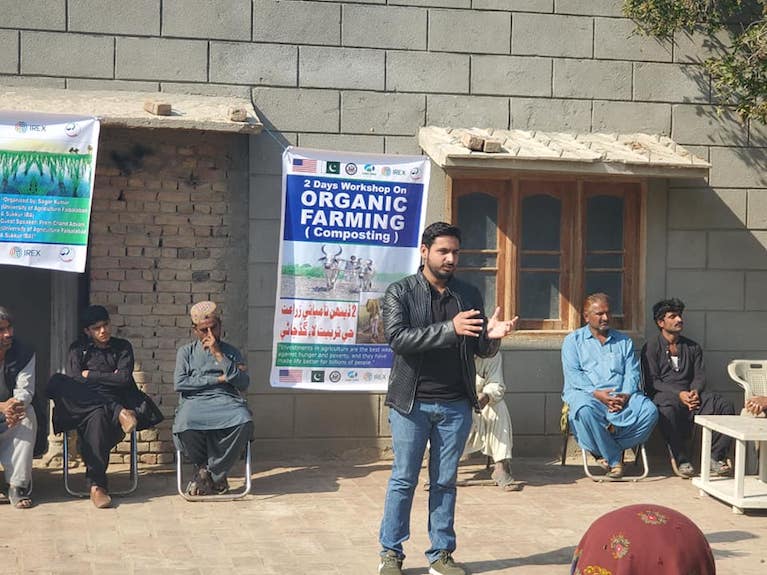 Although agriculture provides half of the jobs of Pakistan's workforce, many farmers in Global-UGRAD Pakistan alumnus Sagar's community were unaware of organic farming – a practice that can expand consumer choices, grow the local economy, and preserve soil health. Applying the knowledge and leadership skills he gained in the U.S., Sagar organized a two-day workshop to teach organic farming techniques, such as reducing the use of chemicals on produce and encouraging greater awareness of climate change.
Sagar became interested in organic farming while studying agricultural economics at Kansas State University in the spring of 2019. While shopping for produce, he noticed many people preferred the organic products.
Intrigued, he wanted to expand the practice in Pakistan, but when he returned home, he discovered that organic food is produced in low quantities and not available in many markets.
Sharing knowledge to promote community change
Since many farmers in his community were not aware of organic farming, Sagar applied for an alumni small grant to help share what he'd learned. He invited a group of farmers and a Pakistani climate change and organic farming advocate to discuss their challenges and share how global agricultural developments could be applied locally. The workshop also included a demonstration of how to make compost. 
"I felt very thankful as no one has ever arranged any such kind of program," said Taj, a farmer in Sindh who attended the event. "Converting from chemical to organic fertilizer... is going to help us financially. We no longer need to spend a huge amount of money on chemical fertilizer."
Before the Global-UGRAD Pakistan program, Sagar knew he wanted to help his community and reduce poverty, but he lacked a platform to do so. With the support of the small grant, he was able to introduce new techniques that can help farmers increase the value of their products, contributing to the growth of the local economy. Several farmers who participated in the workshop went on to share these methods with others in their communities, multiplying the impact of the training.
 "Agriculture is not only the backbone of my community but of Pakistan," Sagar said. "Our community farmers can meet this growing demand... by doing organic farming along with preserving their land and soil."
Inspired by community service experiences in the U.S.
While at Kansas State University, Sagar completed community service as part of his program and took inspiration from the volunteers he worked with. He shared, "I met with people there who were doing community service like welcoming international students, helping those students in every kind of work. They were an inspiration for me because they were so committed."
While community service provided the impetus for Sagar's project, he believes the leadership training he received in the U.S. gave him the necessary skills to make his project idea a reality. Skills such as time management, delegation, and teamwork helped him achieve his goals.
During the upcoming sowing season, Sagar is excited to build on his success with the organic farming workshop and will continue to mentor local farmers as they transition to new practices. He aims to run trials on land with different types of crops and vegetables. "This will increase the confidence of farmers and encourage them to move to organic farming," he predicted.
Thanks to his experience through the Global UGRAD-Pakistan program and the alumni grants, Sagar also feels more confident leading positive change in his community and within the agricultural sector.
"This project has made me a totally different person," he said. "Now I see the world with a different perspective, and I aim to continue these kinds of activities throughout my whole life."
The Global Undergraduate Exchange Program in Pakistan is sponsored by the U.S. Department of State with funding provided by the U.S. Government and administered by IREX.