Georgian and American media outlets work together during COVID-19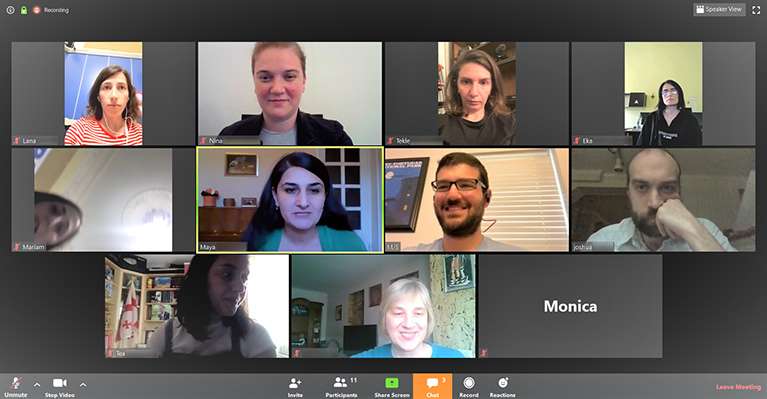 Although most international travel is on hold during the pandemic, Georgian and American media outlets have continued to work together by taking their partnerships online. Participants of the Georgian Media Partnership Program (GMPP) joined in a series of digital dialogues and virtual partnerships to help each other adapt during the crisis. TV stations collaborated to broadcast a message of hope and solidarity to viewers.
While these innovations come at an extraordinary time, they are in many ways a natural extension of GMPP's work.
This year marks the tenth anniversary of the program, which IREX implements with funding from the U.S. Department of State through the U.S. Embassy in Georgia. Throughout its history, the program has built lasting relationships between Georgian and American media outlets via two-way professional exchanges.
The program's partnerships focus on improving journalistic, technological, and management practices among participating Georgian media professionals, who then share their new knowledge with colleagues at home.
Since 2010, 135 Georgian media professionals from 20 online and broadcast media outlets have visited their 49 American counterparts at 17 American media outlets in over 10 states. Now these partnerships are proving to be more valuable than ever.
How digital dialogues and virtual partnerships are strengthening media outlets
To facilitate peer-to-peer learning and information exchange during the lockdowns, GMPP turned to virtual engagement. The program launched a series of virtual partnerships through "digital dialogues" between Georgian and American media outlets.
Moderated and translated by GMPP staff, the first of these digital dialogues brought together employees from Slate's offices in DC and New York, Virginia's Charlottesville Tomorrow, the digital marketing company Firefli, and their Georgian colleagues from SK News and Kutaisi Post for two-hour, in-depth online conversations.
Despite facing the extraordinary demands of nonstop COVID-19 coverage, 15-hour workdays, telework, personal responsibilities, looming furloughs across the industry, and cross-Atlantic time difference, partners made it a priority to learn from each other.
During the digital dialogues, GMPP participants exchanged real-life lessons learned in candid conversations. The discussions focused on sharing best practices and explored not only success stories and proactive ways of solving challenges but also reflections about avoiding missteps and examining root causes of problems. Participants provided much-needed moral support for each other and gained new perspectives to bring back to their work.
U.S. partners who participated in GMPP's in-person exchanges inquired about specific initiatives they had offered advice about previously. As their Georgian counterparts shared updates, the U.S. partners offered encouragement and practical suggestions.
Looking ahead, GMPP will be hosting a digital town hall to discuss reporting during an emergency. Participants will include members of the Rio Grande Chapter of the Society of Professional Journalists and employees from online media outlets in Georgia.
Sharing knowledge through social media
In addition to facilitating digital dialogues, GMPP also gave journalists and media managers an opportunity and a platform to share and learn from each other's experience on social media.
Online engagement between participants has dramatically increased on social media. For example, engagement on GMPP Facebook page has nearly doubled since the pandemic began. The page's video views have increased by 219%.
The program put together a Media Adapting to COVID-19 album, uniting updates contributed to by 25 newsrooms not only in Georgia and the U.S., but also Ukraine with its similar media exchange program, the Ukraine Media Partnership Program.
All outlets reported experiencing an unprecedented surge in audiences hungry for credible information. Kutaisi Post has taken steps to ensure that its headlines are "balanced and not sensationalist." They discussed their heightened responsibility "to avoid panicking and spreading fear in the community." In response to high demand from readers, Axios added new editorial products, including a weekly coronavirus newsletter.
Some outlets have focused on finding new angles to tell important but overlooked stories. Livepress wrote an article about school children who did not have access to distance learning during homeschooling. Searchlight covered the social distancing challenges that inmates are facing.
"Together" in the U.S. and Georgia: How outlets built on each other's ideas
When a GMPP alumna saw how a program participant station NBC12 worked with competing stations to send a message of hope and solidarity during the COVID-19 pandemic, she was inspired to replicate the idea in Georgia.
As a result, 15 TV stations in Georgia united to produce a joint promotional video to reassure viewers and emphasize their shared commitment to providing trustworthy information.
Natia Kuprashvili is an alumna of GMPP and the director of the Alliance of Broadcasters in Georgia. After the pandemic began, she visited GMPP's Facebook page, which shared a TV spot titled "Together." To make the video more accessible to Georgian audiences, GMPP had captioned it in Georgian.
"Together" was coproduced by GMPP's U.S. participant station NBC12. In the original spot, local affiliates of NBC, CBS, FOX, and ABC in Richmond, Virginia, joined forces to send a message of unity to their local viewers about the pandemic.
"It was very emotional for us to see the video produced by our American colleagues," said Kuprashvili. "Right away, we had an idea to make a Georgian version."
Kuprashvili and her colleagues wanted to show Georgian citizens that journalists were rising above the usual competition between media outlets to serve the public. The Georgian video is similar to the U.S. version: the anchors promote each other's taglines while emphasizing their shared commitment to responsible journalism.

Most of the stations participating in this video are currently involved in a joint project with the Open Society Georgia Foundation to produce thematic news. Some of them have never worked with each other until now. This unique collaboration also helped create a foundation for making the video.
Ten of the Georgian stations that collaborated on the video are alumni of GMPP. Several other stations are planning to produce similar joint promos in Armenian and Azerbaijani to reach local ethnic minorities. TVNewsCheck interviewed program participants who worked on the videos to discuss the value that they created.
As the pandemic continues, there are many challenges ahead. But by working together within Georgia and across the globe, media outlets are rising to the occasion.