Creating meaningful learning for Jordanian and American students through virtual exchange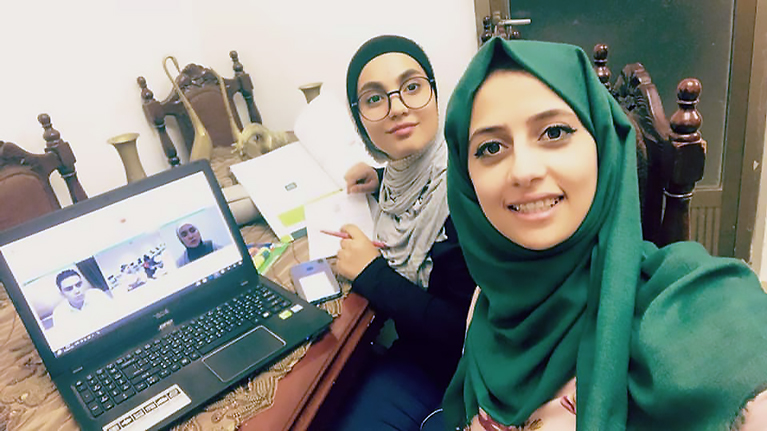 Students need access to experiences that equip them with global-citizenship skills. Virtual exchange is one approach to providing a low-cost, unique international experience for many students. Through the Global Solutions program funded by the Aspen Institute's Stevens Initiative, we learned how to create authentic online connections between students from U.S. and Jordanian community colleges.
Labor markets are rapidly changing. From communities in Cedar Rapids, Iowa, to Amman, Jordan, young people are entering a workforce that requires skills that will allow them to successfully navigate an increasingly interconnected world.
In order to bridge the gap between skills developed in education systems and the skills businesses demand, students need access to programs and experiences that equip them with problem-solving, innovation, and global-citizenship skills.
Virtual exchange gives more people international experiences
Not all students have access to educational or life experiences that provide them with the skills needed to thrive in today's ever-globalizing workforce.
International student exchanges are an effective way of increasing analytical and problem-solving skills, building mutual understanding, and increasing students' ability to work with people from different backgrounds.
But traditional exchange programs demand significant resources from their participants, which can decrease participation, leaving behind critical talent within populations. This talent includes students abroad who may not have access to opportunity to travel outside of their countries and at community colleges in the U.S. According to IIE, only 3% of American community college students study abroad.
Virtual exchange is one way of providing a low-cost, unique international experience for these students, including those that may not otherwise be able to travel. Unlike traditional international exchange program that require traveling, virtual exchanges are remote, facilitated, people-to-people education programs made possible by technology. 
Creating meaningful virtual learning
However, virtual exchange is not a panacea. If virtual exchange is not properly structured and facilitated, there's risk of reinforcing negative cultural perceptions, losing participants' interest, or being ineffective in achieving learning objectives. Massive open online courses, which connect learners around the world to content and people, have only 5% to 15% completion rates on average, for example.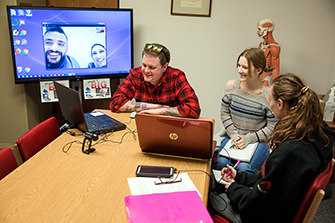 To create a meaningful learning experience through virtual exchange requires hard work and authentic connections. IREX recently completed a virtual exchange initiative connecting 315 students from U.S. community colleges and Jordan colleges and universities. These students were paired into 15 binational teams and competed in the Global Solutions Sustainability Challenge to develop sustainable hospitality and tourism business concepts in response to a challenge prompt inspired by the UN Sustainable Development Goals.
Eighty percent of participants had never participated in a virtual exchange prior to the challenge. But 99% of Jordan participants and 77% of U.S. participants felt the challenge was beneficial for their future career. All 15 binational teams completed the program.
Although results of the program are still being finalized, preliminary feedback indicates that the program was successful in creating meaningful learning and authentic connections.
In addition, findings from the first Global Solutions cohort found that:
97% of Jordanian and 92% of U.S. students indicated increased confidence in socializing with people from other countries.

85% of Jordanian and 75% of U.S. students reported comfort with virtual exchange technology.

94% of Jordanian and 92% of U.S. students indicated the ability to innovate to solve a problem.
Here are the lessons we learned when working to create authentic connections through virtual exchange.
Invest in the facilitator and provide ongoing support
Our virtual exchange programs heavily invested in teachers and facilitators. At the launch of the challenge, we hosted in-person trainings on how to implement project-based learning, inclusive teaching strategies, cross-cultural collaboration, technology, and design thinking into the classroom. Participants received ongoing support throughout the program. We found this approach to be essential in creating successful cross-cultural and remote communication.
We invested in an ongoing feedback loop throughout the virtual exchange program in order to allow for real-time changes or opportunities for support. We found this to be an absolutely critical component for success, especially among urban, high-need participants.
Create curriculum with real-world, relevant content
The Global Solutions Sustainability Challenge was created using the innovation challenge model. With this model, participants use design challenge thinking to collaborate globally and within their country teams to create solutions to real-world problems inspired by the UN Sustainable Development Goals. The virtual exchange creates relevance by having students work on issues that are affecting their local communities and then work toward a real solution.
The curriculum has activities that take place in real-time as well as away from the computer. All activities prompt regular sharing and ideation between binational partners. At the end of the program, participants deliver a high-quality product that includes a prototype, business plan or methods document, and video, all created collaboratively within a binational team.
Live expert webinars further supplement the curriculum and provide real-world relevance to what students are working on. And each week, students are encouraged to watch a video featuring a professional to increase their awareness of career pathways in hospitality and tourism.
Reduce barriers to access virtual learning
While virtual exchanges lower barriers to access international experiences, students often still face technology restrictions, language barriers, or other obstacles that impede effective participation.
In order to address these issues, we provided grants for technology and internet. This gave recipients access to the necessary technology to participate and flexibility for adapting according to the context.  
Finally, we also provided our curriculum workbooks in both English and Arabic. We gave students, teachers, and professors offline access to the virtual platform to support engagement with the curriculum outside of the virtual platform. We found this especially important for participants that do not have reliable access to electricity and internet at home. There were synchronous and asynchronous activities for individuals, country groups, and binational teams.
Virtual exchange can be an effective tool for connecting students from across the globe quickly and effectively. This results in the increased inclusion of young people around the world with access to international experiences and the opportunity to develop skills to make them competitive in a global workforce. However, for virtual exchanges to be effective, they should be structured and supported in order to create meaningful learning and authentic connections.
Global Solutions is funded by the Aspen Institute Stevens Initiative, a program supported by the U.S. State Department, and the Bezos Family Foundation.