IREX releases annual Impact Report: The Urgency of Inclusion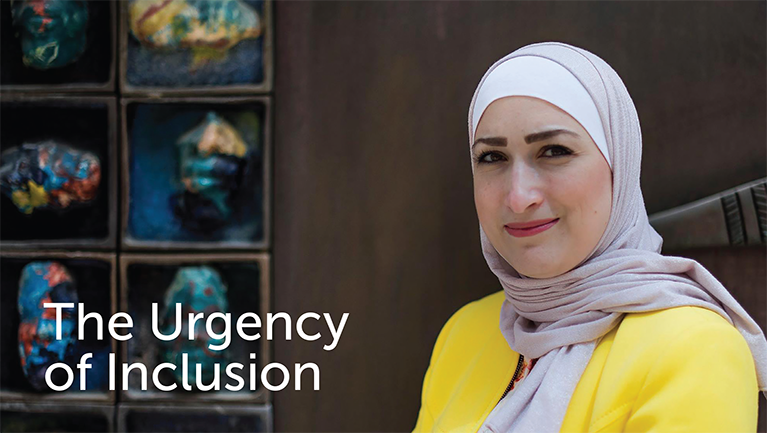 At a time when poverty persists for too many people, youth populations are bulging, and both terrorism and repression are on the rise, the need for greater inclusion and opportunity is urgent. IREX President and CEO Kristin M. Lord
At IREX, we strive to reduce barriers to opportunity on many dimensions. In 2016 alone, along with our partners we touched the lives of almost 9 million people in 118 countries.
The IREX Impact Report: The Urgency of Inclusion highlights just a few examples of our work, including supporting young African leaders who are creating change in their communities, providing youth in Tunisia opportunities to enter the workforce, and helping Ukrainians discern fact from fiction in media.
Our impact: By the numbers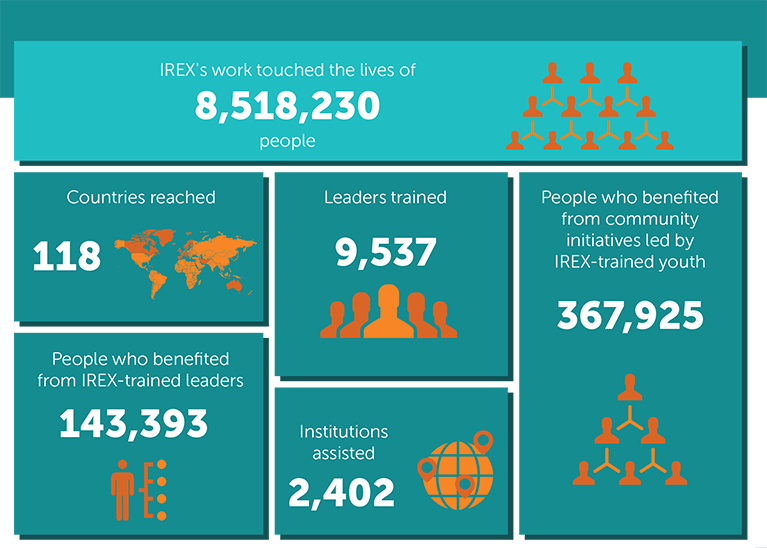 Success Stories
Youth help youth gain employment skills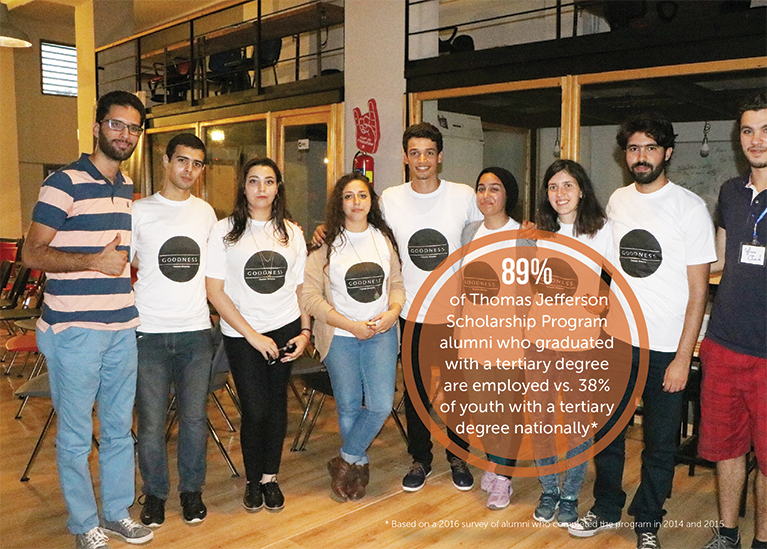 In Tunisia, almost 60% of young people with tertiary degrees lack the soft skills—problem-solving, time management, teamwork—and experience that employers seek. To help their peers meet employers' needs, three alumni of IREX's Thomas Jefferson Scholarship Program drew on their newly acquired skills to develop online platforms to bridge the gap between what students learn in school and what employers seek. By using these platforms, youth not only gain key technical and soft skills, but also help their communities and local economies thrive.
Social entrepreneur saves women's lives in Nigeria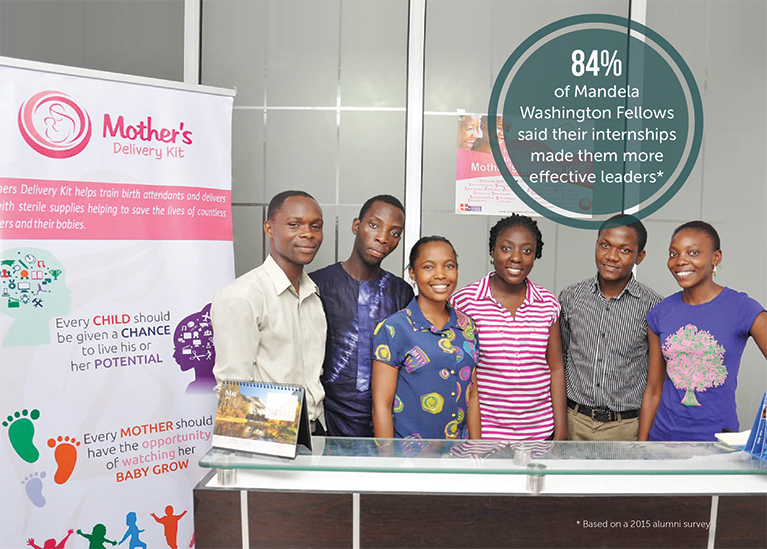 Adepeju Jaiyeoba, a participant in the Mandela Washington Fellowship for Young African Leaders, founded a company that manufactures and distributes affordable, lifesaving birth supplies to women in rural Nigeria. IREX helped Adepeju secure an internship in the United States with the United Nations Foundation, further enhancing her knowledge of the global health field. Her experience as a Fellow not only helped her improve her company, but also prepared her to enable women to become agents of change in their communities.
Helping universities prepare students for jobs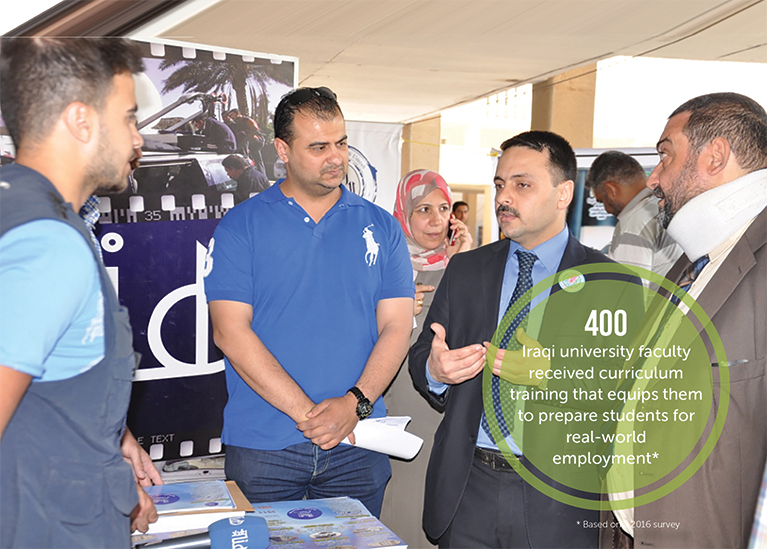 Inspired by his time in IREX's Iraq University Linkages Program, Samer Mobarak established the University of Baghdad's Career Development Center, which offers students a path of opportunity in Iraq's economy by building skills that connect them to meaningful employment. Since its inception, the University of Baghdad has hosted two annual job fairs, featuring 40 companies offering a total of 450 jobs in media, telecommunications, engineering, and finance. The Career Center also offers training that builds students' skills and augments their technical knowledge, connecting them with relevant opportunities in the workforce.
Helping Ukrainians discern fact from fiction in media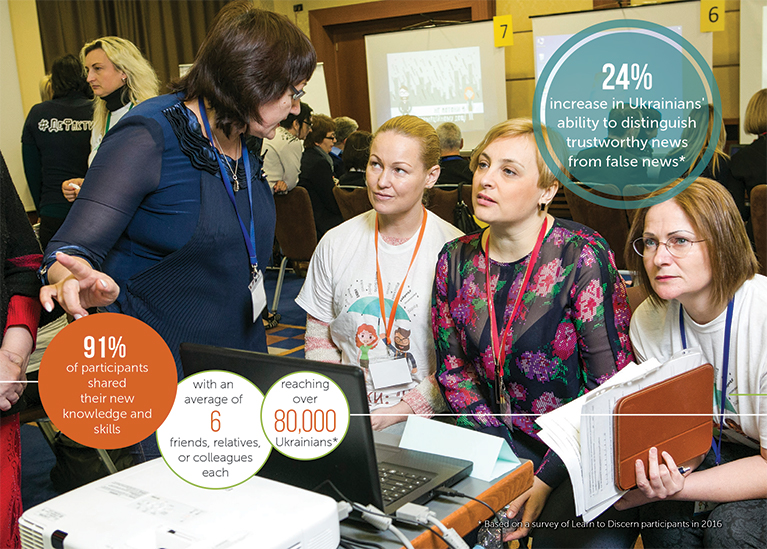 In Ukraine, citizens are subject to surging levels of misinformation at a critical time of political reform, conflict, and economic stagnation. In response, IREX developed Learn to Discern, a customized skill-building and awareness-raising initiative to help people detect misinformation and discern fact from fiction. Its unique approach provides practical media literacy skills to citizens of all ages through videos, games, and other interactive learning experiences. More than 15,000 Ukrainians participated in the workshops and demonstrated a 24% increase in their ability to distinguish trustworthy news from false news.
Program expenditures by region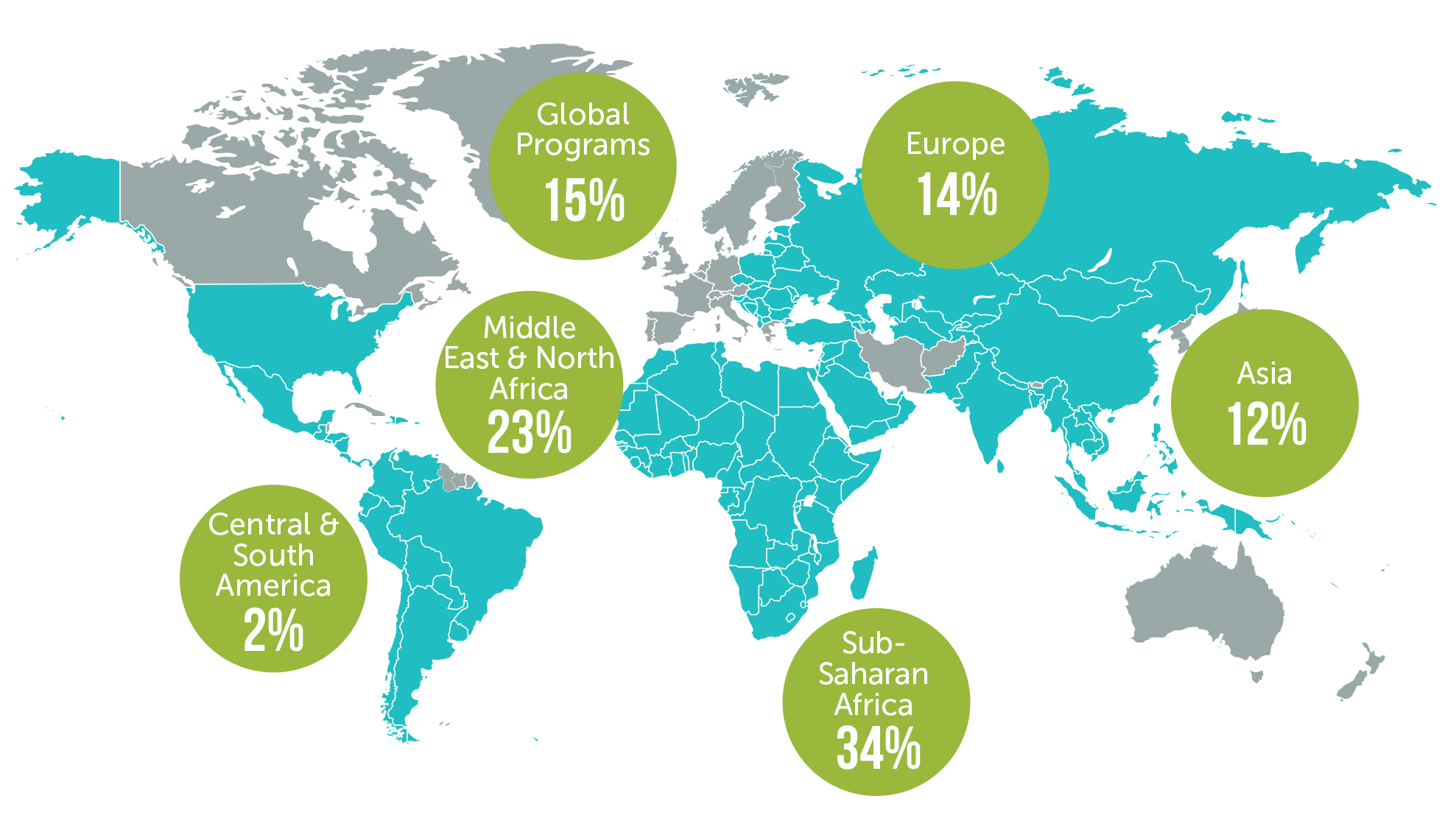 With an annual portfolio of $80 million and 400 staff worldwide, IREX works with partners in 100+ countries to empower youth, cultivate leaders, strengthen institutions, and extend access to quality education and information.