IREX launches new CSM-STAND project to support media in Sri Lanka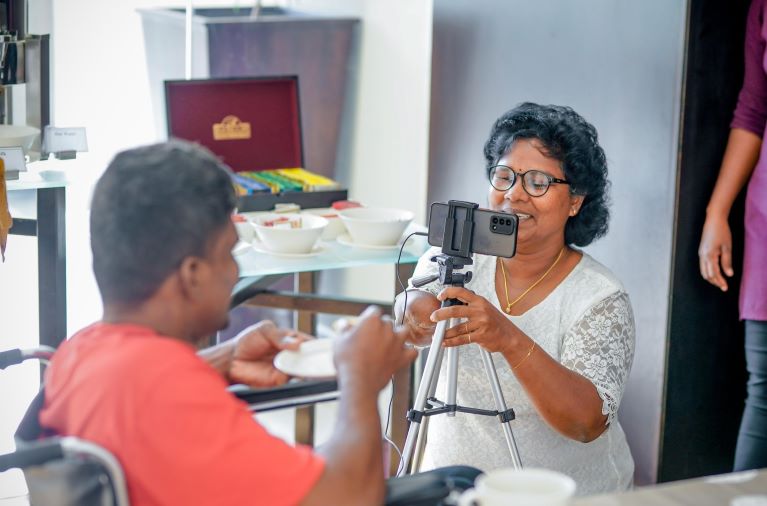 In July 2023, the Civil Society and Media - Strengthened Together and Advancing in New Directions (CSM-STAND) program, implemented by a consortium of global partners co-led by Pact and IREX, launched the Promoting Positive Information (PRO-INFO) activity in Sri Lanka. PRO-INFO is a five-year project funded by USAID to help build a vibrant and robust environment to consume news and information that protects freedom of expression, nurtures diverse independent voices, builds the financial sustainability of media outlets, and enhances citizens' ability to seek out and identify reliable, fair, and fact-based content.
"We are very excited to be implementing this innovative program in Sri Lanka," said Jean MacKenzie, PRO-INFO's Project Director, who also headed IREX's Media Empowerment for a Democratic Sri Lanka (MEND) activity from 2019 to 2023. "PRO-INFO builds on MEND's successes, taking media development to a new level that can make significant and lasting changes to the information space in the country."
Sri Lanka's media faces an extremely challenging environment, with political and economic turmoil seriously affecting journalists' ability to deliver credible content. Trust in the mainstream media is low, and disinformation, hate speech, and gender stereotyping are becoming ever more prevalent in the civic space. With elections looming in 2024, it is crucial that the media receive the tools and support they need to fulfill their mission of educating and informing the public. Just as important is building the public's resilience to manipulative content.
"This new program comes in at a critical time, ahead of Sri Lanka's 2024 presidential election, and will be fundamental in targeting misinformation which poses a serious threat to the electoral process," said Milica Panic, Chief of Party for CSM-STAND at Pact. "PRO-INFO will play a critical role in strengthening local media to provide an accurate, balanced, and unbiased forum for national dialogue and equipping citizens, particularly those within vulnerable communities, with the tools to consume media content and news critically and responsibly."
IREX is the lead implementer for PRO-INFO and will bring its decades of global media development expertise to the table, along with its groundbreaking work in media literacy and information integrity. PRO-INFO will also bring in  global and local partners, such as eQualitie, a CSM-STAND consortium partner specializing in digital security; Hashtag Generation, one of Sri Lanka's most prominent youth organizations, which is mounting a robust fact-checking operation; DreamSpace Academy, which will bring technology-fueled solutions to information disorders; and the Sri Lanka Press Institute, which will launch a media literacy program in Sri Lankan schools.
PRO-INFO will work across the country, stimulating dialogue on issues of national importance, facilitating increased coverage by and for marginalized communities, helping citizens acquire the tools they need to separate fact from fiction, and assisting independent media in building financial sustainability. The result will be a stronger, more inclusive information space that can help Sri Lankans make the decisions they need to forge a better future.
IREX leads the PRO-INFO Activity project as a part of CSM-STAND, which is a five-year, USAID funded Leader with Associates (LWA) award that aims to foster independent civic forces; enhance civic engagement; and build vibrant, resilient, and self-reliant civil society and media sectors that cultivate more pluralistic, democratic societies. CSM-STAND comprises leading global, regional, and technical practitioners specializing in different sectors who bring extensive practical experience and knowledge of fundamental principles, key issues, current practices and emerging trends in the democracy, rights, and governance community.