Reflections from Ukraine: A report from IREX President and CEO, Kristin Lord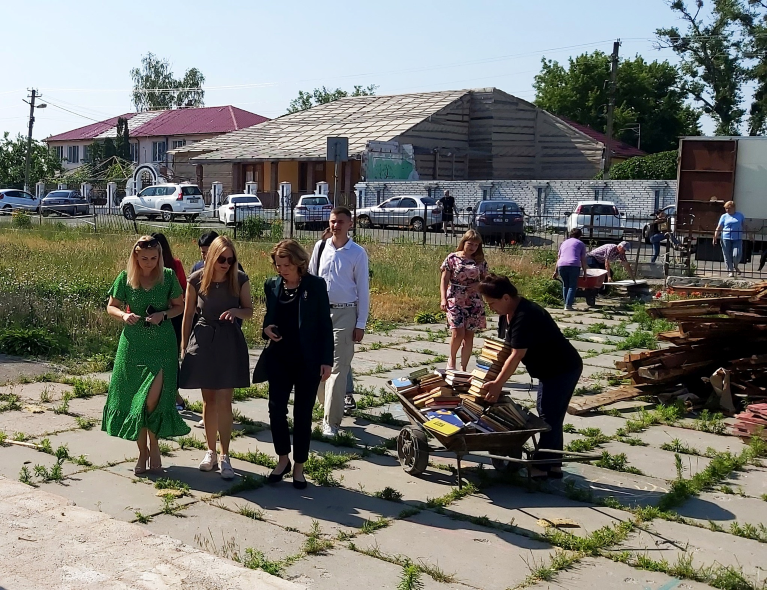 Last month I was privileged to visit IREX's team and partners in Ukraine, a country where IREX has worked for decades. It was my fourth trip to Ukraine since 2014 and my first since the full-scale invasion.
Normally after a trip like this, I would describe the reach and impact of the programs IREX implements. Instead, I would like to share a broader view of what I saw in Ukraine. All of us must keep learning about what the Ukrainian people are being forced to confront, particularly as needs and threats continue to escalate.
Over the course of the week we spent in Ukraine, my colleagues and I traveled more than 800 miles (1,300 km) around the country, plus about 500 miles (over 800 km) through Poland. Crossing the border took us 1.5 hours on the way and 4 hours on the way back – a substantial improvement over past trips by our staff, but still indicative of the time commitment it takes to visit. We stopped in Lviv, Kyiv, Zdolbuniv, and Zahaltsi. We also drove through sites of past tragedy, such as Bucha and Irpin, where large-scale damage was still evident despite substantial rebuilding.
While in Ukraine, we met with youth, educators, civil society leaders, and local government officials in addition to US government officials. We also spent some wonderful hours with our own IREX team, learning more about seven projects we are currently implementing. These include the USAID UNITY project to support Ukrainian youth, Learn to Discern projects to build citizens' resilience to information manipulation and integrate media and information literacy into education, work to support veterans and integrate internally displaced persons, rapid response support to meet humanitarian and government needs, and US-Ukraine media exchanges.
IREX also proudly manages the three America Houses in Ukraine on behalf of the U.S. Department of State. During the full-scale invasion, these dynamic venues are a place for Ukrainians to come together, learn new professional skills, attend educational programs, and continues to strengthen ties between the U.S. and Ukraine.  The America Houses have a particular focus on young people, creating opportunities for them to further develop their creativity and talents. In the early days of the full-scale war, one America House served temporarily as a shelter for internally displaced people.
Wherever we went, Ukrainians showed their determination to win the war. They do not underestimate the scope of the challenge. They still believe they will prevail. Ukrainians talk about the future by referencing the period "after victory." Signs of patriotism and solidarity are everywhere: Flags fly. Everything from buses to fences to roadside businesses are painted blue and yellow. Patriotic clothes and jewelry are common daily attire for all ages and genders. I lost count of how many wore outfits sporting Ukrainian tridents, made world-famous by President Volodymyr Zelensky.
The human costs of the war are staggering. We saw wall after wall of photos showing those killed in battle to date. We saw crosses painted blue in cemeteries along the roadside. Near a wall of photos memorializing the dead in Kyiv, we saw flowers left for fallen heroes. A woman knelt with one hand pressed against a picture of a young man.
In our drive across the countryside, we passed miles of farmland that feeds the world. We also saw signs of terrible destruction as we drove through Borodyanka, Bucha, and Irpin – all shockingly close to Kyiv. We saw ruined homes and buildings in Kyiv itself, which has been relentlessly targeted by drones and missiles. The vast majority are shot down by the highly effective Ukrainian military and the Patriot anti-missile defense systems supplied by the United States. However, a few manage to evade the powerful defenses, especially at night.
After fifteen months of terrible news stories, it was striking to see how determined Ukrainians are to persevere. I was stunned by how much rebuilding had already occurred – another sign of Ukraine's resilience and commitment to rebuild, as much and as long as it takes. In Lviv, people thronged the parks and public squares on a summer evening. Street musicians competed for attention. Vendors hawked balloons and ice cream. There were roller skaters and skateboarders. Even in Kyiv, the sheer normalcy was shocking. We sat in traffic jams. Cafes were full. In downtown Bucha, a line of cars waited at the McDonald's drive-through. Ukrainians are attempting, as best they can, to live their lives and create some semblance of normalcy for their children, despite the horrific loss of life, terrible destruction, and the trauma off near daily air raids.
The toughest visit was to a school outside Kyiv that had been heavily shelled after being occupied by Russian troops for more than a week. Classrooms were mostly destroyed. Walls were scarred by shrapnel. Bullet holes pocked the windows. A daycare center across the street was also severely damaged. The bomb shelter underneath survived, still piled with discarded books and toys. But it had flooded and reeked of mildew. We were there to visit the Temporary Learning Center IREX had opened in partnership with local government and USAID. The visible signs of so much violence in the school and daycare center that we saw left us disturbed and shaken.
Ukraine will need hundreds of new schools to educate its children. As of today, over 3,000 educational facilities have been damaged and 440 destroyed completely. In the meantime, transitional learning centers fill a need. The mayor, education director, and others we met with told us that the learning center fills needs in their village every day and that the center will be needed for various purposes for many years to come given the scale of the destruction. Hundreds of homes and buildings were destroyed in their small village alone.
On the way back, we saw still more destruction, juxtaposed with signs of Ukrainians' brilliant sense of humor and defiance. One example: down the street from a destroyed building, we saw a traffic island with some notable landscaping: a topiary tank, made of bushes, being "pulled" by an actual tractor. (If this image is unfamiliar, you can read more here.)
Ukrainians' fortitude and resilience should not mislead outsiders about the extent of trauma and psychological damage that must be healed. This much loss and destruction takes a toll, as well as the ongoing threat of more violence. We heard that youth, teachers, veterans, and so many citizens will need sustained mental health support. Psycho-social support is being provided, including several IREX programs in Ukraine, but the needs far outstrip capacity and creative solutions, given the scale.
Outsiders should not forget what Ukrainians deal with every day, month after month. Two out of our three nights we spent partially in air raid shelters (the hotels' underground parking garages). In Kyiv, air raids are so common that the hotel had set up cots amid the parking spots. In Lviv, where attacks are less common, we sat or stretched out on the garage floor along with other guests, including a baby and a family's dog. We were lucky. Our time in the shelter was limited to an hour or less at a time, between 1:00 am and 3:00 am in the morning. In contrast, Ukrainian colleagues note that air raid sirens sometimes last for several hours. Some just sleep through them at this point, weary of dragging themselves to the shelter and losing even more sleep when they must get up for work and care responsibilities in the morning. While understandable, this carries risks. The night before we arrived both Kyiv and Lviv were attacked, with deaths and injuries resulting. The night after we left Ukraine two people were killed by the debris of a missile that was shot down.
It is worth remembering that like many young adults in Ukraine, about half of our Ukraine team has children to care for in addition to their jobs at IREX. Most of our staff also do volunteer work in addition to working extremely hard at their jobs. They say they are deeply motivated to serve fellow Ukrainians.
Supporting Ukraine now and in the future
To ensure Ukraine's success in the short and longer terms, it is essential to invest not just in energy, agricultural, and physical infrastructure but also in Ukraine's people. Ukraine will need continued social cohesion, the right mix of skills and knowledge to rebuild, and enough jobs and civic engagement to avoid brain drain as the war continues. It will need to engage youth and prepare them to participate and lead now and in the future. It will need to rebuild schools, train teachers, and ensure quality education for young generations. In the near term, it will need Temporary Learning Centers and bomb shelters to protect children as they learn. Put another way, Ukraine will need investments in the human capital as well as in infrastructure to ensure a free, democratic, united, and prosperous Ukraine that successfully integrates with the West and continue a path towards integration into the European Union.
Supporting youth
The importance of youth was a theme we heard throughout our meetings. We saw evidence of young people's volunteerism, creativity, and civic engagement – particularly at the youth center we launched in Zdolbuniv (You can see the IREX Facebook post here). In the last year alone, youth raised funds through Christmas caroling and other activities, made thousands of trench candles and camouflage nets to support Ukrainian Armed Forces, and helped distribute humanitarian aid. Youth want to stay in Ukraine and contribute; but they need high quality education and job skills that match Ukraine's future, places to convene with other young people, mental health support, and opportunities to engage with their communities. They need to engage their phenomenal creativity (the most popular events at the America House in Lviv were the maker space and skills courses on video content production). They need civic education that reinforces that values and skills that will power a democratic Ukraine.
Reintegrating veterans
We heard about the staggering task to successfully reintegrate veterans, something IREX was working on before the full-scale invasion and has accelerated in the last fifteen months. The needs are spiking. There were close to 450,000 veterans in Ukraine before the full-scale invasion, but recent estimates top over one and a half million and a high percentage of them are quite young. Veterans will need jobs, ways to productively contribute to Ukraine's future, and mental health support.
Developing job skills and growing the economy
Employment and economic growth were major concerns to ensure that Ukraine can drive its own recovery. Unemployment is high but we also heard that there are jobs for people with the right kind of skills and a shortage in some areas, such as construction and mental health. As such, IREX is supporting research to ensure that demand for skilled workers is aligned with the supply of skilled workers as well as through data-based career orientation programs. We heard about the economic costs of all the unexploded landmines and until they are cleared, or other solutions are identified, many farmlands must lay fallow.
Using data and research
There is a need for better use of data and quality monitoring evaluation and learning, we were told. During a full-scale war, such things can seem like a luxury. Our team disagrees with this view. To invest resources well, it is more important than ever that Ukraine make evidence-based decisions. Careful monitoring also builds confidence that anti-corruption efforts are effective.
Providing mental health support
Ukrainians have suffered terribly since February 24th, 2022, and the widespread need for mental health support also came up at every stop. IREX has helped to provide this support through mental health hot lines for veterans, support of 24/7 suicide prevention, and engaging local partners to spread the word about trainings. We have engaged teachers, veterans, youth, and others as well as supported counseling services available through youth centers. However, more is required. While not all Ukrainians need extended access to mental health professionals, many professionals who engage the public, such as teachers, will need new skills to help identify which children merit priority access to therapists and what they themselves can do to contribute to mental health and resilience.
Combatting disinformation
We heard about disinformation. Overall, Ukrainians have been widely skeptical of Russian disinformation campaigns and were well prepared to recognize manipulative information before the full-scale invasion. And, indeed, Ukraine has been a leader in coming up with strategies and solutions to tackle disinformation such as in integrating media literacy into school curricula nationally (with some support from IREX). Ukrainians simply did not believe, to any meaningful degree, false stories that President Zelensky had fled the country for instance or that the West had provoked the war. Learn to Discern proved vital during the full-scale invasion in Ukraine, with 99% surveyed teachers reporting that Learn to Discern helped them navigate the information space since February 2022.  Nonetheless, we heard that there is an ongoing need to protect against manipulative information and false narratives, especially as the war continues.
At IREX, we see this in demand from teachers to participate in Learn to Discern educational training. Despite the war and all the stresses on Ukrainian families, applications to take a particular teacher training have risen from 1,598 to 2,113 over the last two years. We also see increased engagement with IREX's Very Verified online course. The challenge is to keep updating the materials to make them relevant to current events and compelling to citizens and students. There is also a challenge to meet the demand for Learn to Discern content safely in newly de-occupied areas and regions near the front line, such as Kherson.
Maintaining social cohesion
Ukraine is strong because its population has been so fervently united. The need to maintain that social cohesion is essential both to winning the war and recovery. However, there will be tensions that could strain the social fabric as communities come back together – between those who fought and those who did not, those who contributed and those seen as not doing enough, those who stayed and those who left.
Building trust and cohesion is something IREX has worked on in Ukraine for many years. This trust and social cohesion will now be critical to Ukraine's future. If patriotism and civic engagement can be sustained, if divisions can be healed, Ukraine's recovery will come far faster and more smoothly. Community libraries could be a useful resource for this purpose. Through the IREX Bibliomist program supported by the Bill and Melinda Gates Foundation for many years (ending in 2014) IREX worked with more than 1200 libraries across Ukraine to transform them from dusty Soviet-style book repositories to vibrant centers for community learning and engagement. They remain important focal points for civic education and engagement.
We learned so much more during our short time in Ukraine – but hopefully this report will give you some sense of the complexities, the challenges, and the potential. I also hope it will give you renewed commitment to back the brave people of Ukraine. They are fighting a terrible and unjust war. They will need our sustained support.