How youth can lead economic and social development in Tunisia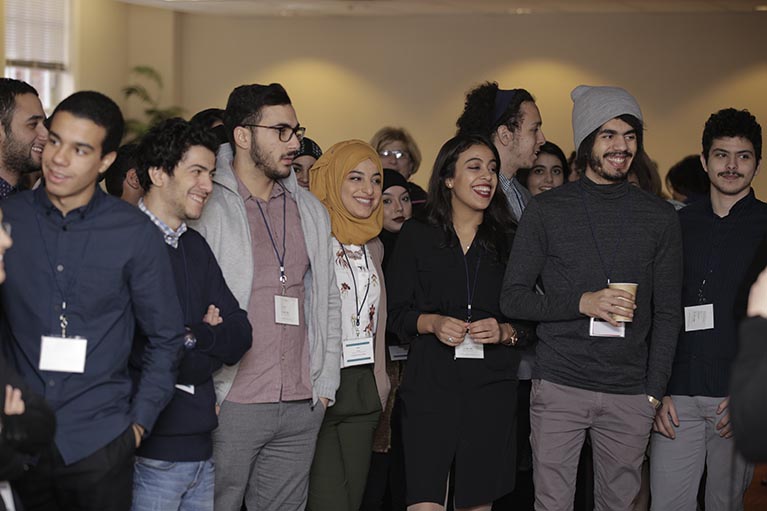 This article was originally published in Al-Fanar Media.
The success of Tunisia's new constitutional democracy depends on the involvement of young people. In 2016, 38 percent of the Tunisian population was under the age of 25. But there is still room for young people to become much more active in their country's development in this new era. How can we encourage them to do so?
Youth unemployment in Tunisia is at 30 percent, reaching 55 percent in some regions, and 60 percent among youth with higher education degrees, according to the OECD. Meanwhile, Tunisian youth are reluctant to engage in their communities, with a volunteerism rate of only 6 percent, according to the Legatum Institute, a British charity.
IREX believes that empowering youth by building their skills as citizens, professionals, and leaders is the solution to some of these problems. The approach is put into practice through the Thomas Jefferson Scholarship Program in Tunisia.
The Thomas Jefferson Scholarship Program in Tunisia focuses on building the technical, professional and leadership skills of undergraduate students from across Tunisia. Of the 300 young people who have participated in the program, more than two thirds come from outside the greater Tunis area, the capital region. Nearly half come from the southern and central western regions, which have historically had higher rates of poverty, fewer opportunities and less investment than other parts of the country.
By immersing selected youth in year-long programs at colleges and universities in the United States, the Thomas Jefferson Scholarship Program prepares them to be effective professionals and citizens. The program focuses on improving the technical skills that participants will need in future careers, while simultaneously providing them with career coaching, leadership coaching, and practical experience through internships and volunteer opportunities.
"I now am focused on developing my professional skills to make a better contribution to Tunisia," says Sabrin, a Thomas Jefferson alumna.
According to surveys and assessments of Thomas Jefferson students and alumni conducted in 2016, every person that completed the program demonstrated growth in soft skills and leadership skills. Just over half of alumni said their internship was the most beneficial part of the experience in this regard.
"My internship in the United States helped me deepen my knowledge of computer science, and taught me how to be efficient and more productive," says Ines, another Thomas Jefferson alumna.
These professional experiences translate directly into employment opportunities: 89 percent of alumni who have graduated from their higher education institution are currently employed, compared to only 38 percent of their peers.
Volunteer experience in the United States also improves professional and leadership ability. Thomas Jefferson scholars volunteer in US communities for a total of over 3,000 hours. This work includes building houses for the homeless, distributing food at homeless shelters and working with disabled people.
"This experience helped me gain great speaking and listening skills, and to become a better team player," says Khaled, a Thomas Jefferson alumnus. "I volunteered with amazing people from all over the world. This boosted my creativity and problem solving, and I have developed different approaches and perspectives in dealing with issues and challenges."
The Thomas Jefferson program emphasizes collaborative leadership and volunteerism. As a result, 82 percent of alumni continue to volunteer in Tunisia after completing the program. Women and students from disadvantaged governorates, who have less access to skill-building activities in the formal workforce, are even more likely than their counterparts to continue volunteering after they return to Tunisia.
Participants in the Thomas Jefferson Scholarship Program go on to use what they have learned by starting new projects that benefit their fellow citizens. One example of this is Kids Uprise, which teaches entrepreneurship and leadership. They also connect their peers to opportunities through online platforms, or create businesses that employ other youth. So far, seven alumni have started their own businesses, with others participating in start-up competitions like the Hult Prize Competition.
"The Thomas Jefferson Scholarship Program made me familiar with new technologies I didn't know before, which gave me a clearer idea about how to design my own project," explains Firas, an alumnus who has launched a small business. "I learned a lot about marketing and business in general, which helped me in developing a sound business plan with my team."
The Thomas Jefferson Scholarship Programs are made possible by the generous support of the American people through the United States Department of State and implemented by IREX.