Tunisian youth embrace tech start-up culture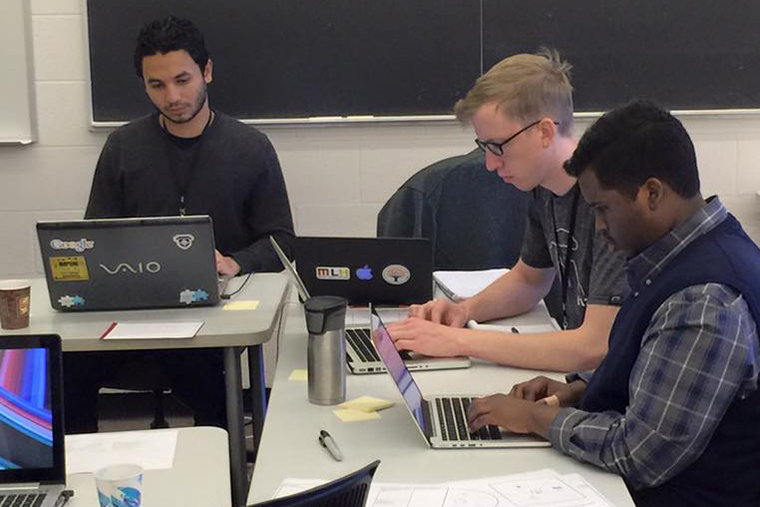 Tunisia is a land of opportunity for the savvy tech entrepreneur. Forbes recently dubbed Tunis as one of the top cities for startups, and Bloomberg lists it as one of the 50 most innovative economies.
This is no surprise to Haythem and Wissem, two Tunisian students studying in the United States through the Thomas Jefferson Scholarship Programs. Through this opportunity, they each individually won Startup Weekends—weekend-long startup competitions—in their respective US cities, earning access to capital, mentors, and services that will not only help them turn their startup ideas into reality, but help them gain the skills needed to contribute to economic development in Tunisia.
Sharing entrepreneurial resources
Haythem, a student from the Institute for Technology and Communications Studies in Tunis (ISET'COM), sees himself as a technopreneur with an entrepreneurial spirit and a knack for web design and app creation. When he arrived at the Community Colleges of Spokane in Spokane, Washington through the Tunisian Community College Scholarship Program (TCCSP), he started to look for other like-minded individuals who shared his passion for tech startups. This brought him to Startup Spokane, an organization dedicated to connecting Spokane's budding entrepreneurs with resources and guidance on getting their enterprises off the ground.
"At Startup Spokane, I met a young American with a background in tech and he and I shared ideas," recalls Haythem. "We came up with the idea of Keep, a space sharing app that connects students [who have items] to store with locals who have space to rent, and thought it would work for the competition."
When they arrived at the competition, Haythem and his partner started working the room to get support for their idea. After three grueling days and nights of market research, coding, and creating a business plan, they pitched Keep to a panel of judges and won the weekend.
By winning the competition, Haythem and his team have access to local mentors and legal counsel, as well as local investors who may back their product. They hope to bring their product to market in May.
At Startup Weekend in Tunis, "[participants] mostly do it for the experience," he explains. "After the competition everyone just goes home, and no one really brings their products to market.
"Here, I am happy that we are really doing this and we will have an actual business in the end."
Converting ideas into action
Like Haythem, Wissem and his team won Startup Weekend St. Cloud with an app. He and his team of fellow software engineering students at St. Cloud University in St. Cloud, Minnesota created DibsOnIt, an app that reduces waste. By connecting students who need to get rid of furniture and other large items with students who want it, the app saves otherwise useable items from being tossed in the dumpster.
Wissem came to St. Cloud to study computer engineering at the university through the Tunisia Undergraduate Scholarship Program (Tunisia UGRAD). Unlike Haythem, Wissem didn't focus on entrepreneurship in Tunisia—instead he studied computer engineering at the National School of Computer Science (ENSI) at Manouba University. After participating in a hackathon in Minneapolis, Minnesota, he and a team of fellow St. Cloud students thought they had the perfect idea and skill set to win Startup Weekend.
"Our focus was not about money but [about] learning from the experience," he says. Though after winning the competition, the DibsOnIt team received support to bring their app to market.
Both Haythem and Wissem have caught the entrepreneurship bug. Haythem is especially eager to bring the idea of the sharing economy to Tunisia. "[In the US,] you have Airbnb and Lyft, which contribute to the sharing economy," he explains. "We don't have that idea in Tunisia, but I think it can work. It's something interesting we can bring home."
The Thomas Jefferson Scholarship Program's Tunisia Undergraduate Scholarship Program (Tunisia UGRAD) and Tunisia Community College Scholarship Program (TCCSP) are programs sponsored by the Bureau of Educational and Cultural Affairs (ECA) of the United States Department of State, supported by the people of the United States, and implemented by IREX.