How three Tunisian students are helping young jobseekers gain skills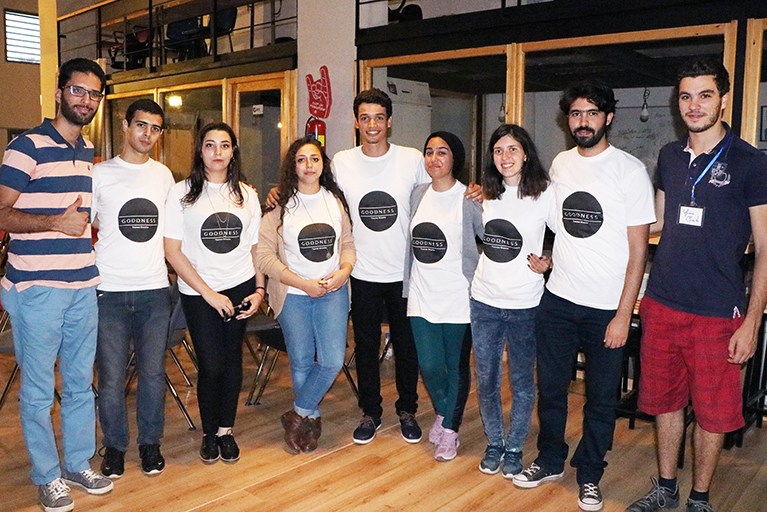 Six years after the revolution, youth in Tunisia continue to protest the country's lack of economic growth. More than 35% of youth are unemployed. Meanwhile, up to 60% of youth with tertiary degrees lack the soft skills and experience that employers seek.
To help their peers meet employers' needs, three alumni of the Thomas Jefferson Scholarship Program (TJSP) are developing online platforms to give youth the opportunity to bridge the skills gap between what youth learn in school and what employers seek.
Helping youth gain skills for employment through volunteering
Together with a team of TJSP alumni, Sarah and Saber launched an online platform called GoodNess, which connects volunteers to community-based organizations that need their help.
The students and NGOs that use GoodNess describe volunteer experiences as opportunities for professional growth. By volunteering for events such as community clean-ups and providing resources for underprivileged families, students using GoodNess demonstrate their soft skills and build deeper connections with their communities—making them more attractive candidates to local employers.
The idea for GoodNess comes from the students' volunteer experiences while in the Thomas Jefferson Scholarship Program in the United States. Many of the colleges and universities in the US that serve as academic hosts for TJSP have offices of community engagement, which offer online platforms to connect their students to volunteer opportunities. Sarah and Saber took advantage of these tools while in the US and gained valuable skills through the opportunities it afforded them.
"We were inspired by the sense of community on and off campus and the students' involvement in the development of civic-minded campaigns and projects," Sarah explains.
The founders of GoodNess hope the platform will not only help youth gain skills to get jobs, but also promote a deeper culture of volunteerism in Tunisia. By volunteering and gaining work experience, students can develop leadership and collaboration skills to address problems in their communities.
"By instilling a mindset of volunteering, those in need will find a helping hand, and youth ideas and projects will find a way to become a reality," says Sarah.
Boosting the economy by connecting youth to opportunities
Like her fellow alumni, Leila is currently developing an online platform for recent university graduates. Her platform is called Opus, which connects young workers fresh out of school to short-term freelance opportunities in the labor force. Companies can post jobs on the platform, which allows freelancers a space to apply for short-term positions and internships. Freelancers can also create profiles, so they can attach a portfolio and references with ease while applying for jobs. Though the website is still at the prototype stage, Leila is leveraging the time management and organizational skills she gained from TJSP. She plans to launch the site later this year.
"Without the skills I gained [during TJSP], it would have been impossible for this project to see the light of day," says Leila. "This [website] will offer job opportunities to anyone with the right skills; they can be students, graduates, or employed individuals."
Youth not only gain key technical and interpersonal skills through volunteering and freelance opportunities but also help their communities and local businesses thrive. This contributes to large-scale economic growth and closes the gap between the skills youth learn as students and the skills the workforce needs.
"Allowing [freelancers] to complete individual projects will give them both flexibility and experience, not to mention boost their [incomes]," says Leila. "The website will also impact small businesses as they will quickly find the help they need when they need it. This can lead to fantastic economic growth in Tunisia, allowing small businesses to compete with big companies."
The Thomas Jefferson Scholarship Program consists of the Tunisia Community College Scholarship Program (TCCSP) and the Tunisia Undergraduate Scholarship Program (Tunisia UGRAD). The programs are sponsored by the Bureau of Educational and Cultural Affairs (ECA) of the United States Department of State, supported by the people of the United States. The programs are implemented by IREX.