How investing in young leaders has supported Tunisia's democratic transition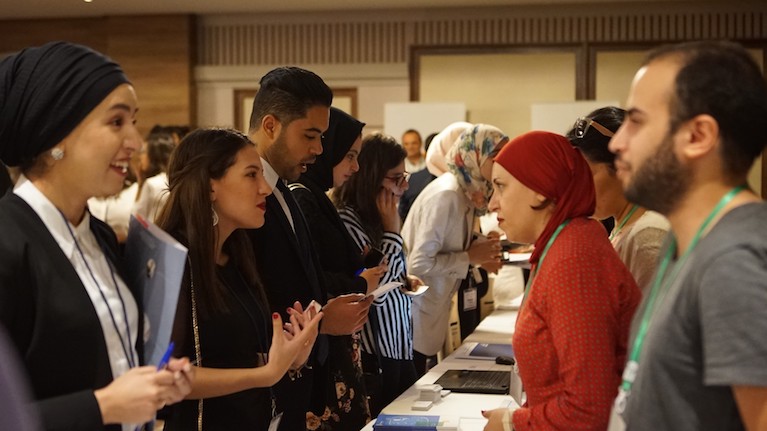 Ten years after the 2011 revolution in Tunisia, a new generation is advancing the country's democratic and economic reforms. As we reflect on a decade of change, we'd like to share three ways that investing in the country's young leaders has supported Tunisia's democratic transition, and how new approaches can support the work that remains.
Youth are Tunisia's largest demographic, and Tunisia's youth are still highlighting the revolution's yet unmet demands—"Liberty, Work, Dignity." The public sector is saturated; it can no longer absorb as many unemployed university graduates. Meanwhile, the pandemic intensified challenges to the democratic transition. Tunisia needs innovative ways to equip youth with the skills to advance social cohesion, increase employment opportunities, and progress toward peaceful democratic policies.
Through international partnership and local ownership, youth-led and youth-serving organizations can support the country's progress. At IREX, our youth approach and leadership approach guide us in building the skills of young leaders, providing them with opportunities for real-world learning, and strengthening networks for long-lasting positive change. Here are three ways we've applied this to our work in Tunisia to support youth in becoming dynamic leaders.
1. Investing in diverse youth leaders demonstrates the power of youth to address vulnerabilities and violent extremism
Tunisia's revolution highlighted the social and geographic divide within the country, especially in the interior and southern regions. Since the revolution, violent extremist organizations have caused social division and instability. They have particularly targeted marginalized and unemployed youth.  
To increase inclusion and offer positive alternatives to violence, the Ma3an program established a team of youth mentors, who conduct training for underserved youth in 33 communities across Tunisia. The training sessions build young people's social skills and employability skills. The program provides opportunities for leaders to advance reforms through youth-led initiatives.
It has been a transformative experience for many of the people who receive training and also for the youth trainers themselves. For example, after youth mentors conducted a series of training sessions for marginalized youth at a juvenile rehabilitation center, the youth mentors founded a nonprofit organization to continue this work, providing an inclusive space for youth to reintegrate back into society for years to come.
2. Supporting the school-to-work journey increases youth employment and entrepreneurial engagement
Despite protesters' calls for liberty, work, and dignity, unemployment grew from 13% to 18% from the beginning of the revolution to just a year later. Today's unemployment rate is 16%, which is often attributed to a mismatch between the labor market's skills and the skills that employers seek.
The Thomas Jefferson Scholarship Program in Tunisia has been building the technical, professional, and leadership skills of undergraduate students from across the country. By providing youth the opportunity to build critical skills to contribute to the country's development, the program serves as a bridge between the education system and job sectors.
Participants have overwhelmingly experienced positive results. For example, nearly 100% of the 2019–2020 cohort reported that their professional skills and competencies had improved, and nearly a third of alumni respondents said that they launched an independent initiative in Tunisia after completing the program. While only 21.6% of youth who received an advanced education or tertiary degree in Tunisia are employed, in 2020, 100% of TJSP alumni respondents who were no longer in school said that they'd secured paid employment.
3. Fostering civic engagement through young community leaders supports the democratic transition
Tunisia continues to struggle with achieving democratic stability, and the pandemic has not made the situation any easier. With an economy hampered by the pandemic and overreliant on state employment, Tunisian youth need support and innovation to diversify opportunities for employment and civic engagement.
Leadership programs can help fill this gap. Alumni of leadership programs return to their home communities with new technical and professional skills as well as with continued support to execute their ideas. For example, the MEPI Alumni Connection facilitates ongoing learning and collaboration among alumni of the U.S.–Middle East Partnership Initiative (MEPI). Through the MEPI Alumni Connection, alumni have the opportunity to apply for small grants to implement community activities. Many alumni in Tunisia have gone on to extend the impact of their projects by establishing their own nongovernmental organizations.
Wajdi, a Tunisian attorney, established Citoyen-Gov in Tunisia, a youth-led initiative aimed at engaging youth in the debate around public policy issues. Wajdi utilized a MEPI Leaders Grant to conduct roundtable discussions in which key figures from parliament, other parts of the government, and the private sector exchanged views with young people from poor areas of Tunis. Wajdi also used his grant to launch an online forum. During the forum, members of the parliamentary budget committee explained the reasoning behind strategic decisions that led to the country's budget, thereby increasing transparency and creating opportunities for civic engagement.
Youth are channeling their knowledge and energy into transforming Tunisian institutions that contribute to civic, economic, and social stability. By working with youth and helping them grow as leaders, we can support Tunisia's democratic transition.