How Tunisian youth are driving development across the country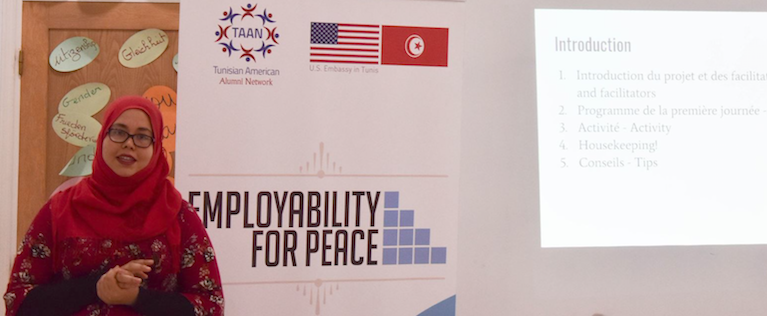 January 14 marks the 10-year anniversary of the Tunisian Revolution, which led to the ouster of its longstanding president and transition to democratic governance. Ten years on, young Tunisian leaders are using skills and experiences they gained through the Thomas Jefferson Scholarship Program to drive their country's development.
Abir, Achref, Fatma, and Nourjahen are four of nearly 600 alumni of the Thomas Jefferson Scholarship Program (TJSP), which builds the workforce capacity of a diverse group of young Tunisian leaders. The Thomas Jefferson Scholarship Programs are made possible by the generous support of the American people through the United States Department of State and implemented by IREX.
Developing skills for professional success
Employers look for a series of key competencies when hiring, including transferable skills—such as time management, goal setting, and problem-solving—that are valuable no matter the industry. Over seven years of program implementation, surveys consistently show that TJSP participants cultivate these skills during their yearlong program in the United States. A survey of the 2019–2020 cohort shows that nearly 100% of respondents reported positive change in behavioral competencies and professional skills as a result of their participation in the program.
Abir, who participated in the TCCSP Program during the 2015–2016 academic year, says that teamwork, self-confidence, and decision-making skills she gained during the program shaped her career with her current company, an international technology and IT infrastructure firm in Tunisia. In just a year and a half, she was promoted to IT team leader.
Abir also emphasizes that the program prepared her to support the company's success. She says, "My experience in the United States allowed me to use what I have learned in the workplace by being able to introduce new ideas and processes that can benefit the company I work for."
Tunisia UGRAD alumnus Achref took part in the program during the 2017–2018 academic year and is currently employed in Tunisia by an international marketing and software company. He notes that the communication skills he gained through TJSP have been instrumental. "Improving my writing and verbal skills… helped me gain the confidence to speak my [truth] and aspirations into the world around me and granted me the ability to turn my thoughts into actionable plans," he said. "Through my newly acquired skills, I managed to run multiple projects in my home institution, network with various professionals, and land multiple job offers before my graduation."
Applying skills to community leadership
Beyond supporting Tunisia's economy as young professionals, alumni also drive their country's development as community leaders.
The 2020 alumni survey shows that nearly one-third of respondents launched an initiative since completing the program.
Fatma and Nourjahen created an initiative that provides intensive professional development training for young university graduates in Tunisia. Once participants complete the training, they join an online group where they can access recruitment opportunities and receive online job search support. The initiative was made possible in part by a grant from the U.S. Embassy in Tunisia.
Nourjahen and Fatma were inspired to start the initiative after taking courses on career readiness and world politics at their U.S. host institution during the 2018–2019 academic year. As their career-readiness course equipped them with certain tools, they decided to use the class to do the same for young people in Tunisia, with the goal of helping them obtain jobs and deter violence in its different forms. A total of 250 participants have attended trainings, many of which were held in historically underserved regions of Tunisia.
On the 10-year anniversary of the Tunisian Revolution, many people will continue to reflect on what has changed and their hopes for the future. TJSP alumni – who come from all governorates of Tunisia and use skills from the program to drive private sector and community development – will continue to contribute to a more stable future for Tunisia.