Youth build trust and civic discourse to prevent violence in Tunisia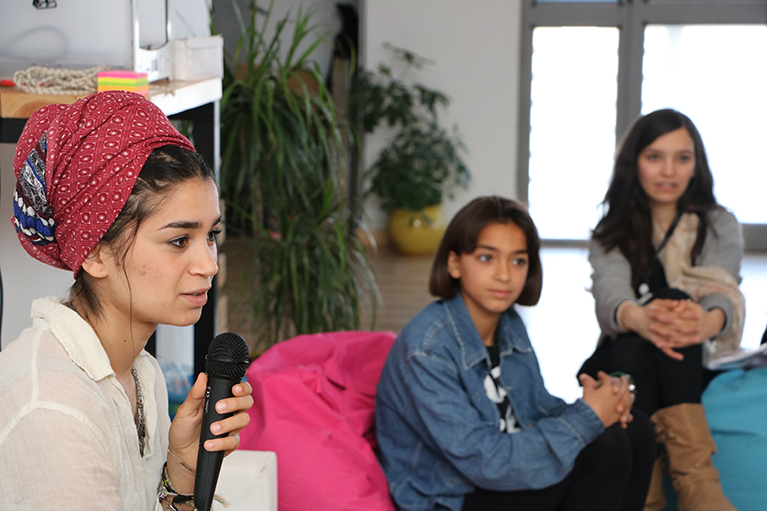 As Tunisia continues to stabilize following its democratic revolution, many youth are frustrated with the slow pace of social change and lack of economic opportunities. At the same time, the government is struggling to stem the flood of citizens leaving to fight for militant causes, while communities grapple with the challenge of reintegrating returning combatants. 
Young alumni of the Thomas Jefferson Scholarship Program want to address the drivers of instability and help Tunisians develop peacebuilding strategies. By working with youth and community members from diverse parts of Tunisia, Ghada and Abir are applying their skills to help others learn to address conflict in creative and mindful ways. 
Developing skills for creative peacebuilding
Ghada, in collaboration with her organization iBuild Africa, partnered with several alumni of programs funded by the U.S. Department of State, including fellow Thomas Jefferson Scholarship Program alumni Yassine, Ines, Yasmine, and Taher. Together they implemented a three-day mini boot camp at Startup Haus Tunis called "Peace Not Pieces," which used mindfulness to develop skills for peace practice. Targeting youth but also including teachers and other professionals, attendees came from across Tunisia, including regions that have experienced protests, extremism, and economic stagnation.
"Peace Not Pieces came as an alternative to the state of 'waithood' that the majority [of] Tunisian youth experience [through years of unemployment]," says Ghada. "Our aim was providing guidance to build peace using the simplest means that everyone can practice and share on a daily basis."
In the mornings, attendees focused on meditation to cultivate mindfulness and inner peace. In the afternoons, the mentor team presented on nonviolent communication, project management, personal branding, and fundraising. Attendees used their new meditation and soft skills to develop a "Peace-In, Peace-Out Challenge," wherein teams developed and pitched ideas on how to prevent violence and bring peace to their communities using meditation and mindfulness.
"The peace and justice course I took in my second semester at the University of New Mexico through the Thomas Jefferson Scholarship Program helped trigger my intrigue in peacebuilding," Ghada explains. "My two internships in the United States… gave me a deeper understanding of the importance of peacebuilding in our societies, especially in one like ours that is witnessing an increasing rate of violence and conflict." 
Creating a network for dialogue across Tunisia
Located in southern Tunisia, the governorate of Medenine has witnessed fighting and violence along its border with Libya. As the regional coordinator for PeaceLab Medenine, Abir works to counter this by providing trainings and events for youth to acquire soft skills such as conflict resolution. The organization is a safe space for youth to gather, share, and learn from other youth in the region.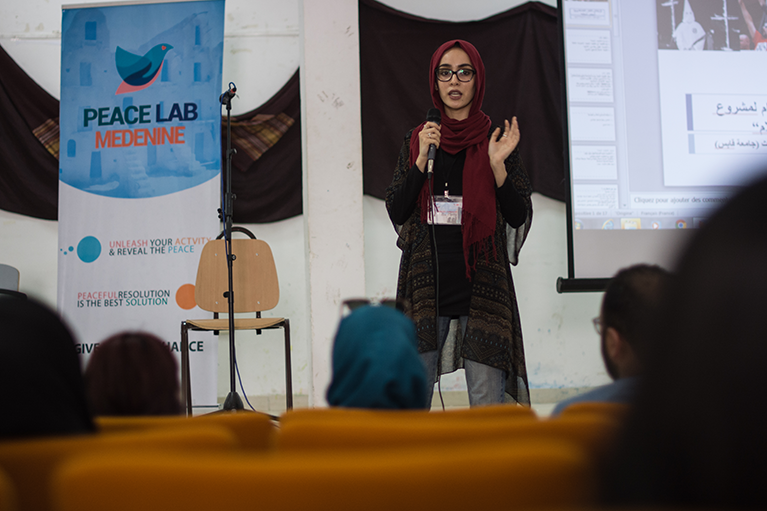 At the opening ceremony, which Abir coordinated, youth learned about the reasons that young people opt for violence instead of peace and possible solutions to the problem. Youth also performed songs, slam poetry, and theater through which they shared messages of peace and humanity. Other Peace Lab clubs exist in Bizerte, Sidi Bouzid, and Kasserine. Peace Lab Tunisia is the first educational incubator in schools to help youth learn about civic engagement, peacebuilding, and reconciliation.
Abir credits her experience in the Thomas Jefferson Scholarship Program with helping her gain the skills for her role in leading PeaceLab Medenine. "The Thomas Jefferson Scholarship Program enabled me to enlarge my network and notably enrich my experience in civil society," says Abir. "I gained many soft skills that are helping me in this new experience [launching the club]."
Through the efforts of young leaders like Ghada and Abir, youth across Tunisia are learning more about the drivers of conflict, as well as gaining skills to ameliorate violence and contribute to peacebuilding and conflict resolution efforts—multiplying the impact of the Thomas Jefferson Scholarship Program in their communities.
"Not only did Peace Not Pieces contribute to unite several individual efforts of peacebuilding in the community, it also paved the way for future change makers to transmit their acquired knowledge to their networks," Ghada says. "Now Peace Not Pieces has grown its network from northern to southern Tunisia."
PeaceLab Medenine was launched in collaboration with Young Leaders Entrepreneurs, a Tunisian NGO, and the U.S. Embassy in Tunis. Peace Not Pieces was supported in part by an Alumni Entrepreneurship and Innovation Fund small grant from IREX for alumni of the Thomas Jefferson Scholarship Program.
The Thomas Jefferson Scholarship Programs are made possible by the generous support of the American people through the United States Department of State and implemented by IREX.