How a young Tunisian leader is supporting his community during a pandemic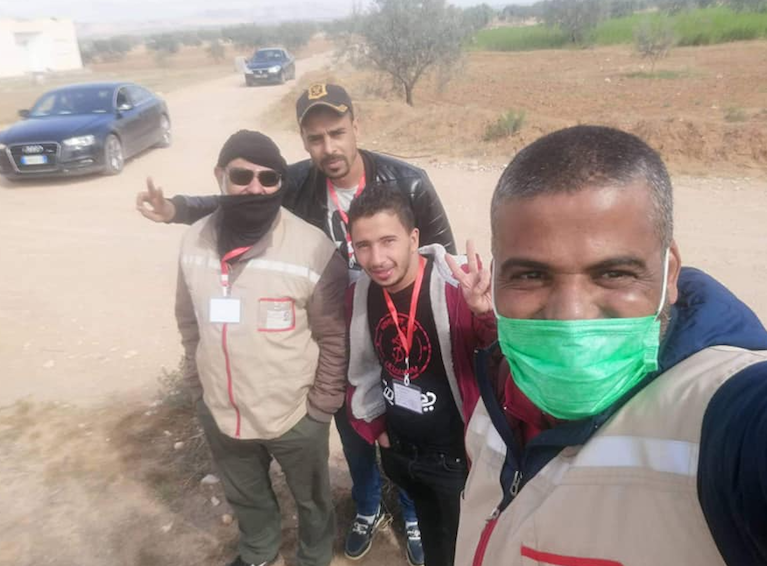 Tunisia has felt the impact of the COVID-19 crisis at all levels of society, but especially in small, rural communities. A lack of reliable information has affected not only the health of community members but their financial stability as well. One young leader decided to use skills he gained from the Ma3an: For Resilient Communities program, funded by USAID, to support his community.
Distributing crucial health information
When news of COVID-19 and stay-at-home ordinances were first released, residents of Souk Jedid, a community 10 miles outside of Sidi Bouzid, were some of the last to hear about it. Ma3an youth representative Houssem knew something had to be done to educate the community about the health crisis.
"When the Souk Jedid municipality announced they were creating a crisis unit, I immediately volunteered," Houssem said. The unit visits residents to share COVID-19 news and Ministry of Health recommendations to educate people on how to protect themselves.
Houssem has also implemented skills he learned through Ma3an by educating community residents on false COVID-19 information through the Ma3an Youth Network Facebook Group. He says, "Along with my other Ma3an peers, I'm posting daily on our Chebeb Ma3an Facebook group, and I'm using my profile to share tips to help people distinguish fact from fiction during this time."   
Supporting families in need 
To counter the economic hardships of COVID-19, Houssem began working with a government-sponsored initiative to provide 200 TND (approximately 68 USD) to Souk Jedid residents in need. But collecting the funds would defy social distancing rules and put people at risk.  
Houssem suggested a ticket-based queueing method to avoid overcrowding at collection sites. He distributed numbered tickets and provided estimated wait times to allow residents to collect on their own time.  
Houssem was inspired to do more and collected donations from other members of civil society to distribute to families in need.  
He says, "I was born and raised in Souk Jedid and I want to give back to my community. My hope is that other youth contribute, too. We are the solution." 
Leveraging networks to pool resources and promote initiatives
The initiative supported Souk Jedid residents during a challenging time and, thanks to Houssem, will continue in the coming months. He has secured funding for masks, gloves, and hand sanitizers to protect volunteers as they work.
Through Ma3an, Houssem gained connections and skills that have helped strengthen the initiatives.
"From my time on Ma3an surveying officials and meeting with business owners, I now have a strong network that I can reach out to with these initiatives. Ma3an's mentoring sessions helped me to feel confident approaching others and adjusting my message to different audiences, both youth and adults. I learned how to listen without judging and I gained empathy for others different from me."
The Ma3an: For Resilient Communities program, funded by USAID and implemented by FHI 360 in partnership with IREX, empowers Tunisian communities to engage marginalized youth, identify and reduce community-specific vulnerabilities, and catalyze and harness public- and private-sector resources to create a lasting foundation for social cohesion and resilience.