Creating more inclusive practices for LGBT+ individuals in schools and workplaces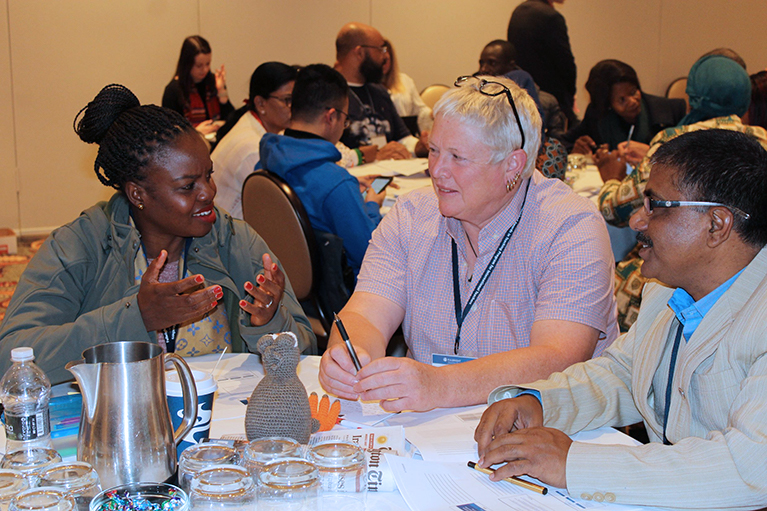 Educators, researchers, and practitioners need appropriate tools and resources in order to address the challenges that exist globally for queer (LGBT+) inclusive education, trainings, programs, and workplaces. In a paper presented at the 2020 Virtual CIES Conference, Caitlin Thomas, (Program Officer at IREX), along with Sarah Lewinger (Knowledge Management Specialist at Pathfinder International) and Cody Freeman (Lecturer of Learning & Education, Thammasat University), explore the barriers and opportunities that exist for educators addressing LGBT+ topics in school.
The research identifies three major themes educators face when addressing these topics: 1) Fear of backlash from leadership and the community at large, 2) Lack of knowledge and comfort with teaching LGBT+ issues due to lack of training, and 3) Identity (religion, gender identity, sexual orientation, cultural identity, etc.)
These are the same challenges that practitioners, including IREX, face addressing these topics in trainings, programs, and workplaces. To effectively infuse inclusive practices into programming, it is important that, as an entity, IREX seriously engages with the lived experiences of their own employees from diverse backgrounds and identities, and trains all employees on inclusive practices. IREX is dedicated to fostering a more diverse, equitable, and inclusive environment through setting initiatives, creating tools and resources, and offering trainings.
Addressing fear of backlash by understanding an inclusive environment
When advocating for more inclusive work environments and practices, practitioners may face backlash from leadership. In order to understand and address the fear of backlash, IREX conducted a study in 2018, with the help of a consultant, RootWorks LLC, to understand the facilitators and barriers that contribute to a diverse and inclusive work environment.
One outcome was the recommendation to create a Diversity and Inclusion (D&I) Committee, which was officially formed in May 2019. The goal of this committee was to evaluate how IREX could more effectively respond to inequities experienced and reported by staff. The committee plans to launch an online D&I training course for staff, build a plan to formalize recognition months, and develop a resource library for staff.
Equipping practitioners with resources and training
In addition to the D&I Committee's efforts, IREX has taken other measures to address the lack of knowledge on incorporating LGBT+ issues in their internal operations and programmatic practices. IREX Senior Technical Advisor for Gender and Inclusion, Sheila Scott, has led annual diversity and inclusion trainings since 2018. These trainings create space for gender equity and social inclusion (GESI) conversations, with topics including gender-based violence, the gender digital divide, trans and non-binary gender identities, and intersectionality of other marginalized identities with gender.
In 2018, IREX created a "Gender Equity and Social Inclusion Resource Guide " and "Inclusion Good Practices Tip Sheet" which provide guidance and tools to foster inclusive and diverse practices across internal operations and programs. By providing resources and trainings, IREX hopes that staff will feel more comfortable creating an inclusive workplace and implementing more equitable practices into programming.
Training and resources for program participants and partners
 IREX is committed to training staff to support all identities. Our mission states that we "strive for a more just, prosperous, and inclusive world- where individuals reach their full potential," and we aim to embody this by implementing equitable and inclusive practices in our programming. For instance, the Mandela Washington Fellowship for Young African Leaders, a program of the U.S Department of State with funding provided by the U.S. Government, brings young leaders from across Sub-Saharan Africa to the US for executive-style leadership training, professional development, and networking. Before Fellows arrive in the United States, they complete an online pre-departure orientation that specifically addresses gender and sexuality in the U.S. and discusses gender interactions and sexual respect. Additionally, all Mandela Washington Fellowship partners receive a resource titled "Promoting LGBTQI Inclusivity" to ensure they are prepared to work with LGBT+ Fellows.
Another program centering LGBT+ topics in their practices is the Community Solutions Program (CSP). Community Solutions, a program of the U.S. Department of State's Bureau of Educational and Cultural Affairs, draws community leaders from 87 eligible countries to the U.S. every year for a four-month fellowship with a U.S. nonprofit organization or local government agency. CSP has institutionalized Guiding Principles for the IREX program staff, program fellows, host supervisors, peer learning counterparts, and community liaisons. One of the values is to "Foster Inclusion" and it encourages individuals to "value diversity by actively engaging and supporting others with different experiences, identities, and views." Like the Mandela Washington Fellowship, CSP educates participants on diversity issues, and in specific gender and sexuality, in their pre-departure orientation videos prior to arrival in the U.S.
Understanding the identity of the educator/practitioner
SAFE is an IREX program that enables media practitioners and social communicators to work as safely as possible in closed and closing spaces. In March 2020, SAFE released a training guide that provides definitions of key terms (i.e. gender v. gender identity), addresses how to use and adjust this resource in each context, explains a trainer's role, and supports them in creating a brave space during  training. The guide also provides monitoring and evaluation practices that are sensitive to gender equity and social inclusion, activities to create a brave space, and many other resources to empower the educator.
This resource explores the identity of trainers, emphasizing that educators must have subject area expertise with experience in applying an inclusion lens. It also encourages facilitators to identify and share experiences related to the topics discussed. This speaks to the paper's findings, that the identity of the teacher impacts whether they are able to address LGBT+ topics in the classroom. The findings show that members of the LGBT+ community and friends or family members of LGBT+ individuals are often much more likely to address LGBT+ topics in the curriculum.
 These are just a few examples of how IREX is implementing LGBT+ inclusive practices at organizational and programmatic levels. In the paper, the authors encourage all educators, and, in extension, all practitioners, to lean into uncomfortable spaces around identity topics and to center the voices of others who have been historically marginalized. We encourage you, educators and practitioners, to examine these themes in your life and workplace: How does your own identity impact the work that you do? In your work, whose voices have been centered historically and whose have been excluded? What is your organization doing to overcome the barriers faced by educators, researchers, and practitioners in addressing LGBT+ inclusive practices in the workplace and in programming?
The Mandela Washington Fellowship is a program of the U.S. Department of State with funding provided by the U.S. Government and administered by IREX.
The Community Solutions Program is sponsored by the U.S. Department of State with funding provided by the U.S. Government and supported in its implementation by IREX.