Strengthening leadership skills for a lifetime of global citizenship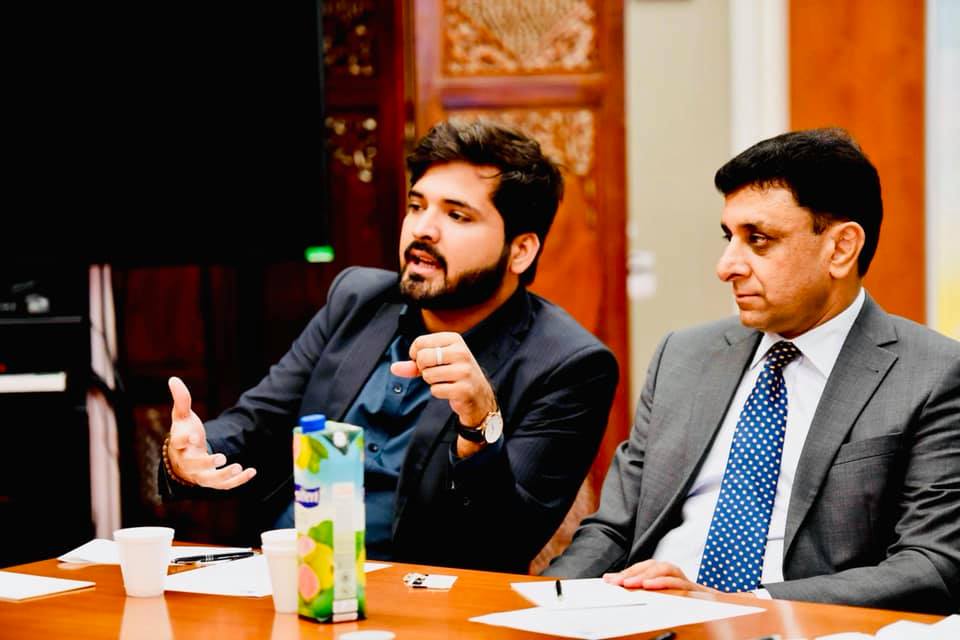 Raj's Global UGRAD-Pakistan experience at Juniata College in Pennsylvania transformed his view of his leadership potential and his role as a changemaker. Inspired by his relationships with U.S. mentors and hands-on experience volunteering nearly 300 hours in his host community, Raj realized he had both the ability and the responsibility to make an impact. Raj is part of the 93% of alumni who continue to develop their leadership skills after participating in the Global UGRAD-Pakistan program. Raj credits the Global UGRAD-Pakistan program for helping him build his sense of ownership of his community.
The first in his family to attend college, Raj was elated to land a spot in the Global UGRAD-Pakistan program. Over the course of the semester, he expanded his vision of what he could achieve. Things he'd once imagined his children might do, like studying abroad, were suddenly possible for him. "It was a turning point of my life," he said. "When I went to UGRAD, I was a Pakistani, but when I went back from UGRAD, I was a global citizen."
Unearthing leadership potential
Raj credits the Global UGRAD-Pakistan program with giving him a new understanding of leadership. He gained new perspectives from each of his mentors at Juniata. His academic advisor pushed him to think analytically in his classes, the dean of international students, took him to the local Kiwanis club each week to discuss critical social issues with its members, and his host father modeled community leadership as the pastor of a local church, instilling in Raj a commitment to interfaith dialogue. He also discovered his passion for community service while completing his required 20 hours at a local Pennsylvania rehabilitation center. Raj was so inspired by the stories of the people he helped that he ended up completing an additional 280 hours of service during his semester and developing a lifelong commitment to giving back. These experiences polished his leadership skills and inspired him to think bigger about how to help others.
Raj's experiences volunteering and engaging with the community at Juniata shaped him into a confident leader comfortable navigating diverse groups and differences of opinion. A student group called The Global Village introduced him to new friends from all over the world. Two courses, one on entrepreneurship and the other on conversation and discussion, helped him develop the skills to lead, and he went on to use these skills for a corporate social responsibility role at Engro Powergen in Pakistan. During his time there, he introduced a small grants program for entrepreneurs and supported women to start their own businesses.
This newfound purpose propelled him forward, and upon his return, Raj became a leader in the Pakistan U.S. Alumni Network and the U.S. Ambassador's Youth Council. Back at his home university, his friends also noticed that instead of spending hours hanging out in the cafeteria, he was now always pouring his energy into a new project to make change.
Leading to promote interfaith dialogue
Growing up, Raj was the only Hindu student in his school. This fueled his passion to create positive connections between Pakistanis of different faiths. Using a small alumni grant from the Global UGRAD-Pakistan program, he implemented a community development initiative that brought together young people from Bahai, Hindu, Christian, and Muslim communities and built bridges through arts, music, sports, and dialogue. He has written in Pakistani media and appeared on talk shows to share his experiences as a religious minority. He also co-organized Pakistan's first women's film festival and started a nonprofit school for students from diverse socioeconomic backgrounds. In 2017, he received the U.S. Department of State's Young Emerging Leaders Award for his work fostering interfaith dialogue. He was one of just 10 honorees recognized from around the world.
Raj is currently working towards a master's degree in international affairs at the Baruch College Marxe School of Public and International Affairs. As the next step in his career and leadership journey, he hopes to go into policy and work on making laws that will improve health and education in Pakistan. "UGRAD has helped me in developing a firm vision and firm direction in my life," Raj said. "It's not just community building, relationship building, [a sense of civic ownership], it's an amalgam. It's a mixture of lots of things that have made me into the person that I am today."
A 10-year impact evaluation of the Global UGRAD-Pakistan program found that 84% of alumni continue to use the leadership skills and knowledge gained from the program at least once a week. Meanwhile, 91% reported that leadership skills gained through the program made a positive difference to their educational success, and 70% are serving in a leadership role that includes initiating or organizing meetings or activities.
The Global Undergraduate Exchange Program in Pakistan is sponsored by the U.S. Department of State with funding provided by the U.S. Government and administered by IREX.