Helping leaders make schools more inclusive for students with disabilities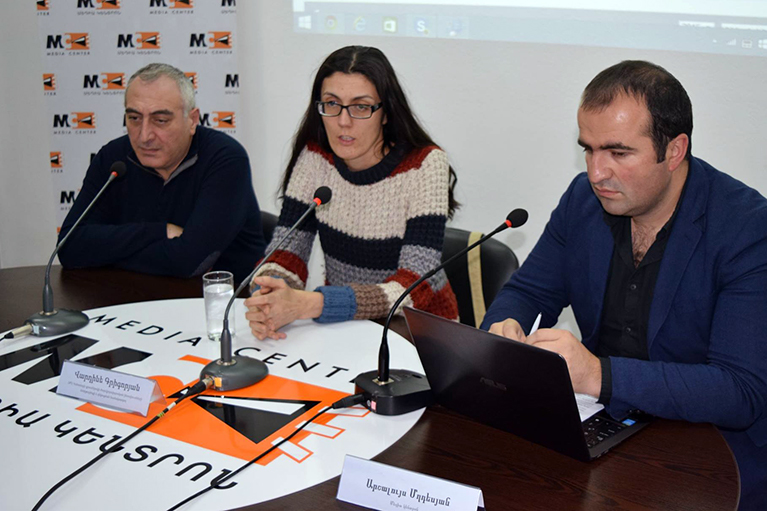 Vardine Grigoryan used skills she gained while studying in the United States through the Global UGRAD program, which IREX implemented in partnership with the US Department of State, to start an initiative called Viva Voce. The initiative helps Armenian students who have physical and learning disabilities to access books and school materials that are designed for persons with disabilities.
Grigoryan, who lives with a physical disability, decided to become an advocate for disability rights because she wants to help children with disabilities obtain an education and live full, independent lives.
Her experience led her to continue her studies through the Muskie Program, also implemented by IREX in partnership with the US Department of State. Through the program, she learned more about how nonprofit organizations operate around the world. Now, while doing her primary job of promoting and protecting electoral rights, she is also working with national and local governments in Armenia to make polling stations more accessible for people with disabilities during elections.
Ensuring that all students have appropriate educational materials
Many Armenian students who live with physical or learning disabilities have a hard time finishing their education because the public schools are physically inaccessible and lack integrated classes for all students. This problem is even worse for people with visual or hearing impairments because audio books and other appropriate learning materials are scarce. Meanwhile, the few available resources are often outdated. 
With UGRAD, it was my first experience with real volunteering…. It changed my whole perspective for how I should live.

Vardine Grigoryan
"Even if [school] should be accessible by law, in practice it is not," says Grigoryan. "You need to be able to get into the building first, but then you won't really have access to materials if you have any kind of disability that would require some accommodation…. You won't have sign language interpretation, you won't have Braille, you won't have access to anything else."
Through Viva Voce, Grigoryan recorded audio readings of 400 pages of high school literature to disseminate over YouTube. She is also working with the National Disability Advocacy Coalition to distribute 100 DVD copies of the recorded books and learning materials to other organizations and schools for persons with disabilities.
"[Viva Voce] helped me get more closely acquainted with the needs of people with visual impairments," reflects Grigoryan, who also works as a democracy monitoring and reporting coordinator at Helsinki Citizens' Assembly – Vanadzor, a human rights organization. "It helped me reassess what can and should be done for the promotion of disability access in Armenia. This project served as one of the reasons I got more engaged in the protection of disability rights carried out by Helsinki Citizens' Assembly – Vanadzor."
Helping persons with disabilities fulfill their potential outside of school
"I wanted to find a different approach to help people [other] than just fundraising," says Grigoryan. "With UGRAD, it was my first experience with real volunteering. [It] helped me to see how if you live in a community, you should contribute to the community. It changed my whole perspective for how I should live."
While studying sociology in Williams College in Williamstown, Massachusetts, Grigoryan interned at the Berkshire Farm Center and Services for Youth to tutor teenagers in an English and math program. The program kept students out of juvenile detention while helping them continue their education.
After completing Global UGRAD, Grigoryan decided to apply for the Muskie Program to learn more about public administration and nonprofit organization management. While completing her fellowship at Ohio University in Athens, Ohio, she worked with Passion Works Studio, which helps artists living with and without disabilities to showcase and sell their art and earn an income. This inspired her to implement projects that help disabled youth develop their knowledge and skills for their own careers.  
During her time as a Muskie Fellow, she gained the communication, networking, and organizational tools necessary to advocate for inclusive legislation in Armenia. While continuing her work to promote electoral rights with Helsinki Citizens' Assembly – Vanadzor, Grigoryan is now also working to improve the physical accessibility of polling stations for people with disabilities during elections in Armenia.
"If you are speaking about full inclusion, but you are not considering accessibility, then you are just talking for the sake of talking," says Grigoryan. "You need to aspire. You need to aim for [access] because it can't just be left outside the law."
The Global Undergraduate Exchange Program in Eurasia and Central Asia (Global UGRAD) and the Edmund S. Muskie Graduate Fellowship were programs of the United States Department of State and were implemented by IREX.