Achieving Self-Sustaining Development in Rural Communities: A Case Study of the READ Model in Nepal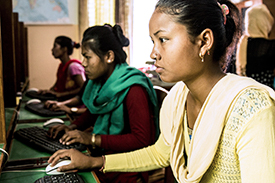 There is an ongoing and urgent need to improve education, livelihoods, health, and the cohesion of families and communities in rural areas worldwide. The development community has increasingly recognized that local solutions to social and economic problems have more enduring impact than those imposed by international aid groups with minimal community buy-in. But what approaches are effective and sustainable?
This case study presents READ Global's model for sustained rural community development, how the model works in practice, and the outcomes it produces. Lessons learned from this study can be applied to other contexts to reduce isolation of rural communities while enhancing their capacity to lead social and economic transformation.
The READ model: Work with communities to get genuine buy-in for self-sustaining community centers
READ Global has been partnering with rural villages in Nepal, India, and Bhutan for 25 years to establish community library and resource centers (READ Centers). All READ Centers are owned and operated by the local community. Each center has a library, computer room, women's section, children's room, and training hall. The centers connect with local partners to offer training in education, economic empowerment, technology, and women's empowerment.
Each READ Center includes a for-profit "sustaining enterprise"—a small business that creates local jobs and generates profit to support the ongoing costs of the center. Sustaining enterprises range from tractor rental services and agricultural cooperatives to community radio stations and sewing cooperatives. There are more than 100 self-sustaining READ Centers in Nepal, India, and Bhutan, and no center has closed since the first center opened in 1991.
Findings: The positive outcomes stem from giving communities the space and support to define their own priorities
This case study suggests that several elements of the READ model are responsible for achieving community capacity outcomes that in turn lead to the development outcomes such as better health, improved livelihoods, and sustainability of the centers. These elements include:
Shared commitments: How the READ country staff facilitate the development of each center and mentor the center's personnel
Strategic capacity strengthening: How the approach intentionally offers opportunities to develop community capacity during the planning, construction, and startup phases
Inclusive processes: How the approach designs and structures the processes for operating the center and delivering services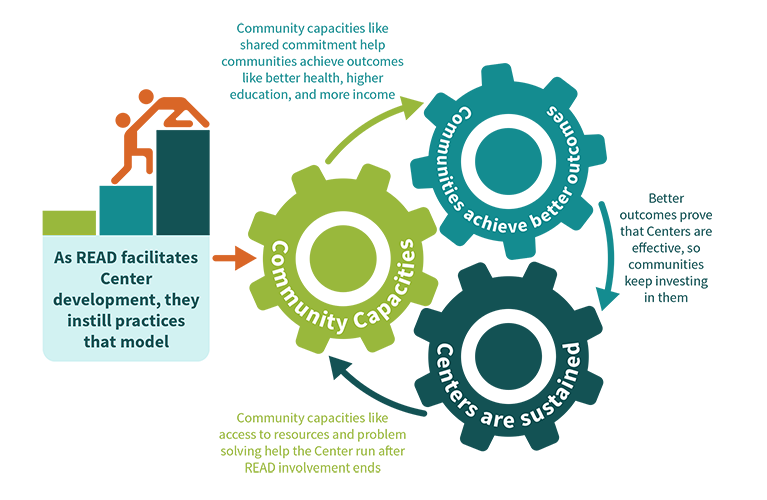 The combination of these key elements appears to put READ Centers on a course toward generating the range of community development outcomes that have been documented by an external evaluation and ongoing program monitoring and evaluation efforts.
The new case study explores in depth:
READ's methods for developing the centers and how they lay the groundwork to promote community capacity
How management and operation of the centers integrate practices that foster community capacity
How READ Center communities then apply those community capacities to achieve the outcomes they need
Lessons for effective community development
The case study suggests that the following elements are key to generating community capacity, community development, and sustainability:
Careful targeting of communities so that READ establishes centers where there is enough need, demand, and commitment to establishing and sustaining inclusive platforms for community development
Demonstration of progressive community commitment to the READ Center to ensure that the whole community values the READ Center, the services it provides, and the positive results it generates within the community
Community commitment to inclusion of marginalized religious and ethnic groups, women, and persons with disabilities, engaging all community members in the establishment and maintenance of the READ Center, and providing services that meet the needs of everyone, particularly historically marginalized groups
Cultivation of needs-driven, inclusive community leadership who can create and sustain the READ Center as a safe community space that all community members can access and gain benefit from
Collaborative partnerships with local civic and governing institutions that connect the READ Centers' communities with services and resources they would not otherwise be able to access
Financial independence through sustaining enterprises that provides enough income to accommodate basic operating costs of the READ Centers and allows the centers to continually provide needed services for the community
Collaborative construction or design of the holistic community space that builds bonds and trust among community members, and gives them a platform to improve their lives
Flat management structure of the READ Center that allows all community members to provide input on the management and future of the READ Center
Based on our study of READ Centers in Nepal, we believe there is much to be learned for development efforts more broadly in focusing efforts on building community capacity, then transitioning to applying these capacities for desired outcomes that in turn are driven by the communities themselves.