A statement from IREX President & CEO Kristin Lord marking one year of Russia's full-scale invasion of Ukraine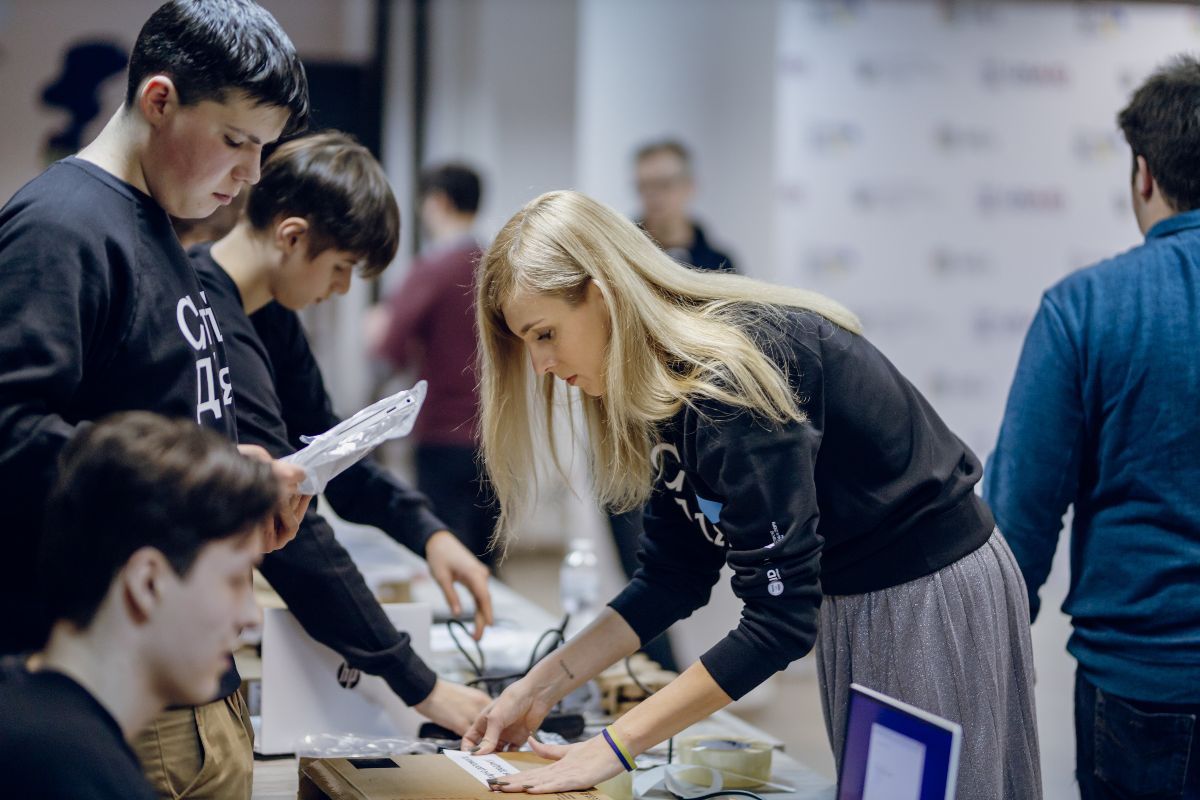 A year ago this week, Russia escalated its war on Ukraine. The war's toll on Ukraine and the Ukrainian people is staggering. The United Nations estimates that the invasion has led to more than 7,000 civilian deaths and left close to 12,000 civilians injured. The unjust war has also resulted in nearly six million Ukrainians being displaced in the country and forced eight million people to flee to neighboring nations. The education of millions of Ukraine's young people has also been disrupted by the damage to more than 3,000 schools and education facilities; all while Ukrainians continue to withstand power outages during freezing weather conditions, the destruction of vital infrastructure and property, and barrages of missile attacks.
As we approach this somber anniversary, the suffering of the Ukrainian people cannot be understated. We also cannot understate the bravery, grit, and ingenuity Ukrainians have displayed in defense of their sovereignty and democratic ideals.
While many were surprised at the strength of Ukraine's resistance, we were not. We have worked in Ukraine for decades. At the onset of the escalation of the war, Ukraine was home to IREX's second largest office and one-sixth of our staff. We have seen up close the strength of character of the Ukrainian people and believed that they would put up a valiant, courageous fight.
We knew the Ukrainians would need our support and have been committed to providing as much as we could. We quickly mobilized and worked with our longstanding partners to provide humanitarian aid, safety and resources for journalists, and quality information for Ukraine's citizens.
We also engaged and supported Ukrainian youth who have contributed greatly to Ukraine's resistance to Russia's aggression. The leadership, creativity, and savviness the Ukrainian youth have displayed shows how critical they are to Ukraine's democratic future.
Below are examples of our collaboration with partners on the ground to aid to the people of Ukraine.
Meeting the needs of civilians and vulnerable populations
50 local organizations and initiatives partnered with us to distribute food, first aid kits, hygiene products, and fuel with more than $615,000 raised from private donations.

In conjunction with the Ukraine Ministry of Veteran Affairs and the Ukrainian Veteran Foundation, and with funding from the U.S. Department of State, we launched a continuous national hotline that provides counseling services to veterans and their family members each day without interruption. Since its launch, the hotline has provided over 7,000 consultations and averages more than 300 consultations per week.

Four trusted local organizations worked with us to secure nine vehicles, enabling the organizations to distribute food, medicines, and to facilitate physicians' visits in the most affected regions.

In partnership with the public association Building Ukraine Together, IREX supported the renovation of six homes and dormitory apartments for internally displaced persons.

Through our Ukraine Rapid Response program , IREX worked with eight local government administrations and nongovernmental organizations to deliver and distribute 225 metric tons (nearly 500,000 pounds) of critical goods, such as generators, heaters, and wheelchairs, to the eastern regions of Ukraine to assist vulnerable populations and internally displaced persons. 
Engaging and supporting youth and youth-led organizations
With SpivDiia, a youth-led volunteer platform that connects people in need with resources and services, we assisted nearly 450,000 Ukrainians with humanitarian support.

In collaboration with local partners and the Ukraine Ministry of Youth and Sports, we assisted more than 3,200 Ukrainian youth with food and shelter and 5,600 youth with other forms of support including, employment services, legal consultations, media literacy training, and mental health counseling. We also supported 600 youth in leading community efforts to provide aid, rebuild damaged areas, and communicate Ukraine's story to the world.

With the support of USAID's Ukraine National Identity through Youth program, dozens of youth centers, libraries, and nongovernmental organizations provided more than 56,000 people with vital resources. Nearly half of those supported were internally displaced.

In partnership with Hewlett Packard, Microsoft, and USAID's Ukraine National Identity through Youth program, we are distributing 5,000 laptops to ensure Ukrainian youth have access to education.
Providing safety and support for journalists and quality information for citizens
We collaborated with several organizations working in Ukraine, including the Academy of Ukrainian Press, National Union of Journalists, and Freedom House to assist more than 100 journalists with various forms of support. This included relocation to safer parts of the country, setting-up a temporary hub to host displaced journalists so that they can continue their reporting efforts, and personal protection equipment for 16 media outlets to enable their journalists to provide lifesaving information to Ukrainians.

We partnered with teachers to support Ukrainians' ability to recognize the Kremlin disinformation and propaganda shared with them since the launch of the full-scale invasion. Of those trained through IREX's Learn to Discern curriculum, 98% said participating in the program helped them counteract information manipulation.
We worked with Ukraine's Ministry of Culture and Information Policy to provide 250,000 Ukrainians in the recently de-occupied regions with informational materials about the Ukrainian government's efforts to help liberated territories, remove explosive mines, and restore electricity.
At the start of the full-scale invasion of Ukraine, I wrote that IREX would stand in solidarity with the Ukrainian people during this horrific ordeal. It was true then, and it still holds true today. We are committed to Ukraine's enormous efforts to prevail in this war and will continue to work with our partners to provide the support Ukraine needs to rebuild and become a more just, prosperous, and inclusive society when the war ends.
If you would like to help, please donate to our Rapid Reaction Support Fund.