Donate to IREX's efforts in Ukraine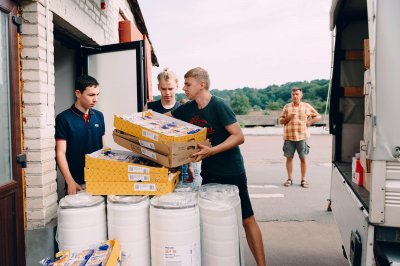 Like so many around the world, we are appalled by Russia's unprovoked attack against Ukraine. 
We are particularly troubled because of our long history in Ukraine. For decades, we have worked to positively impact the lives of Ukrainians through programs that empower youth, cultivate leaders, strengthen institutions, and extend access to quality education and information.
We now redouble our commitment to these efforts as Ukrainians fight for freedom, democracy, and ultimately peace by establishing a Rapid Reaction Support Fund.
DONATE BY ELECTRONIC TRANSFER OR MAIL 
With the Rapid Reaction Support Fund, IREX will: 
Support established organizations, already poised to act, that are meeting humanitarian needs on the ground and protecting vulnerable populations such as the families of veterans, internally displaced persons, and women in need of psycho-social support

Counter Russian disinformation and propaganda via existing networks of teachers, civil society organizations, and media outlets

Support journalists under threat with lifesaving equipment, information security, and psycho-social support

Provide expert assistance to independent media outlets that are getting life-saving information to civilians and rallying both Ukrainians and the world

Provide cyber and information security resources for our Ukrainian partners who are already being tracked and targeted 

Draw on IREX's extensive experience documenting war crimes and building the systems needed to catalog, analyze, and ultimately use this information to bring war criminals to justice
We have detailed implementation plans for each of these areas of support which we can discuss in a confidential setting. We also have robust tools for measuring the impact of our work. 
We will be grateful for the opportunity to speak with you about contributing to the Rapid Reaction Support Fund, and how our work aligns with you and your organization's interests, mission, and values. 
Please email info@irex.org for additional information about the Rapid Response Support Fund, our programming in Ukraine, or any questions or feedback.
IREX is a 501(c)(3) organization. Donations and gifts are deductible to the full extent allowable under IRS regulations.