IREX receives grant from the Stevens Initiative to connect students in the U.S., Middle East, and North Africa through virtual exchange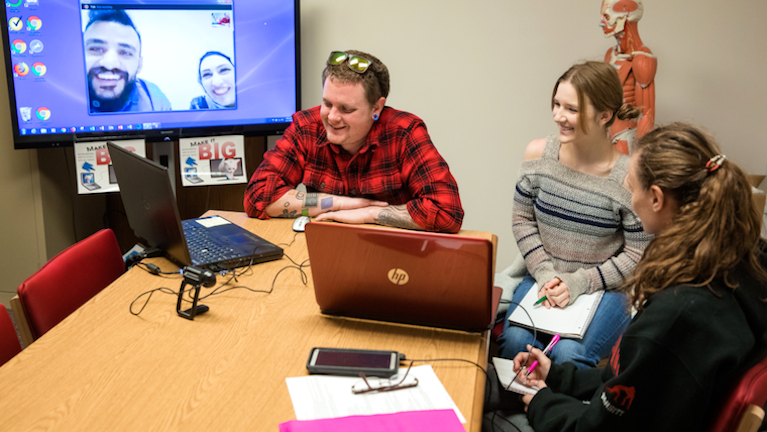 Today, the Stevens Initiative announced funding for the Global Solutions Sustainability Challenge implemented by IREX. The IREX Global Solutions Sustainability Challenge is one of six programs selected through an international competition to fund virtual exchange programs in the United States and the Middle East and North Africa (MENA).
IREX is part of the third round of Stevens Initiative grantees. These exchanges will enable thousands of young people to gain the skills that they need to succeed in today's economy and society, and to establish new cross-cultural connections.
Under the Stevens Initiative, the Global Solutions Sustainability Challenge (GSSC), implemented by IREX, connects students in the United States, Jordan, and Iraq to virtually collaborate on a sustainable solution to a contemporary business challenge. Bi-national teams engage during a six to ten-weeks period to create a sustainable business solution to a challenge identified by industry partners across business sectors. Throughout the challenge participants will develop workforce skills, network with industry professionals, and participate in a virtual career fair. At the conclusion of GSCC, bi-national teams will submit a video pitch and business plan for their prototype to the Virtual Global Business Expo where the top three finalists will be selected by an advisory committee comprised of industry professionals and educators.
"We are excited to be part of this effort to expand access to high-quality educational experiences for young people through virtual exchange," said Rebecca Bell Meszaros, Associate Vice President for Education at IREX. "The Global Solutions Sustainability Challenge engages youth with experiential learning opportunities that instill cross-cultural skills necessary to compete in the global workforce."
"I am very pleased with the grants that we are awarding for the next round of Stevens Initiative funded virtual exchange programs," said Marie Royce, Assistant Secretary of State for Educational and Cultural Affairs, U.S. Department of State. "As bandwidths increase and platforms get more sophisticated, virtual exchanges open opportunities for international exposure and connection to hundreds of thousands—and potentially millions—of people. Virtual exchanges like those funded by the Stevens Initiative also facilitate cross-cultural experiences and build career readiness skills. I look forward to a great expansion of this innovative program over the next year and continuing to honor this living legacy to Ambassador J. Christopher Stevens."
Through the work of these new programs, the Stevens Initiative will expand its reach to nearly 40,000 students in 15 MENA countries and the Palestinian Territories, and in 44 U.S. states, Puerto Rico, and Washington, DC. Programs will begin this April and will continue through the summer of 2021.
Other programs include:
"The Aspen Institute values the open exchange of ideas and the work of the Stevens Initiative allows for just that," said Elliot Gerson, Executive Vice President of Public & Policy Programs at the Aspen Institute. "Through virtual exchange, youth in the U.S. and MENA region are able to engage with one another, learn together, and become global-minded leaders."
Created in 2015 by the Stevens family as a living legacy to Ambassador J. Christopher Stevens, the Stevens Initiative is a public-private partnership that is building global competencies and 21st century skills for young people in the United States and the Middle East and North Africa. Through virtual exchange, the Initiative connects youth through technology to collaborate and learn together, giving them access to a substantive international exchange.
The Initiative is awarding these six grants to schools and organizations to implement virtual exchange programs, lasting from several weeks to several months, for students from middle schools, high schools, colleges, and universities.
IREX is a global development and education nonprofit dedicated to building a more just, prosperous, and inclusive world. With an annual portfolio of $80 million and 400 staff worldwide, we work with partners in more than 100 countries in four areas essential to progress: cultivating leaders, empowering youth, strengthening institutions, and increasing access to quality education and information.
The Global Solutions Sustainability Challenge is funded by the Stevens Initiative, which is sponsored by the U.S. Department of State with funding provided by the U.S. Government and is administered by the Aspen Institute. It is also supported by the Bezos Family Foundation and the governments of Morocco and the United Arab Emirates.
More Information
The U.S. Department of State's Bureau of Educational and Cultural Affairs (ECA) builds relations between the people of the United States and the people of other countries through academic, cultural, sports, professional and private exchanges, as well as public-private partnerships and mentoring programs. These exchange programs improve foreign relations and strengthen the national security of the United States, support U.S. international leadership, and provide a broad range of domestic benefits by helping break down barriers that often divide us. Visit eca.state.gov.
The Aspen Institute is an educational and policy studies organization based in Washington, DC. Its mission is to foster leadership based on enduring values and to provide a nonpartisan venue for dealing with critical issues. The Institute is based in Washington, DC; Aspen, Colorado; and on the Wye River on Maryland's Eastern Shore. It also has offices in New York City and an international network of partners. For more information, visit www.aspeninstitute.org.
The Bezos Family Foundation supports rigorous, inspired learning environments for young people, from birth through high school, to put their education into action. Through investments in research, public awareness, systems building and programs, the foundation works to elevate the field of education and improve life outcomes for all children.
The Embassy of the United Arab Emirates (UAE) in Washington, DC is committed to promoting and increasing cross-cultural understanding and educational exchanges. In line with the UAE Government's values, the Embassy supports educational programming at schools and universities across the U.S. The Embassy works with U.S. institutions to provide unique opportunities for peer-to-peer exchanges and help broaden student's horizons.
The Kingdom of Morocco has held a longstanding commitment to the promotion of peace, mutual understanding and respect across all fora.  In line with this commitment, the Government of the Kingdom of Morocco is a strong supporter of the Stevens Initiative and is proud to be included in its programs, which foster opportunities for cross-cultural exchanges between youth.