IREX receives grant renewal from Aspen Institute to continue virtual exchange between colleges in Iraq, Jordan, and the United States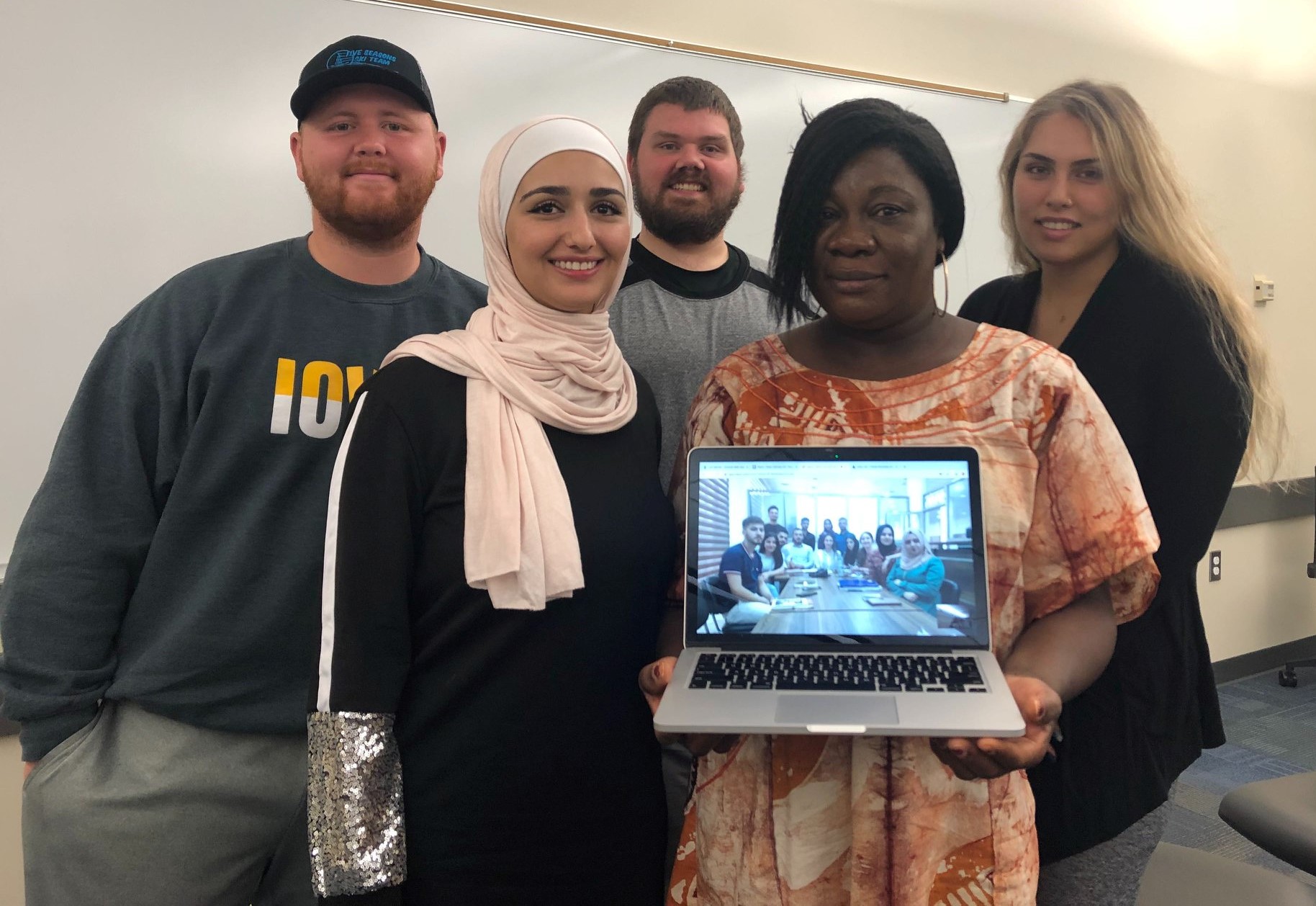 IREX received a new one-year renewal from the Aspen Institute Stevens Initiative to continue Global Solutions, a virtual exchange program that connects college students in Iraq, Jordan, and the United States. IREX received its first grant from the Stevens Initiative to launch Global Solutions in fall of 2017, reaching 315 youth through an initial pilot. IREX scaled the Global Solutions program through a second Stevens Initiative grant to reach around 2,000 additional youth from fall 2019 to spring 2021. IREX continues to scale Global Solutions and in September 2021, will launch Cohort V, engaging an expected 1,000 additional students through two virtual exchange programs, the Global Solutions Sustainability Challenge and Global Solutions Conversations.
Created in 2015, the Stevens Initiative is committed to helping expand the virtual exchange field through three pillars of work: investing in promising programs, sharing knowledge and resources, and advocating for virtual exchange adoption. The Stevens Initiative is an international effort to build global competence and career readiness skills for young people in the United States and the Middle East and North Africa by growing and enhancing the field of virtual exchange as a lasting tribute to the legacy of Ambassador Christopher Stevens. Building on the pioneering work of the virtual exchange community, virtual exchanges use technology to connect young people across continents and cultures. To date, the Stevens Initiative has engaged nearly 75,000 young people.
Through fall 2021 and spring 2022, under the Stevens Initiative, IREX will implement the Global Solutions Sustainability Challenge (GSSC) and Global Solutions Conversations (GSC). GSSC is a virtual business competition that provides an authentic virtual collaboration, energized by human-to-human connections abroad in an environment that models the modern global workplace. Students develop not only cross-cultural communication skills but also leadership, problem solving, and entrepreneurship skills. Both the GSSC and GSC curriculum use design thinking and engage students in creating sustainable solutions to real problems in their communities related to the UN's 17 Sustainable Development goals.
"IREX's vision is for all students to have access to global cross-cultural opportunities," said Sarah Bever, a senior technical adviser for IREX. "The strength of virtual exchange is that those transformative experiences aren't reserved for a few students with the time and resources for travel. Seeing the spark when a student from Iraq and Illinois come together and realize they have the agency to create change in their own lives and for others is powerful."
Virtual exchange can be a powerful tool to connect young people and give them a new window to the world. More and more jobs require language skills, digital literacy, collaboration with people from diverse backgrounds, and the ability to understand the impact of global issues on our lives and our societies. Virtual exchange increases cross-cultural understanding and equips a generation of globally minded youth with the skills they need to succeed in an increasingly interdependent world.
In addition to launching Global Solutions in the fall of 2017, IREX has designed and managed a number of other virtual exchange programs. In 2016, IREX implemented the World Smarts STEM Challenge, a program funded by the Carnegie Corporation of New York, and is currently implementing the Global Solutions STEM Challenge funded by Sauce Labs.
The Stevens Initiative is an international leader in virtual exchange, which brings young people from diverse places together to collaborate and connect through everyday technology. Created in 2015 as a lasting tribute to Ambassador J. Christopher Stevens, the Initiative invests in virtual exchange programs between the U.S. and the Middle East and North Africa region; shares research, resources, and promising practices to improve impact; and advocates for broader adoption. Through its 86 grants, the Stevens Initiative will expand its reach by summer 2023 to nearly 75,000 young people in 17 MENA countries and the Palestinian Territories, and in 47 U.S. states, Puerto Rico, one tribal community, the U.S. Virgin Islands, and Washington, D.C. The Stevens Initiative is sponsored by the U.S. Department of State, with funding provided by the U.S. Government, and is administered by the Aspen Institute. It is also supported by the Bezos Family Foundation and the governments of Morocco and the United Arab Emirates.  Learn more: https://www.stevensinitiative.org/