IREX and partners conduct countrywide media literacy lesson in Ukraine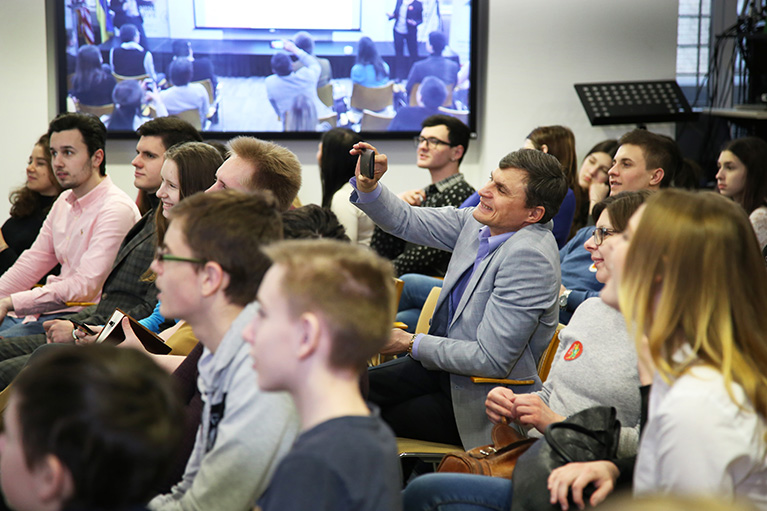 At 3 p.m. on March 1, over 7,900 people gathered at more than 400 locations in Ukraine for simultaneous, hour-long, fact-finding lessons based on IREX's Learn to Discern curriculum. The events, organized by IREX, taught citizens simple yet effective techniques for identifying manipulation in their informational landscape during the country's largest ever media literacy training, made possible by hundreds of volunteers and livestreaming technology.
This spring, Ukrainians headed to the polls for presidential elections. Over the past five years, Ukraine has seen a steep rise in increasingly sophisticated disinformation and propaganda campaigns that have threatened democratic progress and the country's territorial integrity. Ukraine has been on the forefront of the disinformation assault. Ukrainians voted against the backdrop of the simmering conflict in the Donbas, continued occupation of Crimea, and uneven rollout of massive national reforms.
Being a testing ground for incredibly well-funded disinformation and influence campaigns presented multiple challenges to Ukraine, its leadership, and citizens—but it also prompted the evolution of some of the most innovative media literacy projects to counter the problem.
A countrywide event to combat disinformation
As political campaigns took center stage in the news cycle, IREX organized an unprecedently large countrywide series of events called Ne Vir, Perevir (Don't Trust, Verify) to teach Ukrainians effective and simple techniques for identifying disinformation, separating facts and opinions, identify manipulation in photos, and analyzing the data and results of opinion polling.
Simultaneous one-hour sessions were hosted by volunteer coordinators—including librarians, university lecturers, teachers, and civic activists—at 400 locations in all 24 oblasts of Ukraine. The 7,900 participants were also directed to third-party resources where they could find information about each candidates' background and finances, reliable opinion polls, and fact-checking organizations.
United States Ambassador Marie Yovanovitch, United Kingdom Deputy Head of Mission Helen Fazey, and Ukraine's Deputy Minister of Education and Science Vadim Karandiy made introductory remarks in Kyiv, which were livestreamed to participants throughout the country.
"I am confident that today's fact-hunting lesson will help you apply media literacy skills when you read and share news about the upcoming Ukrainian elections," said Ambassador Yovanovitch at America House Kyiv.
Speaking at the British Council, Fazey emphasized the importance of media literacy and critical thinking and the importance of learning these skills to navigate the modern information space: "These skills are especially vital during the election when we are exposed to even more media messages than usual."
Oleksandr, a class participant, shared his view of the lesson: "I was surprised how opinion polling and sociological research are manipulated. In the future I will be especially cautious with opinion polls."
The Learn to Discern approach
Ne Vir, Perevir was developed as part of IREX's Learn to Discern media literacy education program, which goes beyond offering generic media literacy advice, instead teaching the latest techniques for identifying disinformation and helping people develop responsible digital citizenship and healthy information engagement habits.
Learn to Discern also addresses crucial aspects of media literacy that are often overlooked, such as strengthening participants' emotional intelligence, exercising empathy, and coaching participants to share their new knowledge with family, friends, and colleagues.
In 2016, more than 15,000 Ukrainians took part in Learn to Discern workshops, and 20.7 million Ukrainians saw an accompanying public-service announcement.
The methodology has recently been adapted for Ukrainian high school students and is being rolled out in 400 schools throughout Ukraine. The program will reach an anticipated 40,000 students by 2021 and equip Ukraine teacher-training institutions with instructional know-how to integrate Learn to Discern into the academic process.
"Every day the Learn to Discern project is equipping youth, the next generation of decision makers, with crucial critical-thinking, media literacy, and digital citizenship skills to detect and build resilience to disinformation, propaganda, and other forms of manipulation," explained Mehri Druckman, IREX's country representative in Ukraine.
IREX is especially thankful for the incredible volunteers that staffed each session, without whom this national event would not have been possible.
This event was organized by IREX within the framework of the Learn to Discern in Schools program, with the support of the United States Embassy in Ukraine and the British Embassy in Ukraine, and in partnership with the Ministry of Education and Science of Ukraine.