The Community Solutions Program celebrates a decade of global impact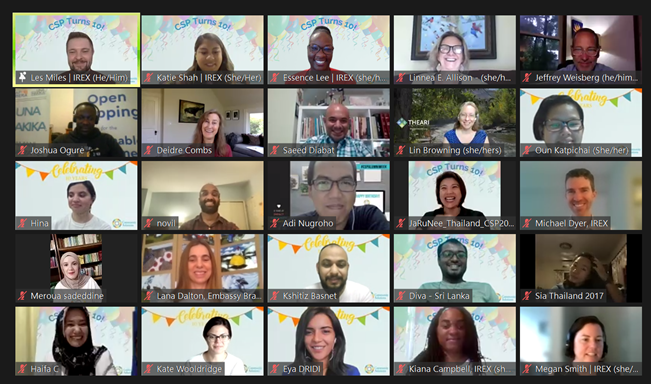 The Community Solutions Program (CSP) celebrated a decade of global impact by welcoming its tenth cohort of participants. CSP engages grassroots and civil society leaders to create positive change more effectively in communities across the world by increasing civic engagement, improving gender equality, advancing environmental conservation, and fostering inclusion in their communities. 
CSP rang in its 10th birthday with a festive virtual celebratory event where IREX's president and CEO, Kristin Lord, opened with remarks emphasizing IREX and the U.S. Department of State Bureau of Education and Cultural Affairs' (ECA) long-lasting partnership for civil society and grassroots development around the world. "The story of CSP has always been about dreaming really big. This program invests in a special type of community leader who not only dreams of a better future but is willing to do the hard work necessary to turn his or her vision into reality," said Acting Deputy Assistant Secretary for Professional and Cultural Exchanges at the Education and Cultural Affairs Bureau at the U.S. Department of State Chris Miner.  
Long-time U.S. hosts from different organizations across the country were also present at the event and shared their reflections of the impact CSP has had on their local U.S. communities from Minnesota to Florida. U.S. host organizations collaborate with CSP fellows each year by hosting a four-month practicum experience. In addition, the Alumni Board president, Sa'eed Diabat, from Israel, as well as other CSP alumni Novil Wijesekara from Sri Lanka and Joshua Ogure from Kenya shared how CSP has reinforced their commitment to community development. The celebration concluded with 150 participants sharing wishes for CSP's next decade of impact. 
For the past 10 years, CSP's 630 alumni from over 80 countries have participated in an intensive leadership development program and have effectively implemented Community Action Projects upon returning home. These Community Action Projects have benefitted over 600,000 community members globally. The program has partnered with over 340 U.S. organizations to share strategies and impact in over 129 U.S. communities in 40 states and the District of Columbia. CSP welcomed its 10th cohort of fellows for a virtual fellowship in 2021 through the celebration of a decade of impact around the world. 
During the virtual 2021 program, fellows are engaging in cross-cultural learning and leadership development coaching through CSP's Community Leadership Institute. Fellows will also collaborate with U.S. organizations across 25 states and the District of Columbia for a practicum experience to further develop their skills. A fellow from Cameroon will complete his practicum with Protect Democracy in Washington, DC and this practicum will focus on further developing skills on youth engagement in combating corruption. Cancer Support Montana, a U. S. organization in Bozeman, will collaborate with a CSP fellow from Bhutan to develop health intervention frameworks, while the Bullard Center for Environmental and Climate Justice in Houston, Texas will collaborate with a fellow from Laos to focus on environmental justice planning and mapping. 
To learn more about the Community Solutions Program and the past ten years of impact, see the Impact Brief and follow CSP on Facebook, Instagram, and Twitter.  
The Community Solutions Program is sponsored by the U.S. Department of State with funding provided by the U.S. Government and supported in its implementation by IREX.