Youth build support for disability rights in Pakistan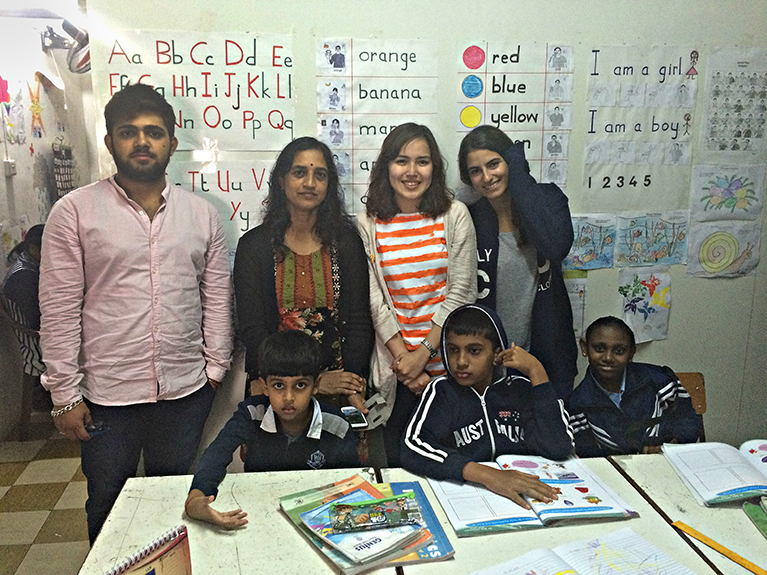 "I always felt that a person is only disabled if the society [forces] the disability upon them," says Khizran, an architecture student at the National College of Arts in Lahore, Pakistan, and alumna of the Global Undergraduate Exchange Program in Pakistan (Global UGRAD-Pakistan).
Khizran is dedicating the final year of her studies to promoting social architecture and inclusive design on her campus. This involves designing an environment to encourage social behaviors that lead to a specific goal—in this case, making public spaces more accessible to persons with disabilities.
Khizran says that her professors at Kent State University reminded her of how important it is to develop projects that cater to the needs of persons with disabilities. When she returned to Pakistan, Khizran realized that she could implement those same principles in her own country.
Supporting persons with disabilities through service
Khizran is one of three Global UGRAD-Pakistan alumni currently working toward better integrating persons with disabilities into Pakistani society. Sidra and Alishah are two program participants who have a personal connection to the disability community.
They may be a minority, but [persons with disabilities] are people with real lives and real stories and they cannot be ignored. Khizran, Global UGRAD-Pakistan alumna
Alishah's parents are deaf. As far back as Alishah can remember, he used Pakistani Sign Language to communicate with them and with much of his extended family.
"For me, sign language is the same as any other language," explains Alishah.
When he arrived at Stephen F. Austin State University through the Global UGRAD-Pakistan program, Alishah learned American Sign Language but was surprised at how different it was from Pakistani Sign Language. He took his new skills back to the Pakistani deaf community, and now plans to teach American Sign Language to deaf students who may not otherwise have the opportunity to learn it.
Meanwhile, Sidra is the first blind person to participate in Global UGRAD-Pakistan, and she wants to ensure she is not the last. During her time at Maryville College, Sidra volunteered with a nonprofit called Club VIBES where she mentored a teenage girl with low vision.
By the end of Sidra's semester, the girl could read Braille.
According to Sidra, children with visual impairments in Pakistan face barriers to education, especially in rural areas, where it can be difficult to receive added support in learning Braille. "I was very fortunate to have the support of my family and the Aziz Jehan Begum Trust for the Blind School," Sidra explains. "But we need to teach Braille [to more students]. It brings the blind community together."
Advocating for disability rights and inclusive communities
Khizran, Sidra, and Alishah believe it is their duty as young leaders to advocate for greater services for persons with disabilities in Pakistan. They believe Global UGRAD-Pakistan and their time in the US helped to launch their advocacy efforts.
"They may be a minority, but [persons with disabilities] are people with real lives and real stories and they cannot be ignored," Khizran reflects. "Kindness is a language that the blind can see and the deaf can hear."
As a blind woman who has accomplished much despite adversity, Sidra is hopeful that community leaders will recognize her contributions to change. Now back in Pakistan, Sidra finds time between her studies to tutor young girls with visual impairments in order to perfect their Braille and help them enroll in school.
"It is my responsibility to be an advocate for this population," she states. "If not me, then who?"
The Global Undergraduate Exchange Program in Pakistan is sponsored by the U.S. Department of State with funding provided by the U.S. Government and administered by IREX.