To improve GPAs in an exchange program, we started by listening to students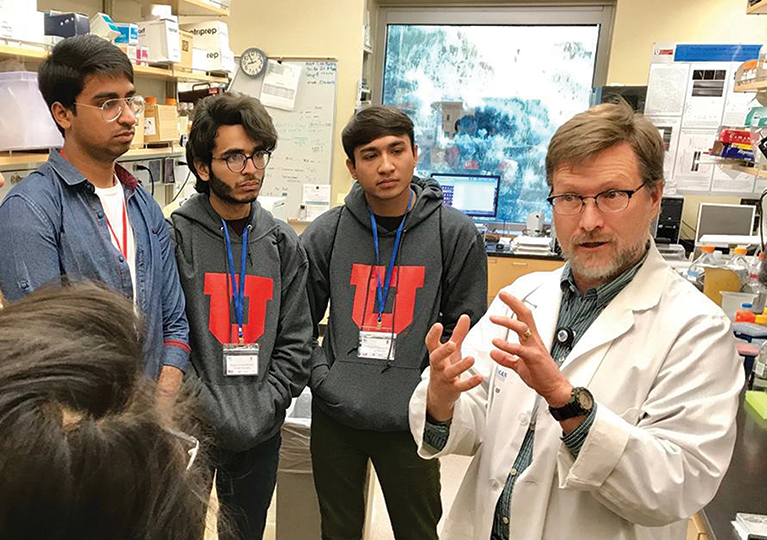 International student exchange programs intentionally challenge participants by immersing them in unfamiliar cultures and classroom settings. Here's what we learned from listening to students in the Global UGRAD-Pakistan program. The approach led to an increase in their average GPA from 2.7 to 3.3.
The Global Undergraduate Exchange Program in Pakistan—a program sponsored by the U.S. Department of State with funding provided by the U.S. Government and administered by IREX—brings a diverse group of more than 100 youth leaders from across Pakistan to the U.S. to attend a semester-long academic program at U.S. universities and colleges.
For many of these young leaders, it is their first time experiencing American higher education, with its emphasis on critical thinking and in-class discussions with professors. The program provides participants with a dynamic—and at times challenging—cultural and leadership development experience. Many find themselves in learning environments unlike any they've experienced, while needing to fulfill program requirements including maintaining a minimum 2.0 GPA, conducting 20 hours of community service, and engaging in a rigorous leadership curriculum.
An analysis of participant data from 2015 found that year's average GPA of 2.7 exceeded the program's minimum requirement, but there was room to improve. We began to reflect on different approaches we could use to increase cohorts' average GPA.
Testing a "phased" approach to student support services
By listening to students, we learned that participants' concerns during their first week of classes are focused on navigating their new campus environment and dealing with cultural adjustment. During week seven, concerns tend to be more about time management for academic midterms.
After a series of introspective meetings that examined participants' academic performance, staff developed a staggered, tailored check-in approach targeting common challenges that arise during different phases of the semester.
Check-in calls tailored to these program components helped surface common issues and positioned the team to provide timely and targeted support that in turn improved participants' performance.
Average GPA increased from 2.7 to 3.3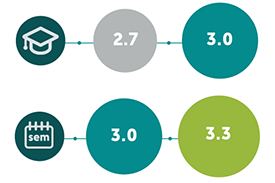 Using the new data-informed process, staff surfaced issues more quickly and more accurately.
Working alongside university host advisors, staff identified appropriate solutions before challenges had a chance to affect a participant's academic performance.
The next semester, the group's average GPA jumped to 3.0. Every semester since, average GPA has been at least 3.0. In the most recently completed semester (fall 2018), the average GPA was 3.3.
Lessons from the field
When seeking to improve the outcome of a program (in this case GPA), consider more precisely identifying the problem before jumping to a solution. How does the problem vary by individual or over different time periods?
Consider exploring it at the individual level—not simply at the group level as a general trend. Then tailor the solution to the situation.
The Global Undergraduate Exchange Program in Pakistan is sponsored by the U.S. Department of State with funding provided by the U.S. Government and administered by IREX.